This Restaurant Just Called Victoria Beckham Anorexic To Sell Their Pizza!
We get hard-sell marketing and we get that sometimes advertising needs to be really curt to get the point across. But that should in now way entail putting someone down in the process, let alone using actual health problems to defame them. But clearly, that is not something North Tyneside-based restaurant Sidhu Fish & Chips abides by. At least that's what their print ad suggests.
The UK restaurant could be in some serious legal soup over a distasteful – print ad – for their new 2mm thin crust pizza. Slapped across their delivery van, the ad featured the caricature of a gaunt woman wearing a sash that reads 'Anorexic Fashion Icon'. And this, the restaurant wants everyone to believe, is a portrayal of Victoria Beckham. The ad further reads: "Our new Victoria Beckham thin crust only 2mm thin!!"
Umm, no. That's wrong on so many levels. Firstly, we know that anorexia is not the same as just being thin because the former is a health disorder. Secondly, why is it okay to call anyone – not just a celebrity – anorexic? It's not a joke and the comparison is downright offensive and inappropriate.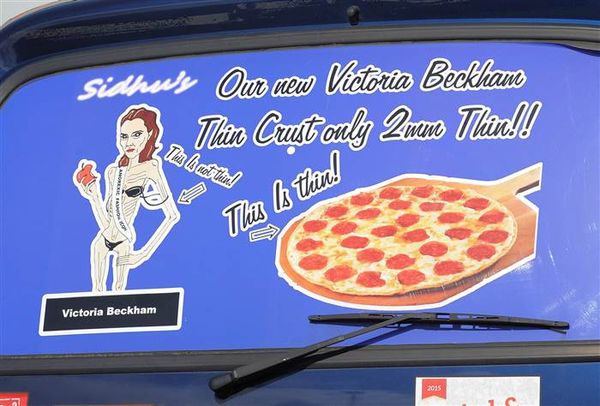 Image: Eater 
But here's a crazy fact: the restaurant has been parading the van with the ad for over three years, reports the Daily Mail, but will be taking it down after all the condemnation. "As the manager and on the behalf of all our staff and owners I would like to state we recognise how serious eating disorders are and would never make light the seriousness of people with eating disorders," general manager Soni Sidhu said in a statement, noting that the Beckham image was found by Google-ing the word "thin."
*Slow claps*
However, needless to say, the former Spice Girl too didn't stay mum on the issue, threatening legal action. A spokeswoman for Beckham said in a statement, "It is highly inappropriate to trivialise such a disorder, and defamatory to be so thoughtless with a person's reputation in this way, therefore we are taking legal advice."
Feature Image: iD – Vice