Relish An All New Menu At D:OH All Day Dining & Bar Outlets In Mumbai
Does the same old cafe charm you but the food is getting too monotonous? Not at D:OH All Day Dining & Bar for they keep making sumptuous additions to their menu. Their latest innovations reflect in their Spring-Summer menu which includes an all-new breakfast section, short eats, platters, sandwiches, wraps & rolls, burgers, bowls, desserts and freakshakes. So come all ye faithful, but with an appetite!

What's In It For Me

Tuck into a hearty breakfast at D:OH with Freakfast which is combo meal with pancakes, 2 eggs your way with a sausage, bacon and hashbrown. You can also try some Eggs Katriar which is eggs with sautéed onions along with Goan chorizo or chicken sausage. There are plenty of bar bites for those planning an evening of drinks. Pick from their Jagger Bombs, Pok Pok Chicken Wings, Chicken Chaplin and Beery Eye Bites!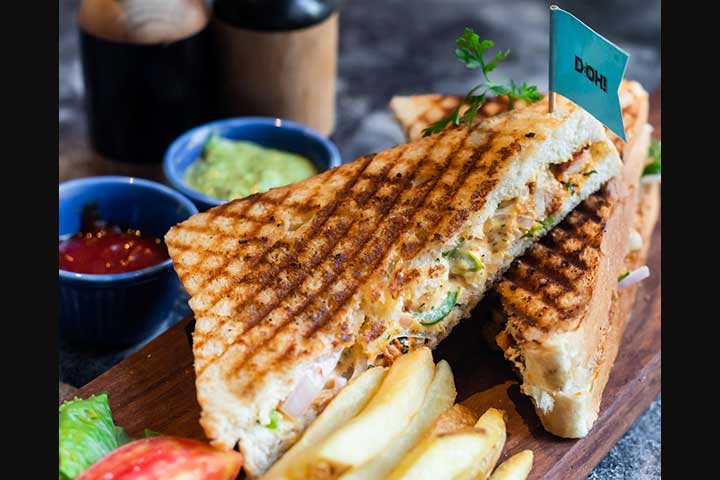 They've also introduced, quick and filling dishes for one like S S Tawa Baida Roti, Chicken Bhangra Sandwich and Caprese. For a delish Asian meal, go for their Wok-Tossed Vegetables in Schezwan Sauce with Aromatic Rice or the Grilled Chicken with Olive Mash. For those coming in with a group, there are Commun-'Eat'-Y platters. And of course, newly introduced desserts like Oreogasm and Freaky Peter Paan Freakshake to end your meal with! So head to your nearest D:OH All Day Dining & Bar to relish the new menu!