Rediscovering The Best of Indian Cuisine at Masala Library by Jiggs Kalra
Few people, when stepping out for a meal would choose to go to an Indian restaurant. After all, why would you pay money for food that you can easily cook at home? Enter Masala Library by Jiggs Kalra, which is redefining the way we look at Indian cuisine.
Masala Library takes age old Indian culinary traditions and adds a twist to them using molecular gastronomy, impeccable presentation and unique flavours. Today, fine dining has become a somewhat theatrical experience, with the décor, service and even the music being carefully curated so that customers are transported into a whole new world.
At Masala Library, the minimal yet classy décor (even the napkins are made of the softest silk imaginable) and the impeccable service have been construed so the customer is able to completely enjoy the star of the show in the theatrical metaphor; the food.
We paid a visit to Masala Library to sample their Chef's tasting menu; a two and a half hour experience that showcases some of the restaurant's signature dishes. This menu is ideal for the first time visitor to Masala Library to understand the culinary practices that it encompasses. As we ate, we proceeded to down the delicious signature burnt curry leaf martini (check it out on our monster list of the best cocktails in Mumbai) and the heady star anise martini. They perfectly accompanied the decadent experience; take a walk through our meal with us, won't you?
Thandai Spheres with Bun Maska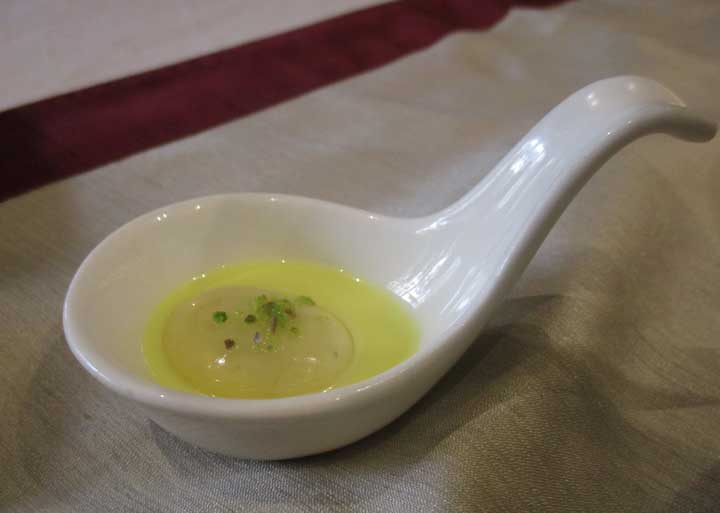 Served as an amuse bouche, the thandai spheres came along with a little bit of background information from the server. "This is made using molecular gastronomy. Place the spoon in your mouth, and the bubble of thandai will pop," he told us. True to his words, the bubble of thandai popped in our mouths yielding a smooth, refreshing liquid. After nibbling on the soft bun maskas on the side, our appetites were suitably whetted (and excited) for the rest of the meal.
Steamed Patrani Machi with Lemon Coriander Shorba and Chukki Edamame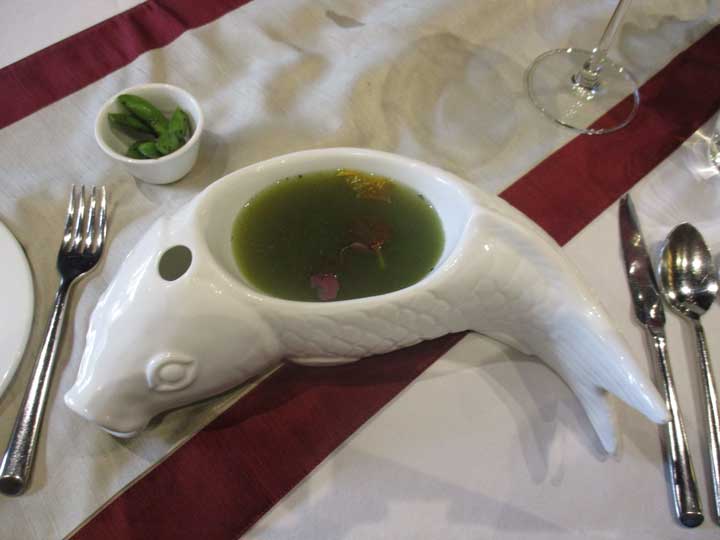 An adorable fish shaped bowl with a fillet of moist fish arrived at our table, with a side of lemon coriander broth. Before our eyes, our server topped the fish with the broth, releasing an aromatic cloud of steam. As we spooned the soup into our mouth, the aroma engulfed us again along with the zesty blend of lemon and coriander which was perfectly offset by the fish.
Curry Leaf and Pepper Prawns With Thayir Sadam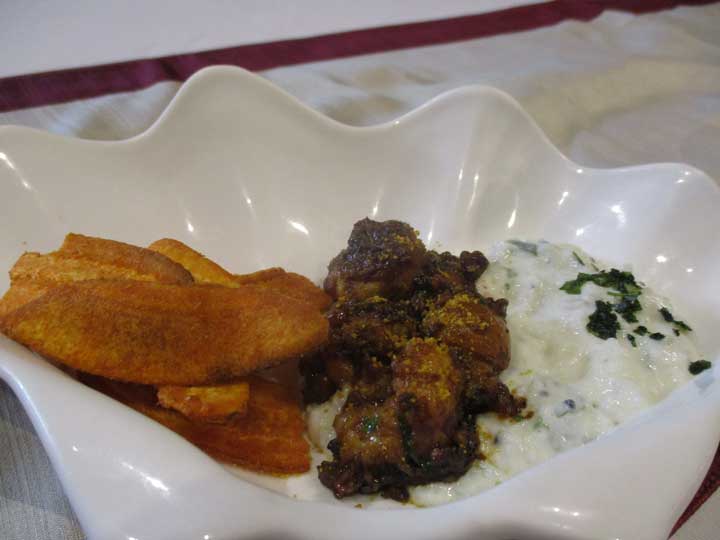 As a Malyali, I've had my fair share of thayir sadam. Having it served like this, however, was a completely unique experience; we scooped it up with spiced banana crisps that gave it a completely new texture. In terms of texture, the prawns were also exciting; tender and juicy, they seemed to have drunk in the mild spices they were coated with.
Bacon Wrapped Tandoori Morel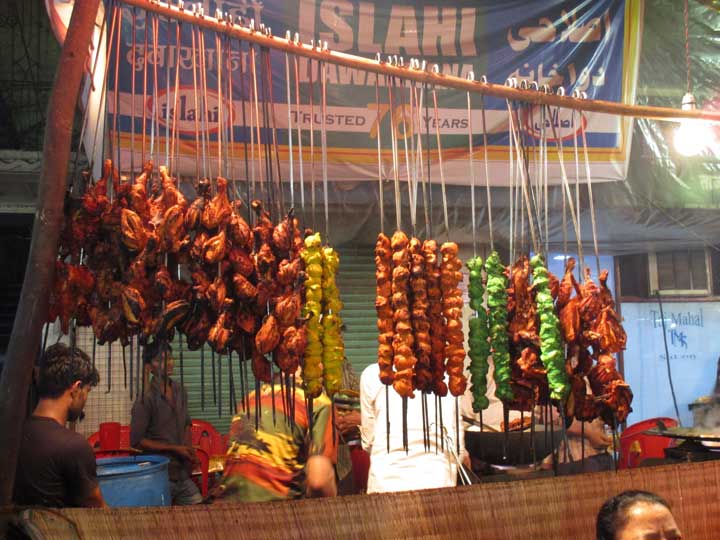 This was hands down the star of the meal. Possibly because of the bacon, but probably because the kebab was endearingly tender and flavour packed. Additionally, the dry chardonnay sauce that it came with was decadently creamy.
Mishti Doi Sorbet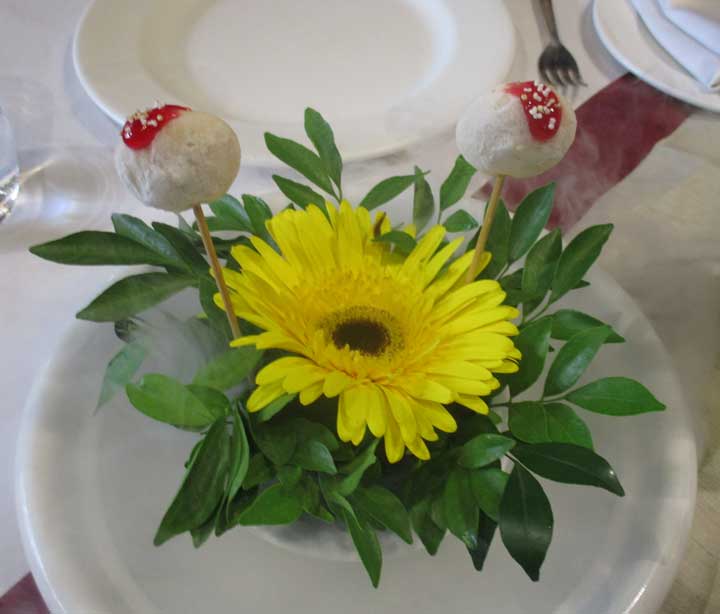 Mid meal, as a palate cleanser, we were given these adorable mishti doi lollipops that were heavenly sweet and refreshing.
Braised Mutton Chop With Maple and Kocum Glaze and Micro Popcorn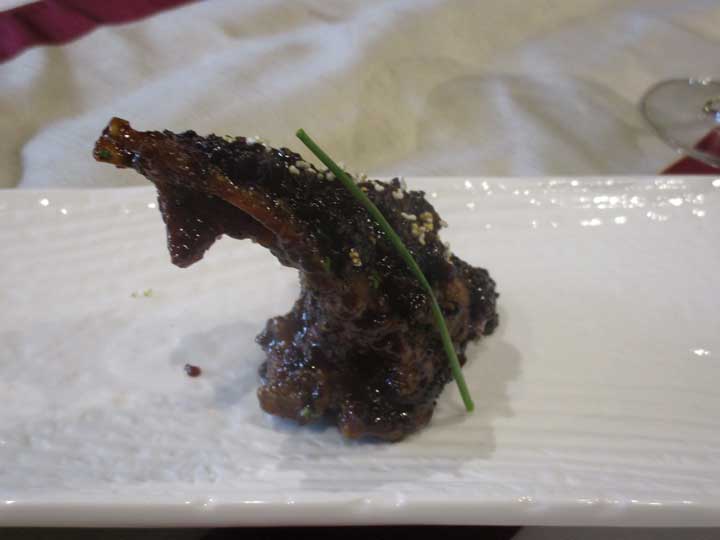 So soft is the meat on this mutton chop that if you stand it up on its side, the meat simply falls of the bone. The maple and kokum glaze lend it a beautiful sweetness, while the popcorn balances out textures with a crunch.
Kashmiri Chili Duck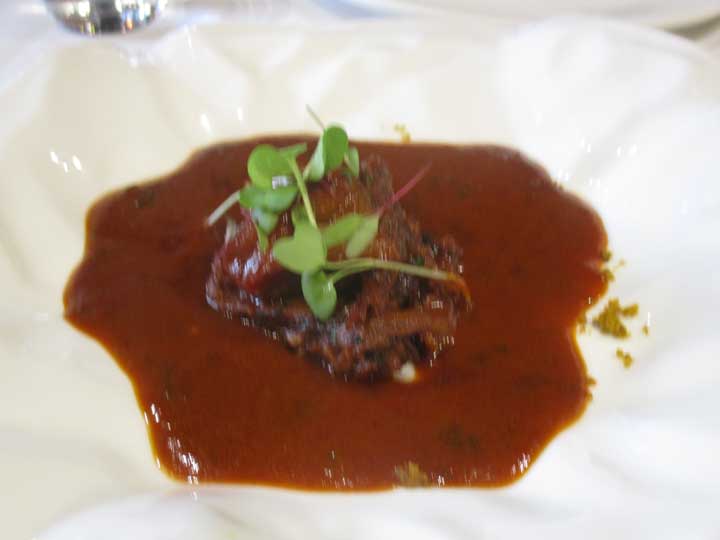 This delicious piece of duck was accompanied with a rich aloo Bukhara korma. This is the kind of dish one would imagine ancient Indian royalty enjoying during court feasts (Masala Library has a tendency to evoke your imaginative side).
Pan Seared Rawas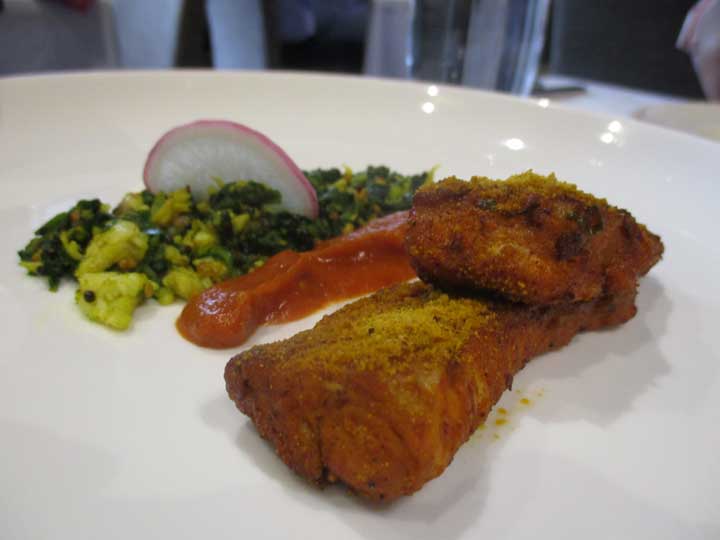 If you're more of a fish person (South Indians, listen up), then try the rawas; seared to perfection accompanied by a stellar Malaya curry.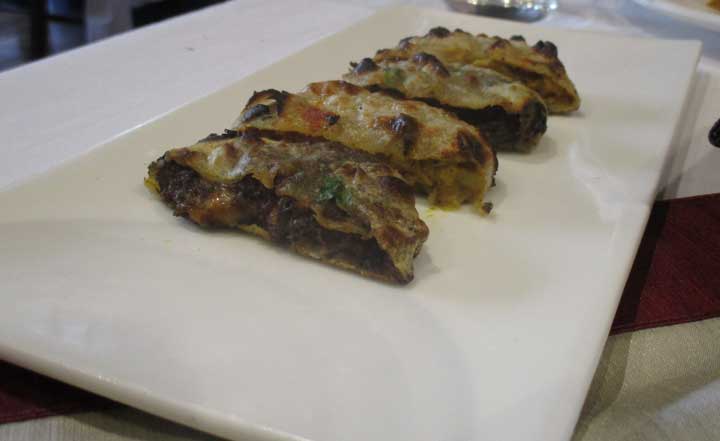 The duck and Rawas were accompanied by plates of kulchas and parathas. We loved the prawn balchao kulcha and the crispy lacha paratha.
Jalebi Caviar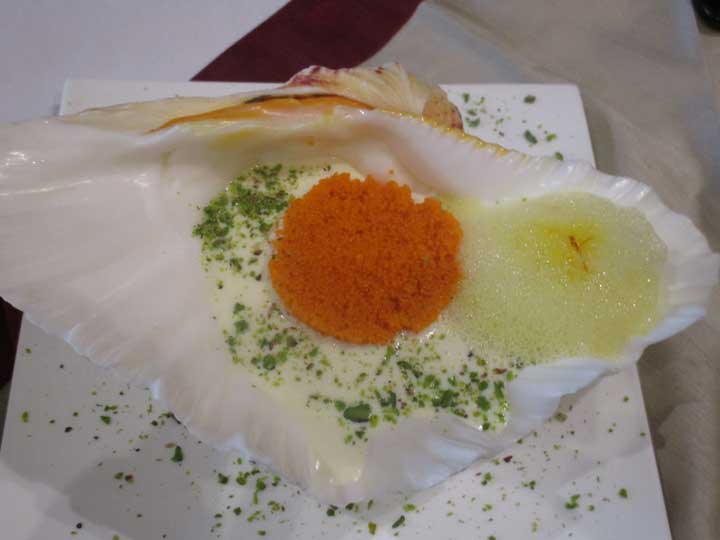 One of Masala Library's most popular dishes, the jalebi caviar (as its name suggests) presents jalebi in the form of caviar balls that pop and melt in your mouth. Served with a saffron glaze and in a shell shaped bowl of pistaschio rabri, this was the perfect end to our meal.
Any regular restaurant ends its meal with dessert right? But, as you would've figured out, there's nothing ordinary about Masala Library. After our plates were cleared away, a final treat arrived at our table; the paan flavoured candy floss which completely cleansed our palates. The candy floss succeeds in taking one back to childhood, yet remains mature thanks to the paan flavours.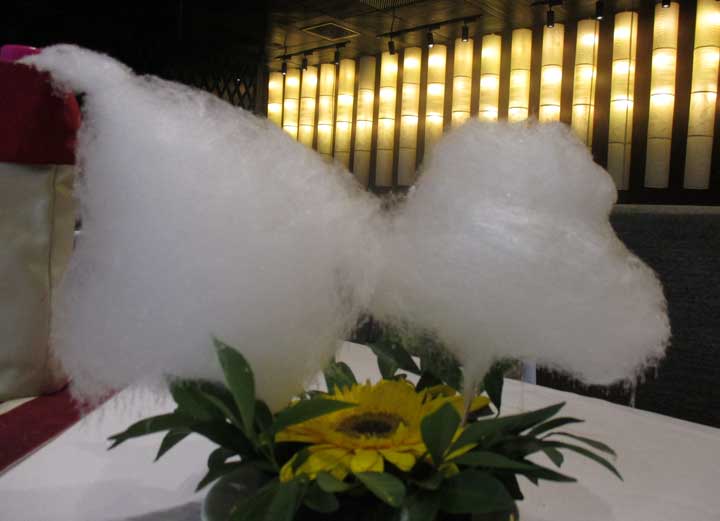 Indeed, all the dishes at Masala Library were similar in nature. While the flavours were somewhat familiar they were combined and presented in exciting, unique ways that makes the diner see Indian cuisine in a whole new light. Masala Library succeeds in reminding the Indian customer to be proud of, and slightly awed by our rich culinary heritage. The innovations to this heritage make a meal at Masala Library culinary patriotism in the twenty first century.