Tournedos Sautes Aux Champignons Recipe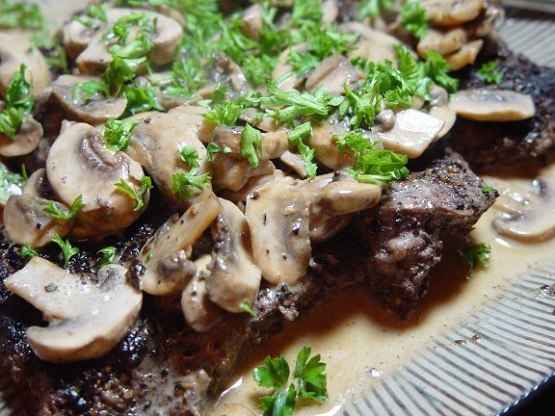 | | |
| --- | --- |
| | |
Sauté bread rounds in hot clarified butter to brown very lightly on each side. Reheat them for a minute in a 350-degree oven just before serving.

Sauté mushrooms in hot butter and oil for 5 minutes to brown them lightly. Stir in the shallots or onions and cook slowly for a minute or 2 more. Season, and set aside.

Dry the steaks on paper towels. Place the butter and oil in the skillet and set over moderately high heat. When you see the butter foam begin to subside, indicating it is hot enough to sear and brown the steaks, sauté them for 3 to 4 minutes on each side. They are medium rare if, when pressed with your finger, they offer a suggestion of resistance in contrast to their soft, raw state.

Immediately remove from heat. Discard the strings and, if you wish, the strip of fat. Season quickly with salt and pepper. Place each steak on a canapé, and keep warm for several minutes while preparing the sauce.

Pour the fat out of the skillet; stir in the stock or bouillon and tomato paste. Boil rapidly, scraping up the coagulated cooking juices, until liquid is reduced to 2 or 3 tablespoons.

Pour in the starch and wine mixture; boil rapidly for a minute to evaporate the alcohol and to thicken the sauce lightly. Then add the sautéed mushrooms and simmer a minute more to blend flavors. Correct seasoning. Spread the sauce and mushrooms over the steaks, sprinkle with herbs, and serve.