Like seafood? Love biryani? If you're nodding frantically, then this rich prawn biryani is just the recipe you need to whip up tonight! Biryani is known far and wide as probably one of the riches, most aromatic, and regal rice dish across the globe (and we don't even have to hit up Wikipedia to cross check that fact)! And a good amount of prawns is just about right to add a contemporary touch to the traditional recipe.
Though you can pick your choice of shrimp or prawn size for the recipe, it is best to use medium or large sized de-veined and de-shelled prawns. As for the quintessential biryani condiments, this particular biryani tastes best topped with crispy fried onions and a side of mint chutney. Follow the recipe below to make a truly magical prawn biryani at home!
Image: Secret Indian Recipe
Feature Image: Archana's Kitchen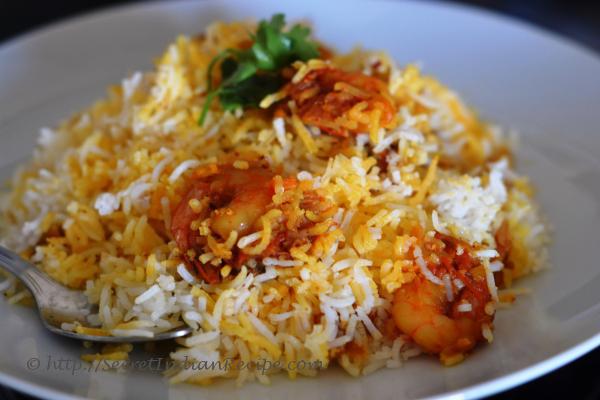 | | |
| --- | --- |
| | |
Mix the turmeric, chilli powder, salt, ginger, garlic, onion, garam masala and half cup yogurt to make the marinade. Marinate the prawns in it for half an hour.

Heat the oil and sauté the prawn mixture in it over high heat, till brown. Take the prawns off the heat and mix in the rest of the yogurt, cream, coriander and half the fried onions.

Place half the rice in a greased pan in a layer. Add the fish mixture in a layer over this and cover with the rest of the rice.

Seal the pan and place over low heat for 20-30 minutes.