Peshawari Chapli Kebab Recipe
Peshawari Chapli Kebabs are very unlike your regular kebabs. They aren't grilled or skewered but are instead pan-fried chunks of minced meat and spices. The preparation is a much loved and famed dish all over Pakistan specially in Peshawar, Balakot, Swat and other Khyber Pakhtunkhwa cities.
The reason behind this Peshawari kebab's name has received a lot of speculation. Some stalwarts often think that chapli comes from 'chappal', which means flat sandals, and even the shape of these kebabs is flat. Hilarious as it is, its not entirely true neither is it entirely incorrect. The word chapli is derived from a Pashto (spoken in Pakistan and Afghanistan) word, chaprikh, which also means flat. So now that we know the A to Z of the Peshawari Chapli Kebabs, lets get down to making some shall we?
Feature Image: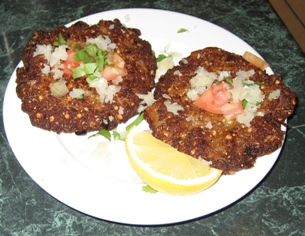 | | |
| --- | --- |
| | |
Mix together the meat, eggs and all other ingredients.

Take 3 tablespoons of the mixture and roll it to form a ball.

Press the ball between your hands and flatten it to form the kebab.

Heat the oil in pan and fry the kebabs properly on both sides.