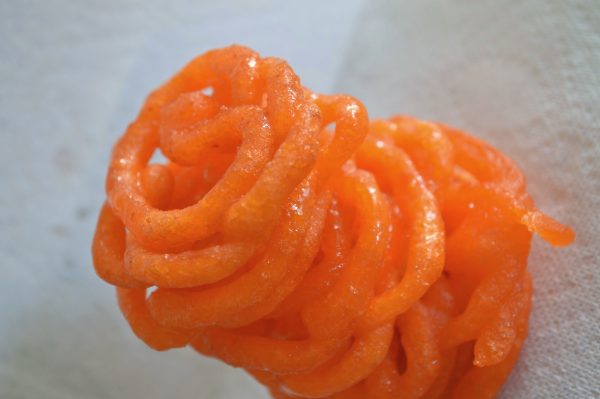 | | |
| --- | --- |
| | |
Add just enough water to soak the sugar, then add ½ cup of milk and bring to a boil. Remove and discard the impurities to float to the top.

Now add rose essence and boil sugar syrup till you get one string consistency.
Soak urad dal for 45 minutes. Then drain the water completely and grind nicely in a wet grinder. Add little water from time to time and grind it to a smooth paste. The batter should be soft and fluffy. Keep aside.

Once the oil is heated, reduce the heat and then start piping out jangiris with help of a cloth or plastic piping apparatus.

Be very careful and do it patiently. First pipe 2 circles, and then top it with smaller rounds without stopping. Once you are done piping the batter, turn the heat to medium flame.

Now cook the jangiris in medium heat. Cook the other side also by flipping it over gently using a stainless steel rod or spoon.

Once cooked, remove it from oil and drop it into the prepared sugar syrup. Press it gently with a ladle to immerse completely in the sugar syrup and let is soak, meantime we will prepare the second batch.

Remove the first batch from the sugar syrup and keep it on a plate to dry.

In this way repeat the process for the rest of the batter.