Harry Potter Steak And Kidney Pie Recipe
We're celebrating the countdown to Harry Potter's Birthday which is tomorrow. So here's another one of the delicacies from the book Order of the Phoenix. Enjoy!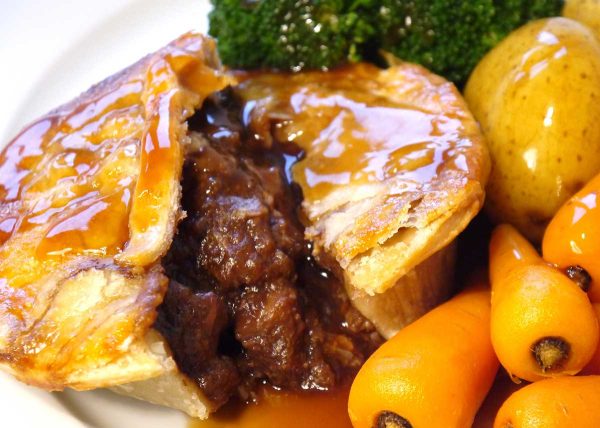 | | |
| --- | --- |
| | |
In a large bowl add flour, salt, pepper, cubes of steak and kidney, toss them together so that they mix well.

Take a flameproof casserole dish and heat butter till it melts.

Add the meat in small batches and stir for about a minute or till it browns.

Remove the meat with a slotted spoon.

Now add onions and carrots to the pan and fry for around 5 minutes and put the meat back in the pan.

Stir it well and add the stock.

Season the meat with salt and pepper.

Bring to a slight boil, then cover and simmer it for 2 hours on a low heat.

Once the sauce thickens and the meat is tender, remove it in a 1.5 litre pie dish and allow it to cool.

Roll out the pastry large enough to cover the pie dish.

Cut a hole in the center of the dough so that it can slip over the funnel.

Now brush the rim of the pie dish with water and put a pie funnel in the center.

Put the pastry over the dish and with the funnel pressing it down, fit the pastry to the edges of the dish.

Brush the pastry top with a beaten egg.

Now bake for 40 minutes till the pastry is golden and crispy.