What's better than a wholesome dish that boasts the goodness of all your favourite staples – wheat and meat, basically – in one delicious preparation? Yes, we are hinting at the popular Middle Eastern dish, haleem. A lot like the desi khichdi, the haleem takes the main ingredients, that are wheat, lentils, barley, and meat, and blend them all together along with some traditional spices and yogurt in a healthy dollop of ghee.
Served with a crunchy garnish of caramelized onions, coriander leaves (or mint leaves), and lime wedges to step up the flavours a bit, the haleem is a great way of breaking your fast this Ramazan. So light up your iftar meal with this delicious recipes.
Image: Recipes – Times of India
Feature Image: Zyka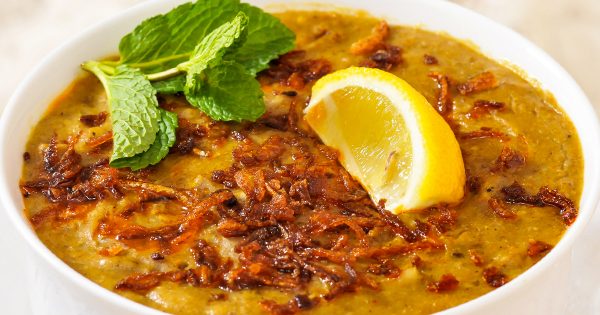 | | |
| --- | --- |
| | |
Soak the broken wheat in 2 cups of water for 3-4 hours; and soak all the dals separately in 2 cups of water for 3-4 hours. Drain the broken wheat and dal.

Mix mutton with yogurt and salt in a bowl and set aside to marinate for ½ hour.

Put the broken wheat and dal in a deep non-stick pan, mix well and cook for a few minutes.

Add the marinated mutton, green chilli paste, ginger-garlic paste, caraway seeds, black peppercorns, ½ cup deep-fried onions, garam masala powder and mutton stock and mix well.

Add mint and coriander leaves. Mix well, cover and cook for 40-45 minutes.

Uncover and remove the cooked mutton cubes and keep them in a bowl.

Blend the rest of the mixture directly in the pan with the help of a hand blender, while it is still cooking. Stir well and add ghee and mix.

Add the cooked mutton cubes and remaining fried onions and mix well. Serve hot garnished with fried onions and lemon wedges and a mint sprig.