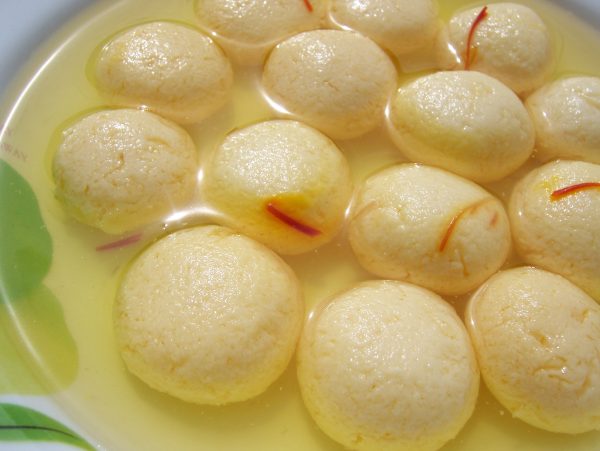 | | |
| --- | --- |
| | |
Bring the milk to a rolling boil and then lower flame to simmer.

Add 2 tbsp of the lime juice and stir gently.

You will find that the cheese starts separating from the whey. The whey needs to turn a clear, faint green. If it still seems milky, add some more lime juice. I needed the full 3 tbsp.

When the cheese has completely separated (should take about 2-3 mins on very low flame), turn off heat and pour into a colander lined with a cheese cloth or clean cotton cloth.

Gather the ends and squeeze tightly. Take care though, the chenna inside will be extremely hot. Run this under some cold water at the sink. This step is to remove the flavour the lime juice imparts to the cheese.

Tie the cloth ends to the tap and let the remaining whey and water drip off. I left it like this for about 30 mins.

Transfer the chenna into a wide bowl or plate and knead well with your fingertips.

The crumbliness will soon give way to a smooth consistency. The chenna won't be sticky at any point

Gather together into a ball and proceed to make whatever sweet you have in mind for this Diwali festival season.
After the chenna has drained of extra moisture for about 30 minutes, give it a whizz in a blender or mixer to make it smooth and let out more water.

Remove and knead well for 3 minutes. At the end of it, you should be able to make smooth balls out of the chenna easily. If not, knead for a bit longer. The size of the rasgulla will double on cooking in sugar syrup so remember to makem smaller to begin with

Add the sugar and water to your pressure cooker and bring to boil. Mix well for the sugar to dissolve, lower heat to very low and add the rasgulla balls gently into the syrup.

Cover the pressure cooker and cook without whistle for about 7-8 minutes on medium-low flame.

Turn off heat and wait 5 minutes before opening the cooker lid. You'll find spongy rasgulla that's doubled in size!

Cool completely, add crushed pistachios on top and refrigerate rasgulla in syrup until ready to serve