Cheeni Kum Zafrani Hyderabadi Pulao Recipe
Some movie moments just stick with you for life. Ramadan is upon us, and foodie buzzwords like 'biryani' and 'haleem' and 'pulao' are popping up all over social media and restaurants across India. Every time we think of pulao, we immediately remember that scene in Cheeni Kum, when Amitabh Bachchan, who plays Buddhadev Gupta is sent a plate of Nina's (Tabu) Hyderabadi Zafrani Pulao, so she can enlighten him about what the best pulao in the world actually tastes like.
The Backstory
Buddhadev and Nina meet after Nina sends back a pulao to the kitchen in Spice 6, one of London's top restaurants which specialises in Indian cuisine, run by Buddhadev. Highly offended, Buddhadev heads out to the restaurant to chastise her. After a couple of show downs, the two eventually become friends and fall in love.
You could say that the two are brought together by biryani. In a tribute to the film and since pulao is such a popular dish during Ramadan, we're sharing a recipe for Hydrebadi Zafrani Pulao, adapted from Buddhadev's instructions.
Serve it as a main course for lunch or dinner with a side of raita and onions.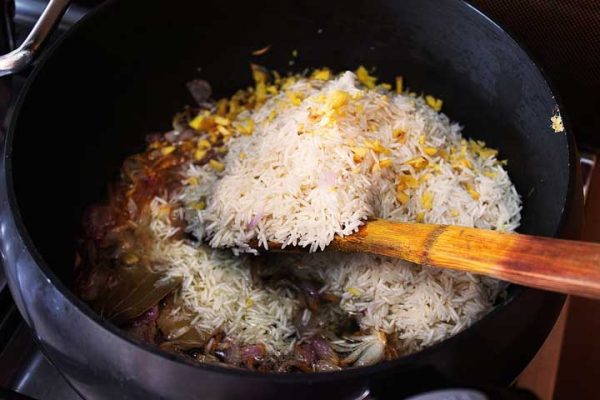 | | |
| --- | --- |
| | |
Soak the saffron in two tablespoons of warm milk for two minutes.

Soak the rice in water for half an hour.

Heat the ghee and sauté the cumin seeds until they crackle.

Add the onions and all the spices along with the ginger and ghee.

Sauté until the onion is golden brown.

Stir in the almonds, raisins and rice.

Toss the chili powder, milk and sour curd into the rice and sauté for five more minutes.

Pour the water into the rice and stir well.

Finally, stir in the salt and saffron and bring the water to the boul.

Reduce the heat, cover the pan and slow cook for 20 minutes.

Take of the stove and serve.