Ranveer Brar Teams Up With Health Start-Up Cure.fit's Food Delivery Platform, Eatfit
With an increasing desire to stay fit and look good, the Indian consumer is increasingly inching towards healthier eating options and paying more and more attention to what is being served to them. Taking this need to remain on top of the clean and healthy eating to the next level, health and wellness startup Cure.fit announced its partnership with Chef Ranveer Brar.
A Healthy Collab
The collaboration aims to step up Cure.fit's food delivery platform, Eatfit with Brar, who is touted as India's youngest executive chef, providing inputs and adding value to the startup's operations and R&D, while simultaneously co-curating healthy and tasty meals.
Speaking on his partnership with Cure.fit, Chef Ranveer Brar said, "With changing lifestyles, it has become imperative to focus on eating healthy. We have to also understand that our cooking can go beyond being heavy, oily, and unhealthy. For me, healthy eating is a way of life I am extremely excited to be a part of the Cure.fit family. Together, we will make India healthy, one meal at a time."
Currently, Eatfit operated out of its specialized kitchens across Delhi-NCR and Bangalore. Their menu is loaded with a variety of healthy options including HomeStyle Indian meals that are cooked in less oil, mild spices, and with the best quality of produce; specialty meals such as HRX Meals, which is an exclusive range customised in association with Hrithik Roshan for athletes; a collection of Salads from across the world, served with a twist; and global cuisine options.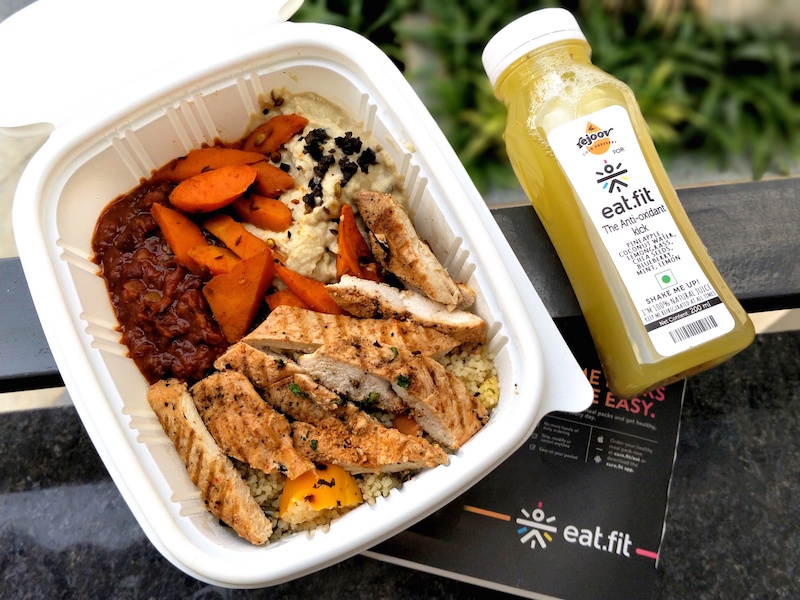 Image Source
Commenting on the collaboration, Ankit Nagori, Co-founder, Cure.fit said, "Eat.fit, launched about a year back, has today, grown to become one of Bengaluru's biggest food delivery service. R&D have been at the very heart of Eatfit where our Chefs strive to create meal options that are balanced, healthy, tasty and light, all at the same time, without compromising on the quality of the ingredients and produce. Our association with Chef Ranveer Brar will give a fillip to cure.fit's commitment to a healthy mind and body. We are confident that Ranveer will bring his passion and understanding of flavour and food texture towards creating some spectacular meal options for our customers."