Raj Pavilion Presents Vietnamese Food Festival – Viet:nom
The last few years has seen a resurgence in South Asian cultures and
cuisines, owing to the impact of globalization and easy accessibility.
Vietnamese food has particularly been gaining popularity amongst food lovers, thanks to the country's distinctive approach to eating habits. Brushing aside the commonly known fact that the Vietnamese love their
noodles and spring rolls, they are also considered one of the healthiest
cuisines in the world.
With geography playing a huge role in the diversity and variety in the
Vietnamese culture, theirs is a cuisine that is heavily influenced by the
neighbouring China and France from the colonial years. Vietnamese cuisine
traditionally features a combination of five fundamental taste "elements":
spicy (metal), sour (wood), bitter (fire), salty (water) and sweet (earth). Common ingredients used include black pepper, hot chili, fermented fish
sauce, coconut milk, limes, lemon grass, tamarind and cane sugar,
supplemented by asparagus and potato, courtesy the French impact.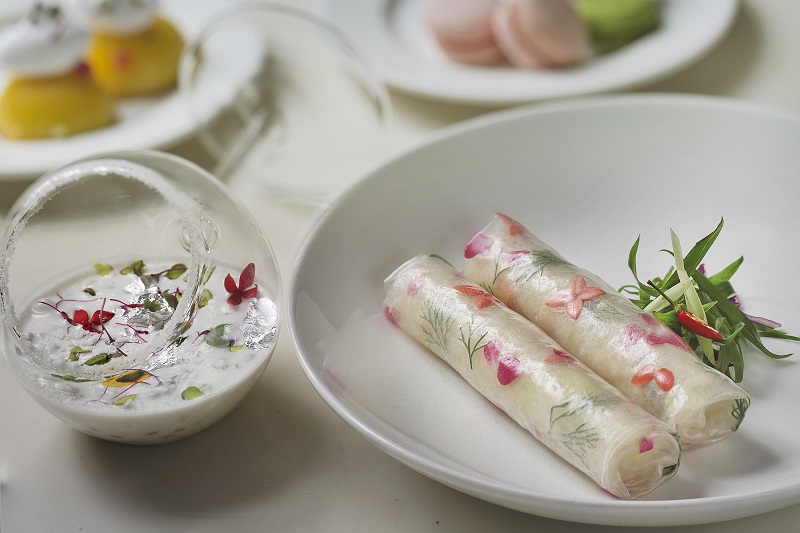 A delicious mix of the food of its colonial visitors and age-old native
flavours and techniques, Vietnamese cuisine wins all the points for
simplicity in a meal.
This month, let the Chefs at ITC Windsor balance it out for you as they
whisk you to the paradise of comfort food that is this Southeast Asian
country. On the menu will be traditional dishes like Banh Mi Thit or
Vietnamese Grilled Pork Rolls, Bo Kho or Beef Stew, Goi Cuon or the famous Vietnamese Summer Rolls, Banh Xeo or sizzling savoury pancake, Vietnamese Pho or noodle soup, Cha Ca or Turmeric fish with noodles and Nom Hua Chuoi or banana flower salad to name a few. For the ones with a sweet tooth, they can indulge in desserts like CheÌ Chuôìi or Banana with sago pearls in coconut milk, CheÌ Trôi Nýõìc or sticky rice balls in ginger syrup, Bánh Dau Xanh or Mung bean pastry, etc.
Savour the subtle and simplistic flavours and discover the nom from the
Viet, only at Raj Pavilion.
Date: September 20-29, 2019
Time: Dinner only: 7 PM to 11 PM
Price: Buffet priced at INR 1995/- + taxes
Venue: Raj Pavilion, ITC Windsor