Putin Kissed Trump In Lithuania Because Why Not!
Before you go ballistic and scoop your eyes out: it's only just a mural. A mural that went viral!
Viral Mural
A Lithuanian barbecue restaurant – Kuele Ruke – has been trending on social media and it's not their food that's causing the entire stir. It's the bold fresco the structure carries on its outer wall that has been giving people the jitters and the laughter bouts.
The artist behind the mural is a super talented Mindaugas Bonanu and it was unveiled by co-owner Dominykas Čečkauskas on Thursday.



Déjà Who?
The cheeky wall art features a passionate smooch between US presidential candidate Donald Trump and Russian president Vladimir Putin. The image is a lot like that of Leonid Brezhnev and East German president Erich Honecker sprawled across the Berlin Wall. And that is not a coincidence.
"We saw similarities between the two heroes (Trump and Putin)," restaurant co-owner Dominykas Ceckauskas said in an interview. "They both have an ego that is too big and it is funny that they get along well." He adds: "We are in a sort of a Cold War again, and America may get a president who will want to be friends with Russia."
And though, the Soviet-era art piece is based on a real picture, this 2016 Lithuanian version is mere imagination. Or so we think. After all, Putin and Trump's 'Mutual Admiration Society' is not unknown with the later claiming that he'd "get along with Putin"; and the former returning the approbation by calling Trump "a very outstanding person, talented, without any doubt."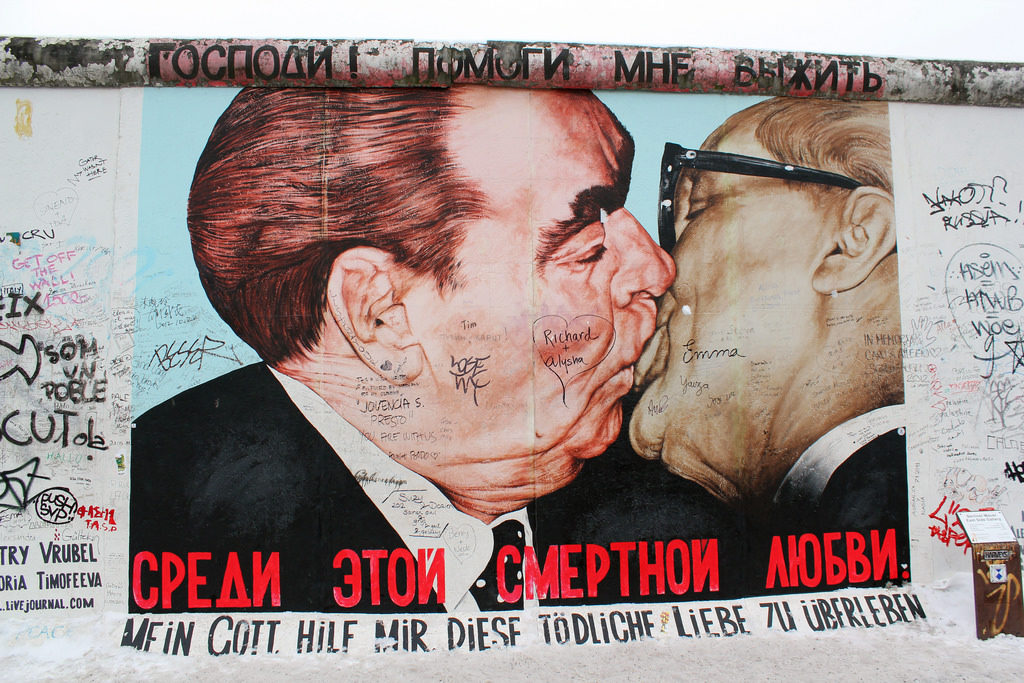 Who knows though, maybe if Trump does win (God forbid), the Lithuanian mural may make its way to wall along America's Southern border. *cringes*