Popular Pet Food in The US Recalled Due To Salmonella Fears
Nature's Variety, a popular pet food manufacturer based in St Louis in Missouri, has announced a voluntary recall of Instinct Raw Chicken Formula with a specific best by date, due to fears that the product may be contaminated by salmonella.
Nature's Variety specialises in natural, grain-free products that are in the form of kibble, canned or raw foods. A few days ago, Nature's Variety received a notice from the FDA that a routine testing of their raw chicken formula had tested positive for salmonella. They have opted to withdraw all products that may be contaminated from shelves across America and in Canada.
Which products?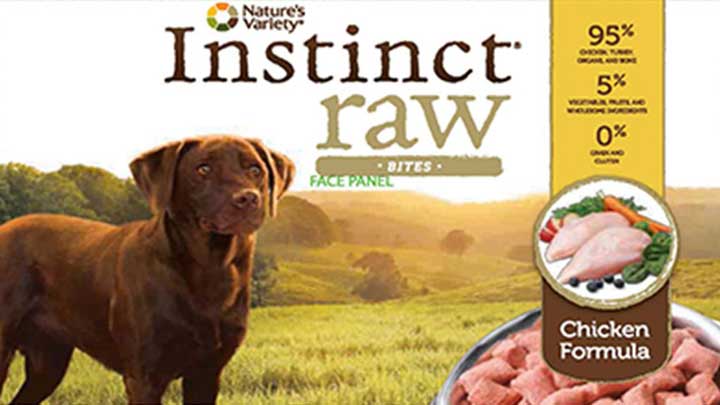 All containers of the Instinct Raw Chicken formula with the 'best by' date of 04/27/16 should be disposed of, or taken back to the retailer in its original packaging, or with a proof of purchase, after which it will be refunded.
Customers can identify possible affected packets by checking the best by date at the bottom of the package. The product codes are as follows:
UPC# 769949611431 – Instinct Raw Chicken Formula Bites for Dogs 4 lb.; Best By 04/27/16
UPC# 769949611448 – Instinct Raw Chicken Formula Bites for Dogs 7 lb.; Best By 04/27/16
UPC# 769949611486 – Instinct Raw Chicken Formula Patties for Dogs 6 lb.; Best By 04/27/16
Advisories
Nature's Variety advises those may have fed their pets the product to monitor their pets for signs of salmonella which include lethargy, fever and vomiting. They also suggest monitoring any human who has come in contact with the product for symptoms such as nausea, commenting, abdominal cramping and fever.
Till date, no illnesses have been reported. Consumers with additional questions can contact 888-519-7387 or email cservice@naturesvariety.com during the recall.