Pickle me this, Pickle me that- with a Dash of Wonder
Jyothsna Garapati from Jyo's Pickles is here to inspire you with her heartwarming venture.
Jyo's Farm Pickles is a newly launched label offering a selection of Andhra pickles, made by hand using traditional methods. Owned by and named after Jyothsna– the ever-smiling and creative force behind Jyo's Farm, the label is happy to bring a bit of much-loved and nostalgic tastes back on our modern dining tables.
"Women of a quaint little village in Andhra Pradesh come together to participate and make the pickles – choosing, washing and preparing the special ingredients with much dedication and care. And of course under the supervision of a family that is well regarded for its pickles and recipes – among other things.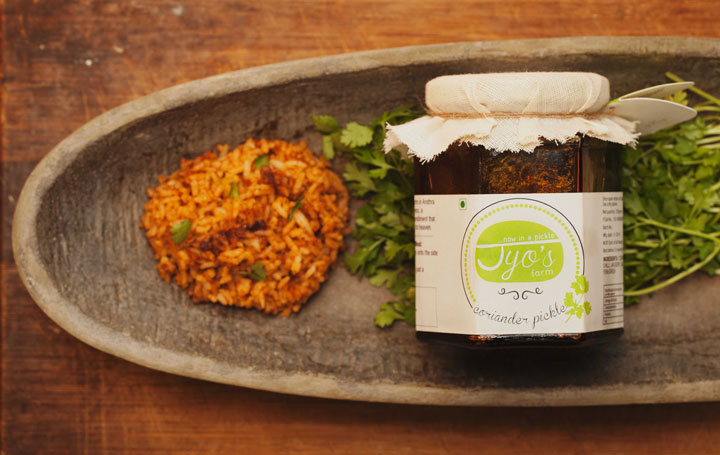 "My dinner parties were famous for the variety of food I served and for my mother's homemade pickle. Friends and family would always want some to take home. Soon I realized that they wanted more but were reluctant to ask. That's when, with the encouragement of a few, the support of my husband and the expertise of my mother – Jyo's Farm came into existence.

"The pickles from Jyo's Farm are steeped in rural Andhra tradition, from the sourcing of the ingredients to the pickling methodology, yet they are perfect for the modern urbanite. There is an unparalleled joy of eating something that is authentic and made from all natural ingredients without preservatives. Jyo's farm is really a way to give more people access to authentic, homemade pickles.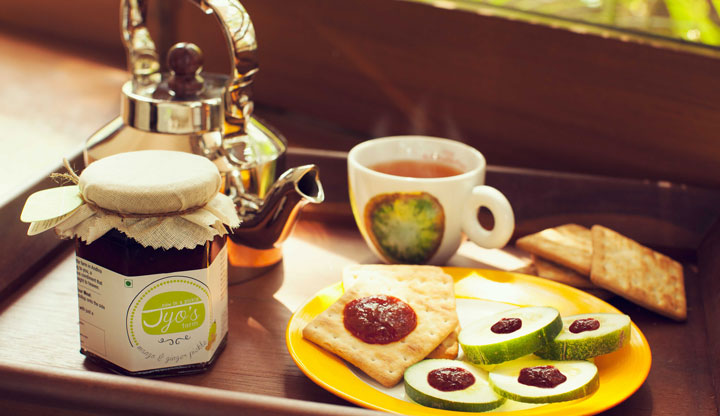 "While modern tastes have evolved, some things never go out of taste or style. Like pickles! Here at Jyo's Farm, we have been able to treat our pickles like relishes or dips to pair with a whole array of snacks, hors d'heuvres and more diverse dishes, making every spice loving gourmand'sdream come true. So whether you're eating a simple meal of rice, or serving a platter of cheese with wine, our pickles can add some Andhra zing to your table.

"Right now we have 10 varieties of pickles and we intend to add more, according to the seasonal availability of ingredients. Our range of preservative-free pickles includes: Sundried Mango, Ginger, Lemon, Mango-Ginger, Gonghura, Tomato, Mango (avakkai), Coriander, Red Chilly and Gooseberry.
"The pickles are available in multiple locations in Chennai and as we gain momentum, we intend to expand to more cities and to also make our products available for shopping online.

Stores currently stocking Jyo's Farm pickles are Old Madras Baking Company, GormeiMarket, AmmaNaana, WaitRose, DesiRants. Call us at +91 98400 49982.