PepsiCo And Vikas Khanna Join Hands To Promote Healthier Eating Habits
Consumers across the world are denouncing fast food and soft drinks in favour of healthier options, according to several market trend reports. It makes sense, therefore, that major brands like PepsiCo which is best known for its soft drinks are shifting focus to healthier brands in their portfolio. For instance, PepsiCo has announced a tie up with celebrity chef Vikas Khanna, making him the brand's nutrition ambassador.
Khanna's Role As Nutrition Ambassador
In a statement to the press, PepsiCo has said that it chose Khanna to be their nutrition ambassador because of his reputation as a chef and his work with the Smile Foundation, which seeks to provide adequate nutrition for underprivileged children. Khanna's association with PeosiCo will last two years.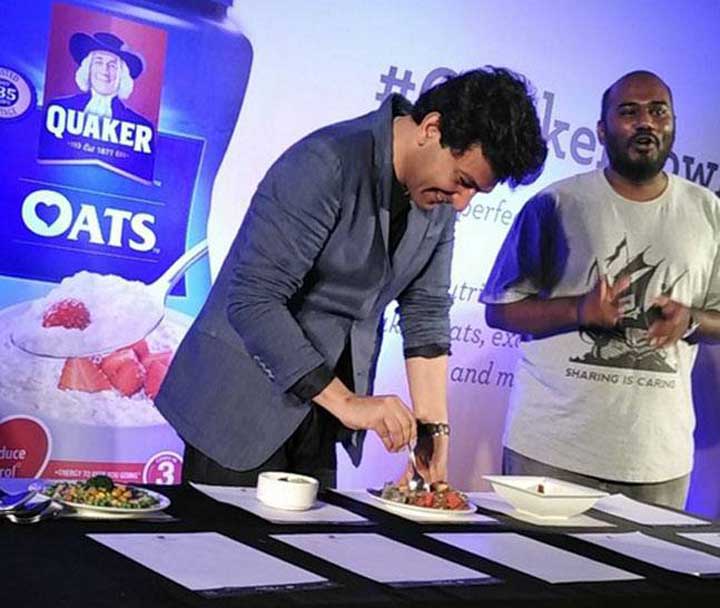 With this tie up, PepsiCo hopes to convince the public that they can make nutritious as well as delicious food choices.
#QuakerBowl
Khanna has already collaborated with PepsiCo to promote their Tropicana products. Now, he has moved on to campaigns around the company's Quaker Oats brand, in which he will encourage the public to share fun recipes using the oats and conduct interactive campaigns with influencers across India.
In a recent event in Mumbai, for instance, Khanna interacted with a collection of bloggers during which he talked about the key to a healthy balanced diet and shared conversations about how to adapt current food trends so they become healthy. Additionally, the bloggers were invited to participate in a soup tasting competition, in which winners were given a Quaker Oats hamper.
Here is the gist of our fun-filled experience at #QuakerBowl @indiblogger meethttps://t.co/4qehuu0VS4 @QuakerIndia pic.twitter.com/XhLw7MVg2j

— Mumbai Food Diaries (@ginni_me) April 17, 2016
Thank you all for a supercharged Sunday!! #QuakerBowl pic.twitter.com/8FFTVPdZpA

— IndiBlogger.in (@indiblogger) April 10, 2016
That's our Chocolate rabdi jalebi that @TheVikasKhanna tasting #QuakerBowl pic.twitter.com/RAEd2UINRq

— Salonee Sanghvi, CFA (@QuirkyLogic) April 10, 2016
Do you want a chance to meet the dashing Khanna too? Or are you just excited about the prospect of eating healthier? Either way, keep your eyes peeled for events that will be hosted by Khanna celebrating Quaker Oats, coming to a city near you!