Food adventurers should not miss out on this famous Rajasthani classic. This is one of those recipes you'd want to try on a lazy day. Though this dish is not very famous in South India, it is a frequent dinner item in many North Indian homes.
Papad Ki Sabzi is a super easy recipe that you can make in 10 minutes flat. With many variants, we've listed out the easiest recipe for you to try. Serve it ladled over warm ghee rice, as a side to hot, buttered chapatis, or eat it plain, it's just as good. Read more for the instructions.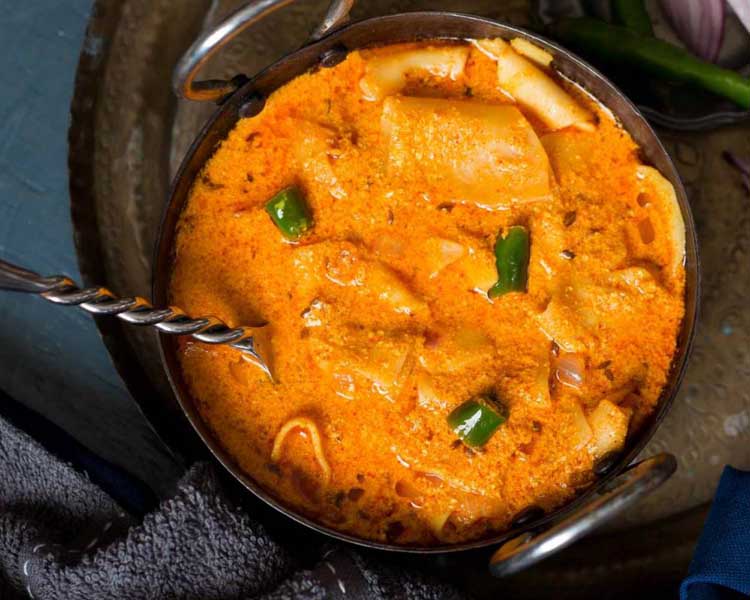 Prep Time: 10 minutes | Cook Time: 10 minutes | Total Time: 20 minutes
Ingredients:
4 Papads (Moong Dal papads work best as they retain shape and flavour)
1 Teaspoon Cumin
1 Teaspoon Red Chilli Powder
1 Teaspoon Turmeric Powder
1 Teaspoon Coriander Powder
2 Tablespoon Ginger-Garlic Paste
5 Tablespoon Oil
6 Tablespoons Ghee
1 Small Ginger Piece–Chopped
1 Green Chilli –Chopped
2 Cups Whipped Curd
1 Cup Water
Salt To Taste
Chopped Coriander Leaves For Garnishing
Method:
1. In a pan, heat oil, fry the papad, drain them on a tissue and set aside.
2. In a large wok, heat the ghee, adding cumin seeds and ginger-garlic paste and cook untill the raw smell is gone.
3. Next, add red chilli powder, turmeric powder, coriander powder, chopped ginger and green chilli to the kadai. Keep stirring and cook until the oil separates on top.
4. Lower the heat, pour the whipped curd in the masala, add water and stir well. Let it boil on a low flame till the mixture thickens.
5. Break the fried papad into the wok and add salt. Stir and let it cook for another 3-4 minutes under low flame.
6. Garnish with chopped coriander leaves and serve hot.