Padma Lakshmi is going places – she is now in the Pentagon.
The Pentagon has hired Padma Lakshmi, author of world famous cookbook 'Easy Exotic' and famed chef, for some culinary guidance. Lakshmi will reportedly work with the Pentagon on a spinoff of Top Chef, in which meals for the U.S Military will under-go a much needed makeover. "Food is a great metaphor for the military," Ms. Lakshmi told Pentagon staff members last week. "You have to work together in the kitchen. Nobody does it alone in the kitchen — and if anybody tells you otherwise, they're not a real chef."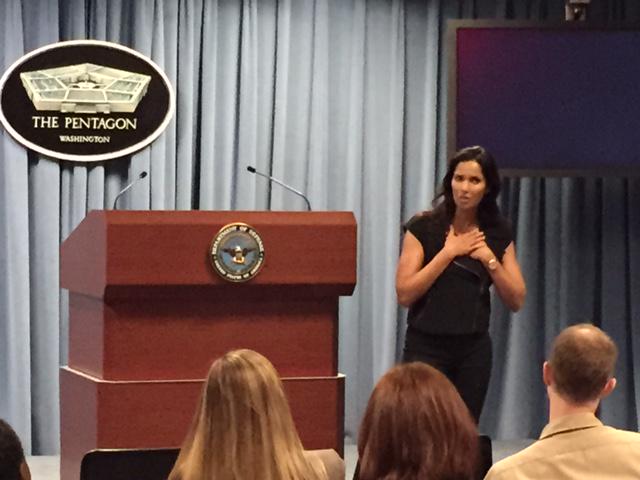 U.S Military meals are known as MRE's or 'Meals Ready to Eat'. They are individual field rations given to service members and are hardly known for their beauty or flavour. According to Brad Turner, former host of the Pentagon Channel's weekly cooking show 'Grill Sergeant', "I would take a good MRE any day. I have 100 stories of how to make them better."
Reactions have been mixed, though officials are hopeful that the show will help "humanize the military." Lakshmi will work with Nigel Lythgoe, the producer of hit television shows like American Idol and So You Think You Can Dance, to produce a program that is both interesting and respectful. "We don't want it looking like a propaganda program, but we want to do it subtly," Lythgoe told members of the Pentagon.
I could tell you more, but I'd have to kill you… pic.twitter.com/IjIoOpmTnq

— Padma Lakshmi (@PadmaLakshmi) April 9, 2015