Our Culinary Adventure at Grand Mercure Mysuru
We, at Hungry Forever, have been to several hotels to try out what they have to offer. We have always received what we expected -great service. In spite of that, it is safe to say that our stay at Grand Mercure Mysuru was right on top of this list for being one of the best experiences we've had. The reason we say this so confidently is because we firmly believe that hospitality can seldom be taught. It is something that rubs off on a person from the people around them. Right from the moment we arrived, we were received by humble and courteous staff who went out of their way to make us feel like royalty. Right then, we knew that we were about to have a fantastic weekend.
The room we stayed in was impeccable. What really stood out for us was the cultural influence on the décor. Melt-in-the-mouth Mysuru Pak, channapatna toys and the framed pictures on the walls brought out the essence of the city in our very own hotel room.
The Dinner:
We dined at the Galleria on the sixth floor of the hotel. Cosy interiors, pleasant weather and lipsmacking food by the executive Chef, Mr. Anil Shamrao Chabukswar made for a truly memorable evening. We were served some spicy pappads with interesting dips. We'd like to specifically mention the pineapple dip here. The sweet and spicy taste was the perfect start to the meal.
Soup:
Kharode Ka Shorba
Served with a small strip of naan, this soup went straight to the heart. The lamb was tender and cooked to perfection. The flavours were a real treat to the palate.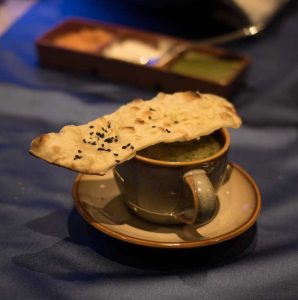 Starters:
Galouti Kebab
Being a personal favourite of ours, the bar was set quite high for this dish as we've tried this everywhere! The chef worked his charm perfectly with this dish. It was soft and perfectly spiced. The consistency was on point.
Murgh Malai Tikka
Cream, cheese and chicken. What's not to like? Served in a smoking pot, the presentation was something out of a television show.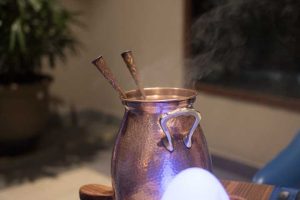 Paneer Ke Sholey
Vegetarians are not left behind here. This is one place where the competition between the vegetarian and non-vegetarian options ended in a tie. The paneer melted in the mouth and kept making you come back for seconds.
Main Course:
By this time, we knew what kind of a treat we were in for. With loosened pants and ready forks, we gave special instructions to the chef to give us small portions of his delicacies so that we can try more of what they had to offer. The chef went all out and gave us a feast fit for kings.
Sarso Wali Broccoli
If you ever have a tough time feeding your kids some broccoli, you might want to take a leaf out of the chef's book. We would go on to write an ode to this dish but for the lack of time, we're just going to say it was a delightful dish. The taste of the mustard complemented the broccoli well.
Nalli Nihari
We tried some Indian breads (Roti, Laccha and Butter Naan) with this delectable lamb curry. The Luckhnowi flavours of the lamb lingered on our taste buds long after the meal.
Bhune Pulao
We tried this pulao with some of the lamb curry. It was delightful and light on the stomach but leaving you with just that craving for one more spoon.
Dal Bukhara
This dish addresses the heart. It is comfort food at its best and gives you a little piece of home when travelling. It was simple and just how you would want it to be.
Dessert:
Stuffed out of our minds, we still couldn't pass up the opportunity to have dessert and we weren't disappointed. We had Kala Jamun and Corn Halwa. Both were unique in its presentation. It was a sweet end to an amazing meal. We left the venue with happy bellies and happier hearts.
And the culinary adventure continues
The Breakfast: La Uppu
There's something charming about tall windows. The restaurant has an outdoor and indoor section. We chose to sit indoors only to be closer to the food. The interiors were warm and welcoming. After dinner the previous day, we had our doubts about ever being able to eat again considering how much we put away. But one sight of the breakfast buffet was all it took to get us out of one food coma and enter the next.
Around the world in one buffet
This meal almost took us on a world trip. From continental style food to Indian delicacies, they left no plate unturned. There was also a range of low fat smoothies and detox juices for the health freaks.
The live counters at the buffet ensured that we had hot dosas and eggs any way we wanted. We started off our meal with bacon and omelette because that's how we get a great breakfast going.
We tried some of the detox juices after this just to ease our conscience before we ate some more. The tomato and spinach juice was a real surprise. Who knew something so healthy could also taste this great!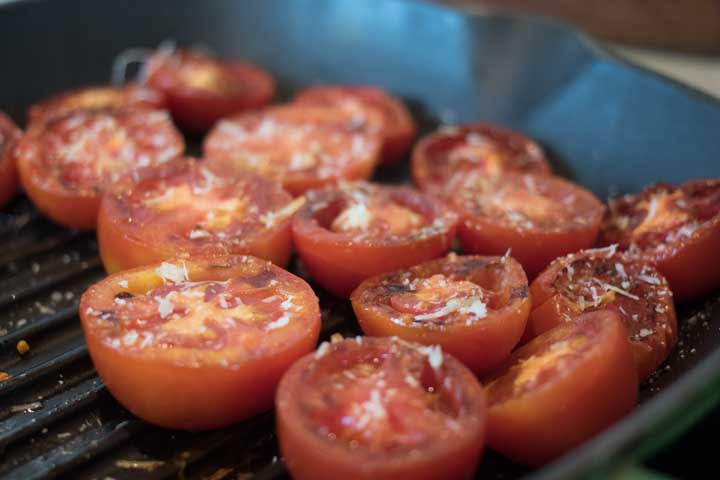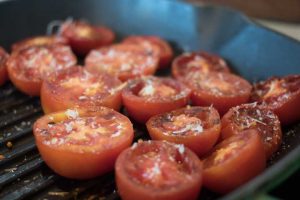 Corn and mushroom were sautéed to perfection. We had this with some grilled tomatoes and chicken sausages. A couple of low fat smoothies later, we decided to take a walk around the outdoor part of the restaurant.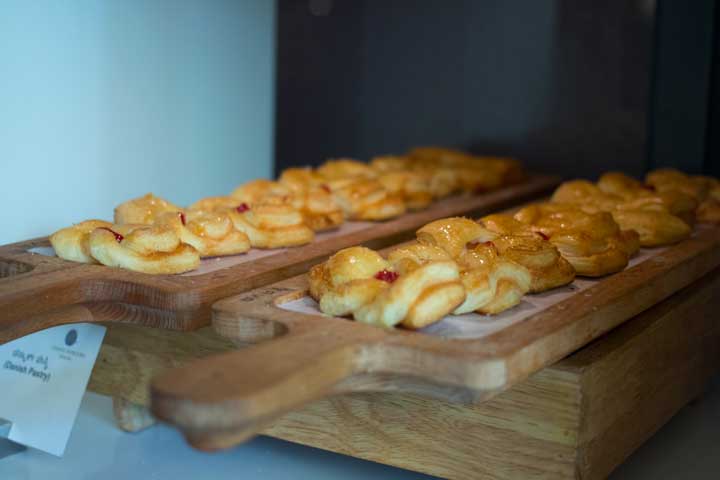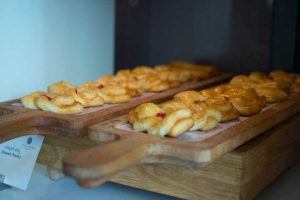 The chefs were setting up for brunch that followed. This was done for guests who preferred to sleep in on Sunday and have a lazy Brunch instead of a breakfast. The spread was expansive ranging from good old Indian Chaat to European style grilled food. We took a breather with a traditional filter coffee and checked out the other amenities at the Hotel.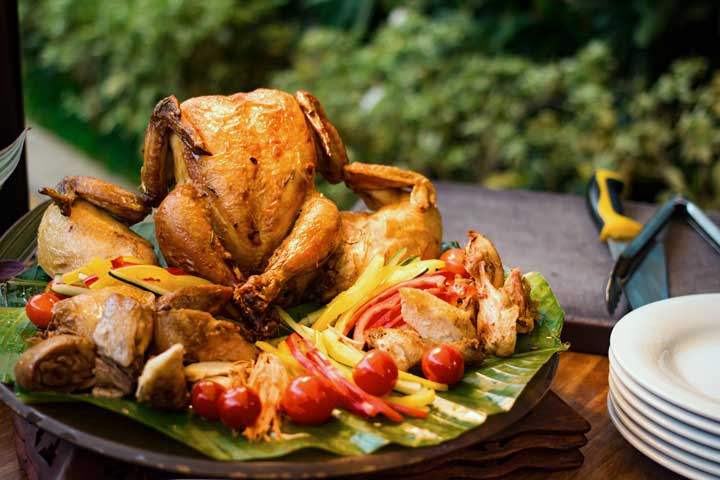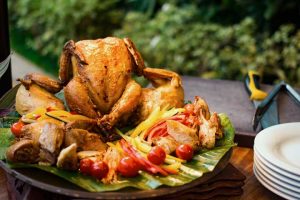 Their banquet halls with collapsible walls are sure to be able to handle festivities of all colour and vigour. Their gym and pool will reassure you that you can work off all the food that you eat, later. We're told that there are swimming classes coming up for kids to beat the summer. Our stay at Grand Mercure Mysuru helped us appreciate the slow-paced and charming nature of Mysuru all the more.
Lunch: La Uppu
We decided to have a light lunch as we were heading back home after all the binging. The buffet was extravagant.
Kosher soup
We started the meal with the beautifully golden kosher soup. It was soothingly warm and tasted comforting.
Starters and Salads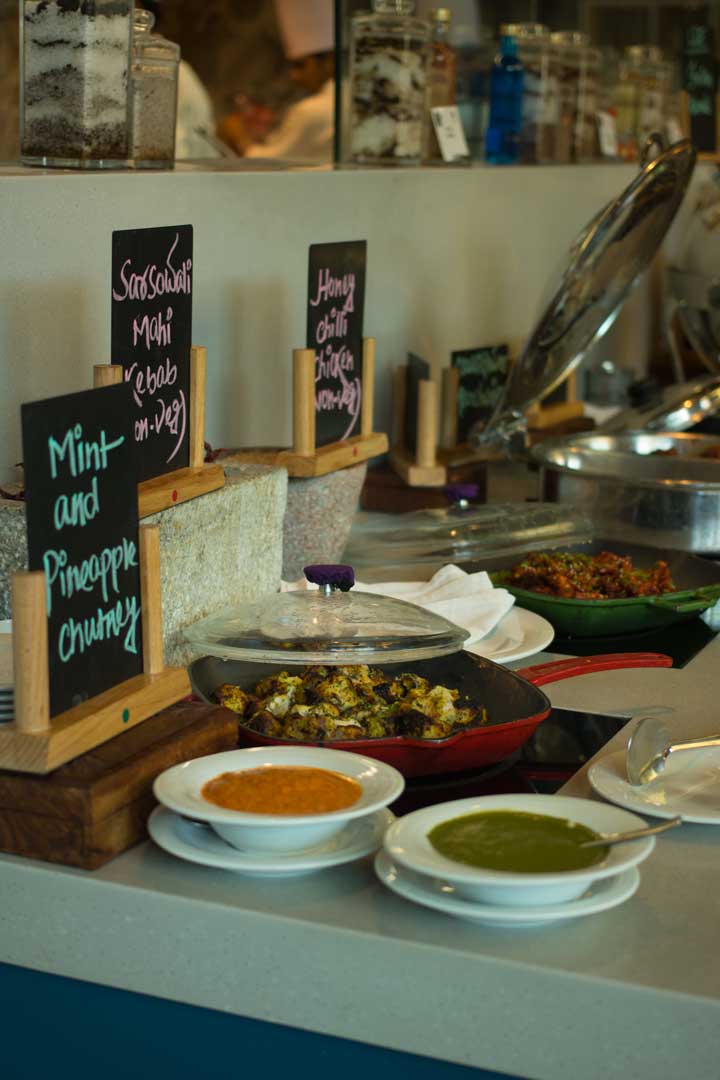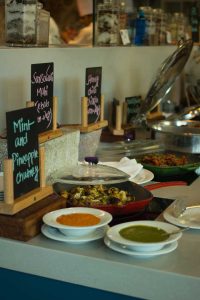 We tasted a few chaat items before the main course. The menu had everything from Vietnam roll salad to sliced fish in Oyster sauce. Each of the items was flavourful and unique. The kebabs were irresistible. The salads were colourfully presented. The names of the dishes were labelled in cute black boards with colourful chalk and it gave a personal touch to the meal.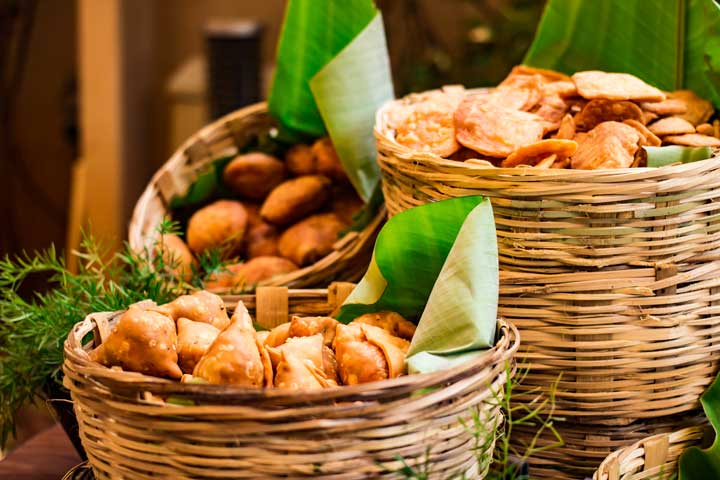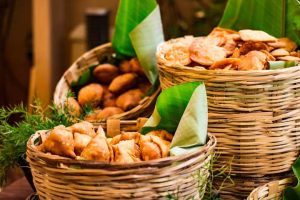 Main Course
The smell of the murgh biryani called out to us at this point. It was perfectly spiced and had us going back for more.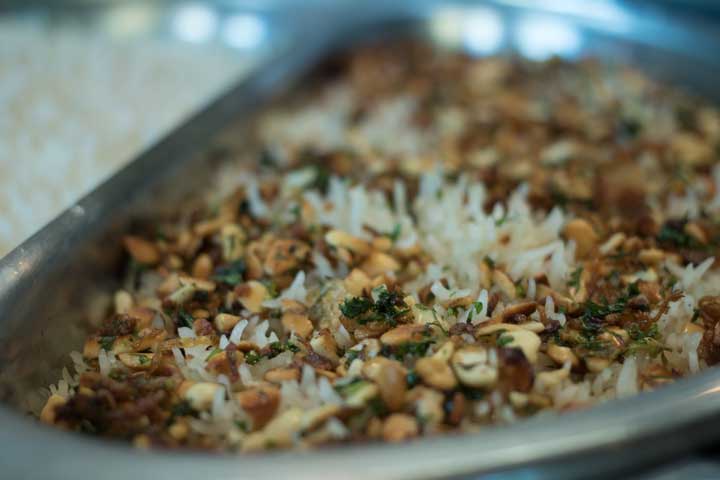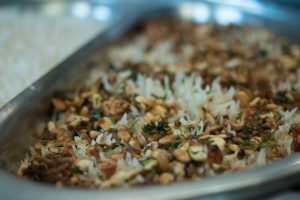 The options were almost never-ending. Live counters were set up for pasta. Other options included garlic noodles, honey chilli chicken, cauliflower and more.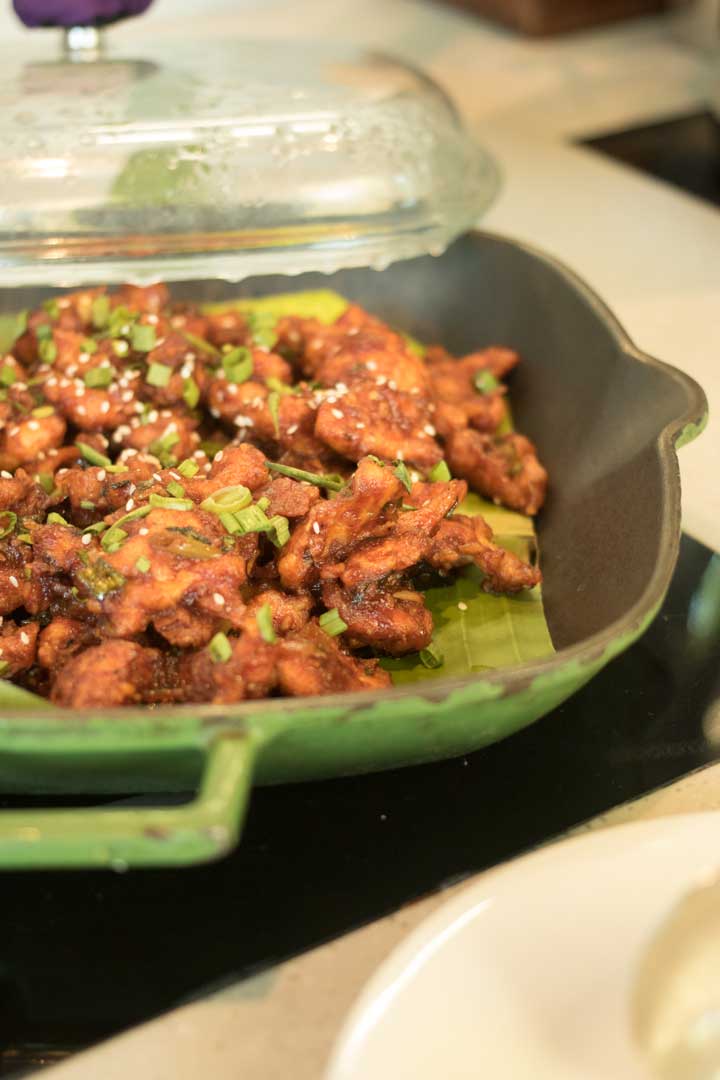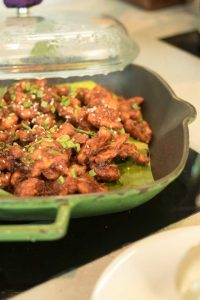 Dessert
Chocolate mud-pie was the highlight here. It was so aesthetically presented that we almost felt bad to eat it. But it tasted even better than it looked if that was even possible.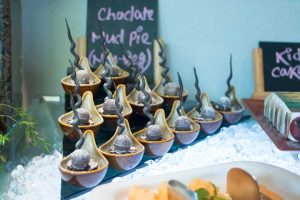 They also had a selection of cut fruits, red velvet cake and kala jamun.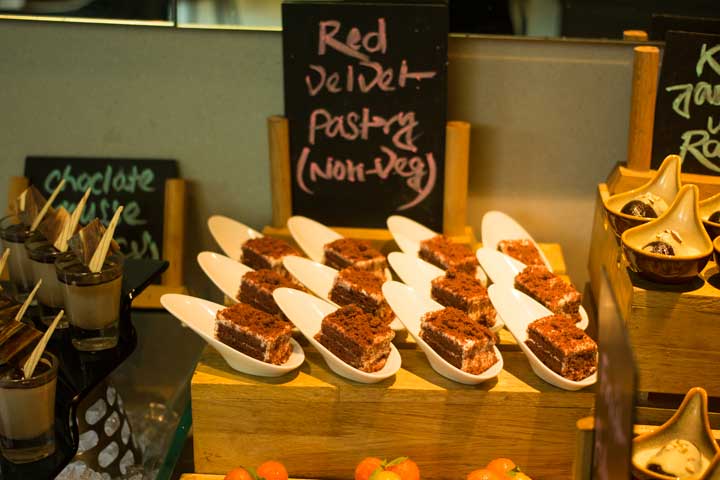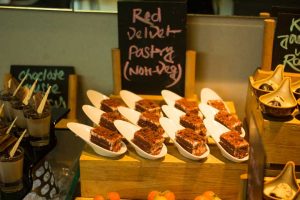 We got a little sneak peek at what they have in store for Easter. It definitely looks like it came right out of heaven!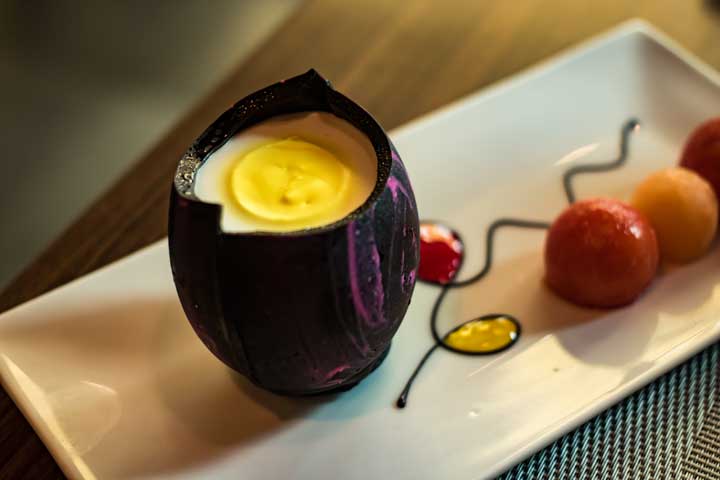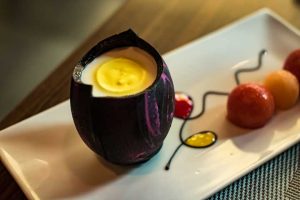 The attention to detail by the friendly and ever-smiling staff made our visit truly memorable. They were efficient, prompt and respectful to every guest's request and this is sure to set a precedent to judge service by.