Noida Is "Fridging The Gap" With This Community Fridge In Sector 93-A
The society is slowly, but steadily, moving towards being better humans towards the ones in need. From organisation that are working to make sure that no one goes to bed hungry, the citizens are doing their bit as well by setting up community fridges for starters.
A few weeks ago, a housing society in Gurgaon set up a community fridge outside their society. The residents contributed by storing any surplus foods and drinks in this fridge and the ones who need it can simply help themselves to it.
Cities including Chennai and Mumbai have taken the initiative. And now joining in on this movement is Noida's posh ATS Greens Village, a residential society in Sector 93-A. Much like the Gurgaon society, the Noida residents too have set up a community fridge outside the society. Christened "Fridging The Gap", the project encourages residents to donate food, which is stored in the fridge. The fridge, in turn, caters to the ones in need.
"We have started it from our own society and not taking food from other societies. Food can be donated, but making it successful matters. Guidelines have been issued for this community fridge through Whatsapp as well as posters have been pasted. A person who packs food in paper will have to write it in Hindi as what it contains so that a person can read a make choice to have it," Nikhat Tyagi, a resident, told Hindustan Times.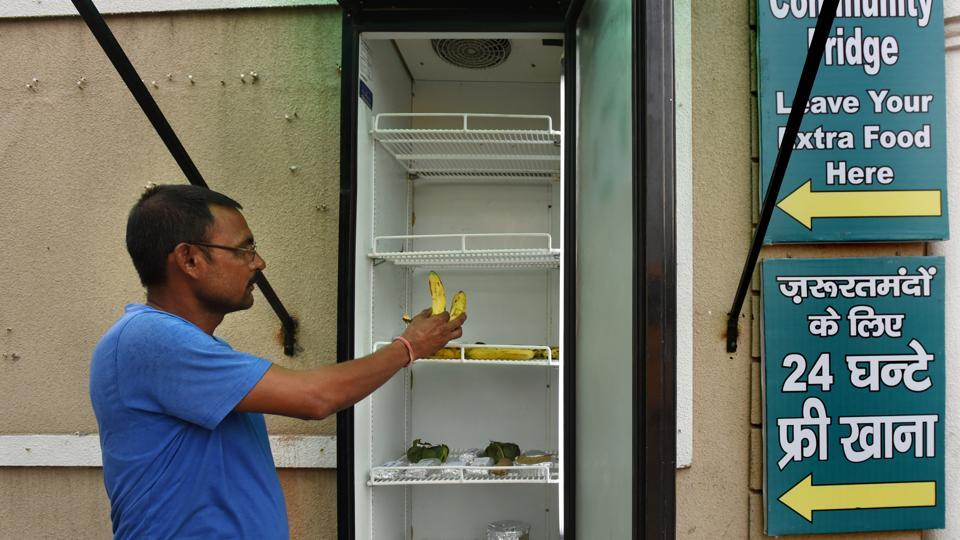 Image: Hindustan Times 
There are certain rules regarding to fridge, in order to maintain the freshness and sanitation of the food. For instance, the food being kept in the fridge must be wrapped in a foil and items that have not been taken for over 12 hours will be thrown away by the volunteers.
Tyagi added that the ATS residents were approached by a Gurgaon society to kick off the initiative. "The fridge has been installed through crowd funding. It is not a new one. Many people were ready to spend, but decision was changed. This is a used fridge, which has been little repaired. We got it installed to check as how we can make it successful. Over a period of time, this can be taken to a village area and a new one can be installed here".
Feature Image: freeimageslive