Nibble On Sumptuous New Beer Bites At Farzi Cafe In Mumbai
Menus around the city are upgrading for its the new year and it's time for fresh flavours. Keeping this intention, bringing you delicious new delights is the Farzi Cafe which has introduced beer snacks, kebabs, local street food as well as international delicacies. So without further ado, let's get you acquainted with what's in store for you!

Chaats And Sizzlers

Feel like a chaat? We do, all the time! So let's tuck into Kakari Palak Chaat with Tamatar Ki Dubki and Ragda, Mutton Pattice Chaat a mix of Potato pattice stuffed with minced mutton; served with ragda, green chutney, sweet chutney and sweet curd. Different and oh so tempting, right? If this doesn't get your attention then order some Thai Curry Paneer Tikka with Sambal mayo or the Achari Fish Tikka which is Rawas fish marinated in achari margination cooked in tandoor served with pomegranate flavoured cream.

For serious eats you can indulge in their tantalizing Mushroom and Cheese Sizzler with Chilli Glazed Noodles or the Sizzling Chicken in pepper sauce with tossed noodles. We talked about international delicacies earlier and Farzi Cafe has really chosen the best of it. Indulge in Classic Mac and Cheese, Eggs Benedict with Baby greens, Grilled Chicken Wings with BBQ glaze, Farzified Mezze platter made with Masala chole hummus, tangy olives, crisp lavash and more.

It's Chakna Time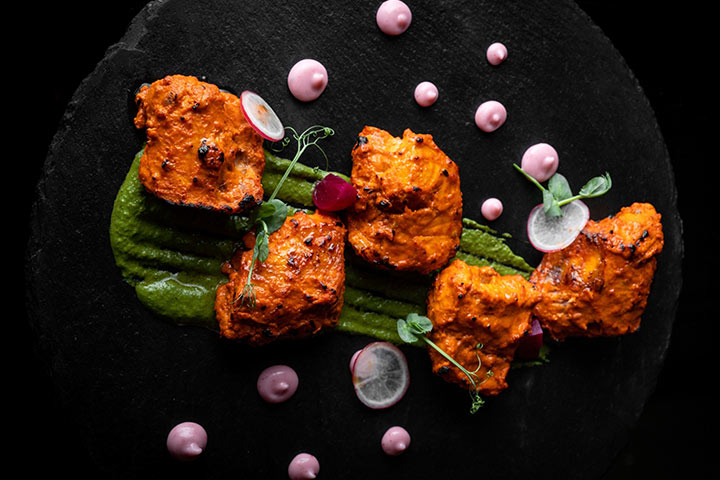 While sipping on your favourite drink, you can order delish chakna like Koliwada Chicken Popcorn, Assorted Poppadum or Farzi Chakhna Plate. Or maybe even order a little healthy like Quinoa and Avocado Bowl or the Khow suey Bowl. What we're excited about are their new sides – Avocado Achar, Masala Papad Cornetto, Tadke Wali Dahi and more.
So get yourself farzified with these new dishes on the menu of the Farzi Cafe and we're sure you'll make some new favourites in no time.