Nestle India Launches New Kit Kat Variation; Kit Kat Duo In Association With Ki & Ka
India is eagerly waiting for the release of Ki & Ka, a Bollywood film directed by RK Balki and staring Kareena Kapoor and Arjun Kapoor. The film challenges gender roles – Kareena plays a career driven wife while Arjun plays her husband, a happy homemaker. Various brands are associating with the anticipated film; while Dawaat Rice is running a campaign encouraging men to cook for the 'Ki's (women) in their lives, Nestle India has launched an ad staring Kareena and Arjun trying Nestlé's latest product.
Kit Kat Duo
Kit Kat Duo is the latest variant of Kit Kat, a popular chocolate. This variant is a combination of milk and white chocolate surrounding wafers. The chocolate will be priced at Rs. 10.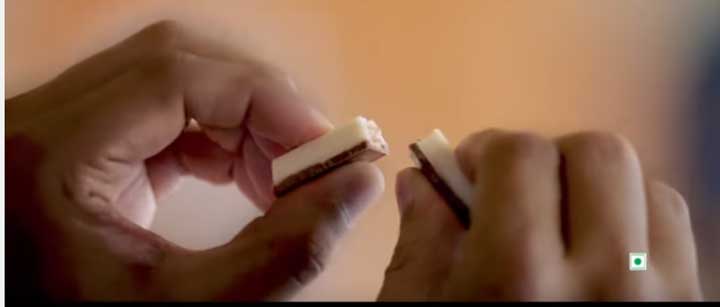 In a statement to The Hindu Business Line, Nikhil Chand, the general manager of chocolates and confectionary at Nestle India said ""We have seen innovations at the top end with most players introducing new brands and variants at the ₹20-plus range in this category. Our pricing at ₹10 for Kit Kat Duo is an attempt to offer innovations at a lower price point."
Switch off and take a break this evening. Try the new Kit Kat Duo while on your break. #mybreak pic.twitter.com/jMRrDdmn8b

— KitKat India (@KitKatIndia) March 19, 2016
To promote the new product, Nestle India has tied up with Patym, which will have a cashback offer on Kit Kat Duos and with Ki & Ka to create the TVC that will promote both the film and the product.
The TVC
Kit Kat's official YouTube channel published the TVC on March 18th. In it, Kareena and Arjun are given the Kit Kat Duo to sample and get into an argument about which side of the chocolate represents Ki and which represents Ka.
An off-screen commenter weaves in the official Kit Kat tagline, telling them to "Have A Break, Have A Kit Kat."
Kareena then points out the propitious similarity between 'Kit Kat' and 'Ki & Ka', telling viewers to catch the film. Take a look at the ad below:
Commenting on the association, Nikhil Chand said " "We are extremely happy to introduce the new KIT KAT Duo in association with Ki & Ka. The subject of the film is very novel and resonates with the brand identity of our new product and the core target of our brand – the youth. The youth today are focused on novelty, therefore, the new KIT KAT Duo takes innovation a step forward by offering a distinctive combination of brown and white for the very first time."