Namratha gives you a piece of her home at Cuckoo Club Diner
We're completely Cuckoo over this diner.
We, at Hungry Forever, are officially in love with our jobs. No, this is not just because of all the food we get to eat but because of all the interesting people we get to meet.
One very hot summer afternoon, we packed our bags and headed to Cuckoo Club Diner for lunch. We were warmly greeted by the staff who had us seated comfortably. As we took in the burst of colours at the restaurant, we were joined by Namratha, the owner of Cuckoo Club Diner. She is, by far, the chirpiest restaurateur we've met. She was so enthusiastic about her food that she had us begging to stop spoiling us silly.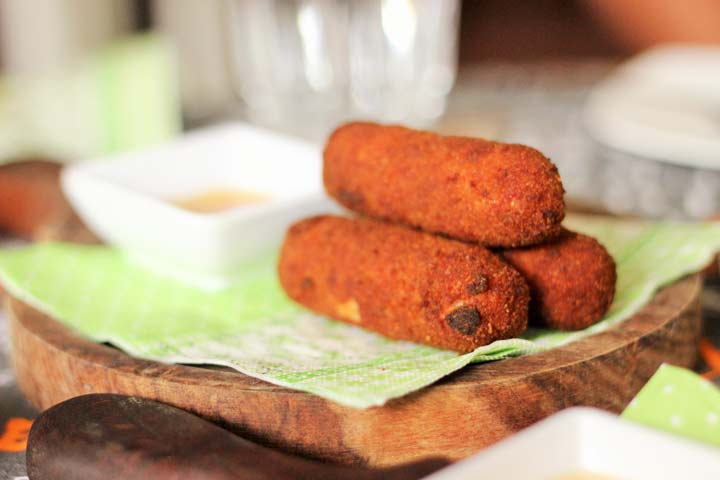 When we headed to Cuckoo Club, we'd mentally prepared ourselves to have small samples of their specialities. But Namratha, with her big heart, gave us samplings of a huge variety of dishes. Our food adventure here began with a bright glass of orange float, followed by a Nutella shake. The orange float was quite refreshing. When friends asked me if I like my Nutella with bread, I always said that I like my Nutella with more Nutella. After today I'm willing to alter that statement. The only way to make Nutella better is to make a shake with it and if you want to taste one of the perfect consistency, you need to head to Cuckoo Club Diner. That shake is now the ruler of shakes in my books.
Some freshly baked bread was brought to our table, next. The bread was delightfully soft and practically melted in the mouth. We were informed that even their burger buns are made here. A hot plate of chicken wings came next. It was spiced right. The sauce was delightful on the palate. We were then given a cute, little plate of crumb fried chicken wafers with spiced white sauce. The spiced sauce complemented the chicken well. Just as we finished this, a hot platter of chicken croquette appeared at the table with pineapple Cajun sauce. This sauce was sweet and spicy at the same time. The chicken croquette was tender. Each bite was a treat. Crisp and meaty Cajun minced cutlets with ketchup were served next. Crisp on the outside and soft on the inside, this little wonder had us almost licking the plate clean.
As Namratha explained with great passion as to what goes into each of her dishes, we couldn't help but be excited for all that was to come even though the seams of our clothes protested vehemently. Cuckoo club diner hit home with the Étouffée that was served with butter rice and grilled chicken. The sauce was creamy and flavoursome. For people who love all things butter and cream, this is a big winner. This writer is now going to take a break to grab a snack. Reliving each dish can do that to you. As I munch on a sandwich (which pales in comparison to what I'm going to talk about next), I'll take you back to the moment when a plate of freshly made shepherd's pie was brought to the table. This, she said, was a family recipe passed down for generations. Till date, this is made by her mother every day, at the restaurant. The mashed potato was creamy and felt like cheese. The bountiful flavours made our hearts as full and happy as our stomachs. You'd think that we'd stop now. Well, we tried. And then country fried chicken appeared at the table with home-made mayo and cream sauce. Long story short – that plate lasted for about two and a half minutes at the table before it was polished clean.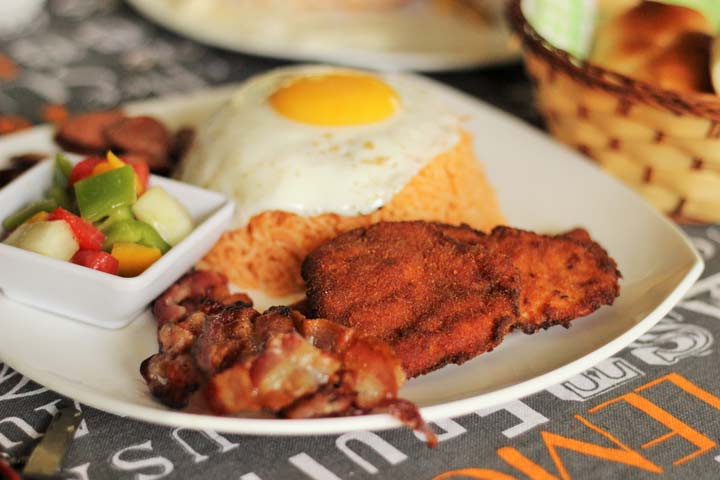 American fried rice with Cuckoo's orange sauce appeared just as we had sternly made up our minds to stop eating. This one is quite the poser. It is sure to be a huge hit with meat-lovers. Bacon, egg, Chicken sausages, crispy fried chicken, rice and of course, vegetables make this a copious meal by itself.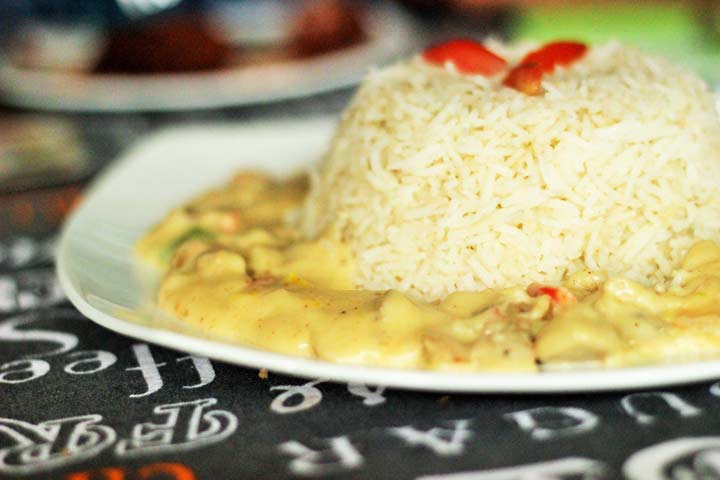 We had absolutely no room for dessert (believe it or not), so we decided to come back another day to talk about that. We were pretty sure that we would have to do some heavy-duty exercises before we could eat again. Personally we thought we'd be ready by 2020 for the next meal. We cannot thank our stars enough for people like Namratha and for food like that. We're sure that Cuckoo Club diner will go a long way in making the people of Chennai happy and content.
What we had –
Nutella milk shake
Orange float
Freshly baked bread
Chicken wings
Crumb fried chicken wafers with spiced white sauce
Chicken croquette with pineapple Cajun sauce
Cajun minced cutlets with ketchup
Étouffée with butter rice and grilled chicken.
Shepherd's pie
Country fried chicken
American fried rice with Cuckoo's orange sauce