Namma Chennai : This Street In Periamedu Has One Of The Best Iftar Experiences
As we were asking around for suggestions for the places to experience an Iftar  "Street Style" the Name Periamedu or Periamet kept popping up. A well-known area that has a slew of leather stores,  Vepery High Road, near the majestic Periamedu Mosque truly transforms itself during the Ramzan season to become a food lovers paradise. It really is one of the best Iftar experience s in Chennai.
Stalls and some of them are not even stalls,  just tables that have sprung up and been loaded with goodies. As you walk down the road you will be hit by the enthusiastic calls that advertise Haleem and Pakodas and mouth-watering Samosas.
We suggest that you head out between 4.30 pm and 5pm before the Iftar time hits and people start flooding in after their prayers at the mosque.
Start Drooling Now
Here are some of the delightful treats that we found there,because pictures are worth a thousand words.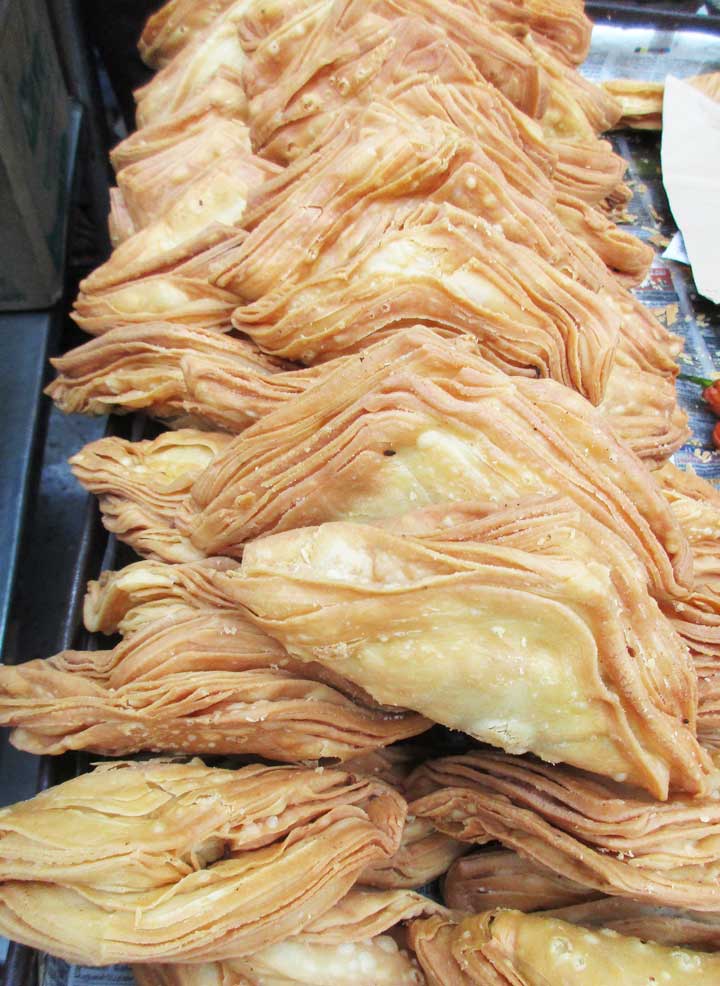 Crisp and Flaky Mutton Puffs with a filling that is to die for! Succulent minced mutton cooked with spices and tomatoes and encased in the crunchiest flakiest pastry ever! The crunch can be heard for miles.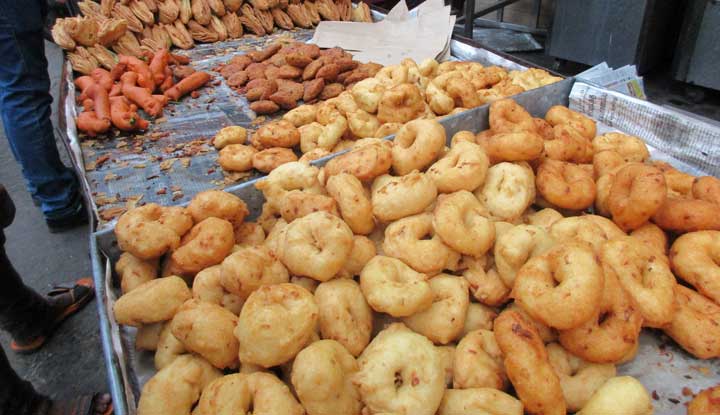 Different types of vadas and bajjis are common place as this is Tamil Nadu after all and these ones were truly worth a taste because they are made fresh right behind the tables. It is really hard to stop after one taste because these vadas are so light in texture.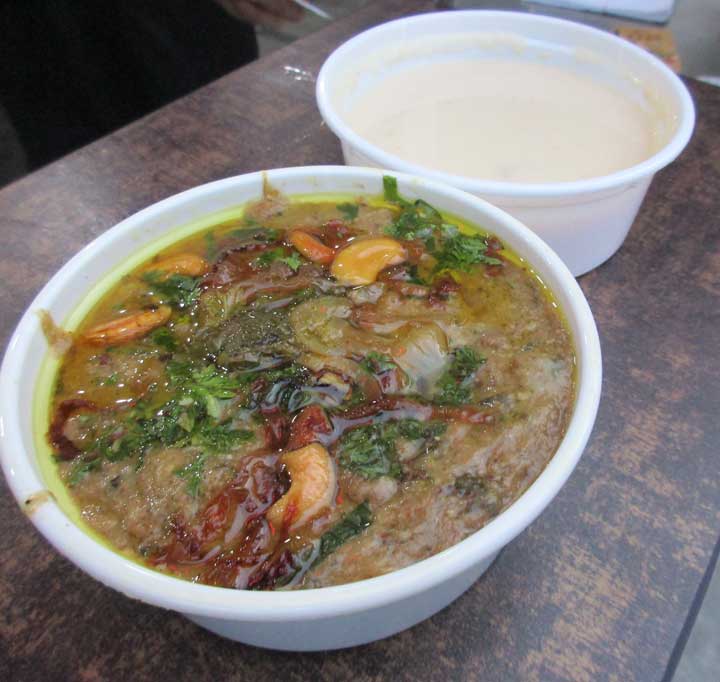 Haleem and Rabdi. No, these are not a combination meant to be eaten together. We don't think its possible to eat the two in the same sitting even. Both are rich delicacies that are meant to settle in your hearts and stomach heavily. The Haleem from these roadside places has a magic touch that isindescribable unless you have tasted it yourself. It's that good. The Rabdi is thick and creamy with just the right amount of sweetness. We  wish we could soak everything in this Rabdi.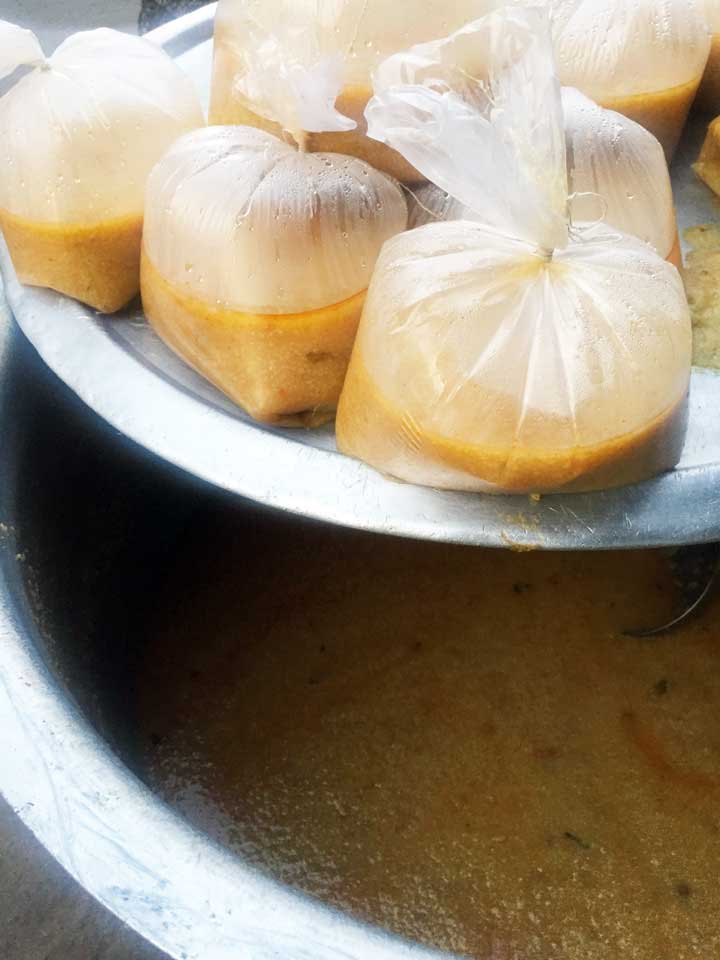 Nombu Kanji. This hearty soup/porridge is made with Rice, vegetables and lentils andis an Iftar staple in South India. Read more about it and Haleem in Chennai here.
Our Featured image shows some of the best goodies on the street. Chicken Samosas, Spinach Pakodas, Beef Fritters, Bajjis , Mutton Pakodas, Meat Samosas, Vadas (Drooling yet?) and the Famous Pista House Haleem along with some gorgeous Rose milk, all piled together  at the same stall. Made fresh every ten minutes or so, so the table always looks full and inviting.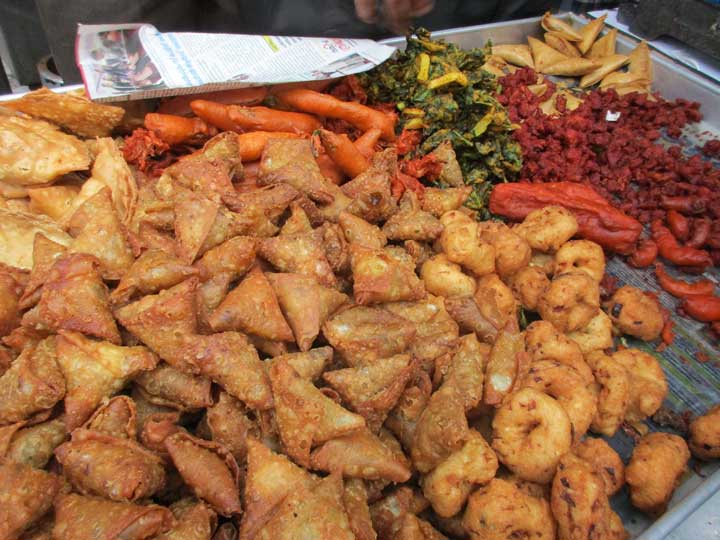 If this isn't the spirit of sharing and giving and togetherness that Ramzan brings we don't know what is. All the vendors are so polite and greet you with the customary Salaam Alaikum no mater who you are and are enthusiastic and happy to feed you. If you are in Chennai, do head out to Vepery High Road near the mosque and engage in this delicious and wholesome experience.