Myprotein Launches 'Fuel Your Ambition' Campaign and a Range of New Products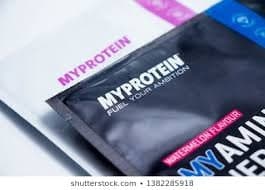 Myprotein is Europe's No 1 name in nutrition and fitness products, and the top-selling brand for India's health and sports enthusiasts. With their extensive line-up of products and constant attitude of innovation, Myprotein has already established a loyal clientele in the country.
To start off the year on an upbeat note, Myprotein has focussed on a campaign that promises to 'Fuel Your Ambition' by facilitating in the health journey of athletes and simultaneously spreading the message that hard work and strict discipline will help you achieve your goals. This was attained through their influencer programme, where Myprotein's ambassadors talked about their own fitness goals and the activities they are undertaking to meet their goal.
Additionally, the brand hosted a Republic Day Flash Sale on January 26th, from 2pm to 5pm, where lucky customers could avail a discount of 31% off on their purchase.
The highlight of January is also Myprotein's release of two great new products – their 6 Layered Protein Bar and BCAA Powder in a Lychee flavour.
Myprotein's 6 Layered Protein Bar has been crafted to combine excellent nutritional value with delicious taste. Each bar features six layers of taste and texture to provide a hit of protein, carbohydrates, and fibre. Packed with over 20g protein, essential minerals, calcium and copper, these mouth-watering treats are the ideal way to upgrade your healthy snacking.
Myprotein's BCAA Lychee powder is an everyday blend of essential branched chain amino acids (BCAAs) — Leucine, Isoleucine and Valine in the ration 2:1:1. These acids naturally occur in protein, help build and repair new muscle, and maximises recovery, making it ideal for players of all sports and great for everyone's fitness routine. Our bodies cannot produce these acids; meaning their inclusion in our diets is imperative. This makes Myprotein's formula super-convenient, as you can simply add it to a shake to enjoy its benefits, with no other prep required whatsoever.
Talking about the launches, Esha Singh, Managing Director-India & Emerging Markets, stated, "At Myprotein, we have always made it our mission to put our customers first. We identify what they need, and strive towards meeting their demands. This is why we are always innovating and coming up with new products. The new High Protein Bar and BCAA Lychee is sure to satisfy our loyal patrons, just like all our products never fail to do."