This Million-Dollar Wedding Cake Is Worth Every Penny
Not very often are there two brides at the same wedding. Unless you have London-based designer Debbie Wingham designing your wedding cake for the occasion. Keeping up with the new and upcoming extravagant wedding day trends, Wingham's latest creation is a 6-feet tall wedding cake, which was recently exhibited at Dubai's bride show.
The colossal wedding cake weighed a whopping 120 kilograms and cost a million dollars. Not even exaggerating. The price tag the cake that looked like a gorgeous traditional Arabic bride clad in pristine white boasts of a mammoth 1 Million Dollars (~ INR 6.5 crores). Allow us to explain why the cake is worth every single penny.
The million-dollar cake prides itself with five flawless three-carat white diamonds, each valued at £200,000, along with smaller stones on the headdress. These precious stones are the only inedible portion of the life-size creation, says the designer. The cake bride, complete with a hijab, engagement ring, lace and floral detail on the dress was pre-baked in Raffles Dubai. It was made using 1,000 eggs, 20kg of chocolate and 50kg of lace-textured fondant. Not just diamonds, it was also decorated with 1,000 pearls and 5,000 hand-cut flowers.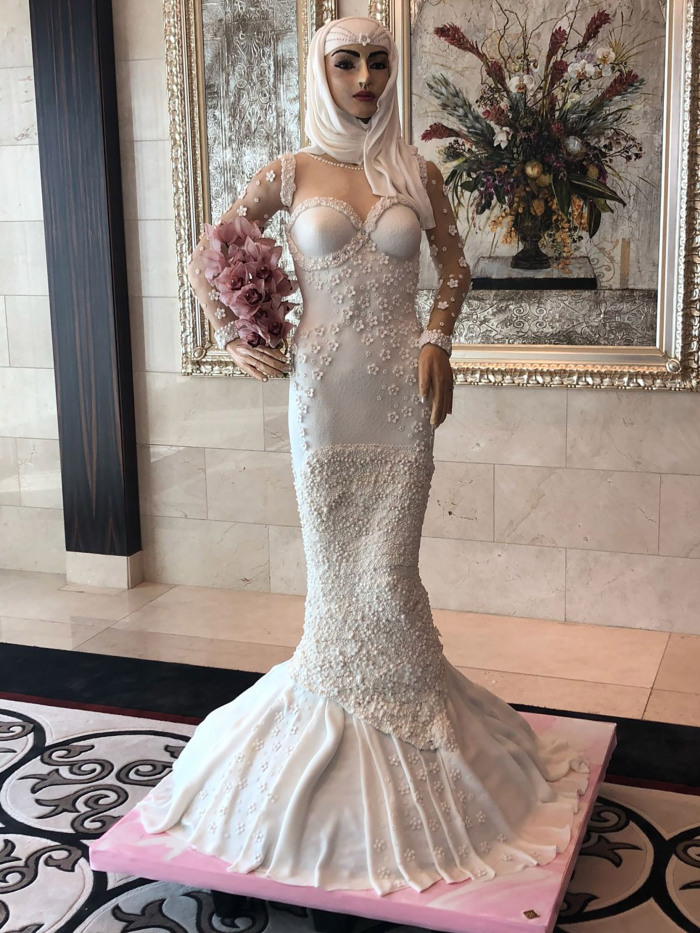 36-year-old Wingham, who owns Couture To Cakes, took to social media to share pictures of her breathtaking creation. She wrote, "The cake, which is worth a whopping $1 million, is shaped as an Arabian bride and is edible from head to toe. From the cake bride's lace-textured dress, edible pearls and iced flowers, the elaborate six-foot tall dessert weighs over 220 pounds, and took more than 10 days to create."
USD 1 Million suddenly seems like a small price for this edible work of art, doesn't it?