This McDonald's-Inspired Swimwear Line Is Simply Amazing!
Recently McDonald's amped up its McDelivery by rolling out a range of truly amazing limited-edition clothes, footwear, and more that it has been giving out in partnership with UberEATS. But a bunch of students at Miami International University (MIU) of Art & Design trumped the fast food giant at its own game. The students designed a swimwear line inspired by the burger chain to showcase at Swim Week fashion show.
The range of swimwear was a class apart as the students had been asked to use an interesting bunch of materials to bring their designs to life. The constituents of their creations had to be actual packaging materials used at McDonald's, said Charlene Parsons, director of fashion for the school.
According to Miami New Times, a total of 7,000 McDonald's sandwich wrappers, 2,800 fry boxes, 2,800 straws, 825 soft drink cups, 225 Happy Meal boxes, 2,900 sandwich boxes, 1,000 sriracha sauce lids, and 250 to-go bags were used to create the runway items that ranged from a surfer dude outfit to frilly dresses.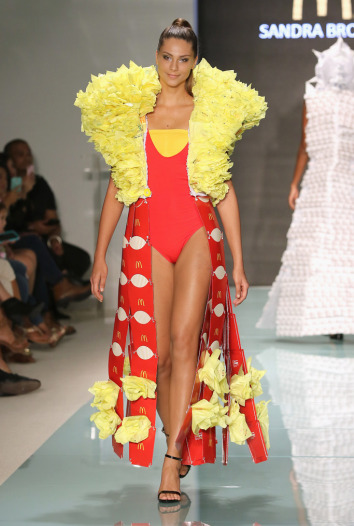 Image: Footwear News
"You can't even imagine what the school looked like. We're talking thousands of wrappers. One design used 150 Filet-O-Fish boxes. Some of the students even used straws to make skirts", Parsons said speaking about the students' works.
A total of 40 garments were created, out of which 20 were selected for the McDCouture Signature Crafted Swim Collection show that kicked off Swim Week. The models showcased the designs wearing them on top of a classic flaming red swimming costume or board shorts.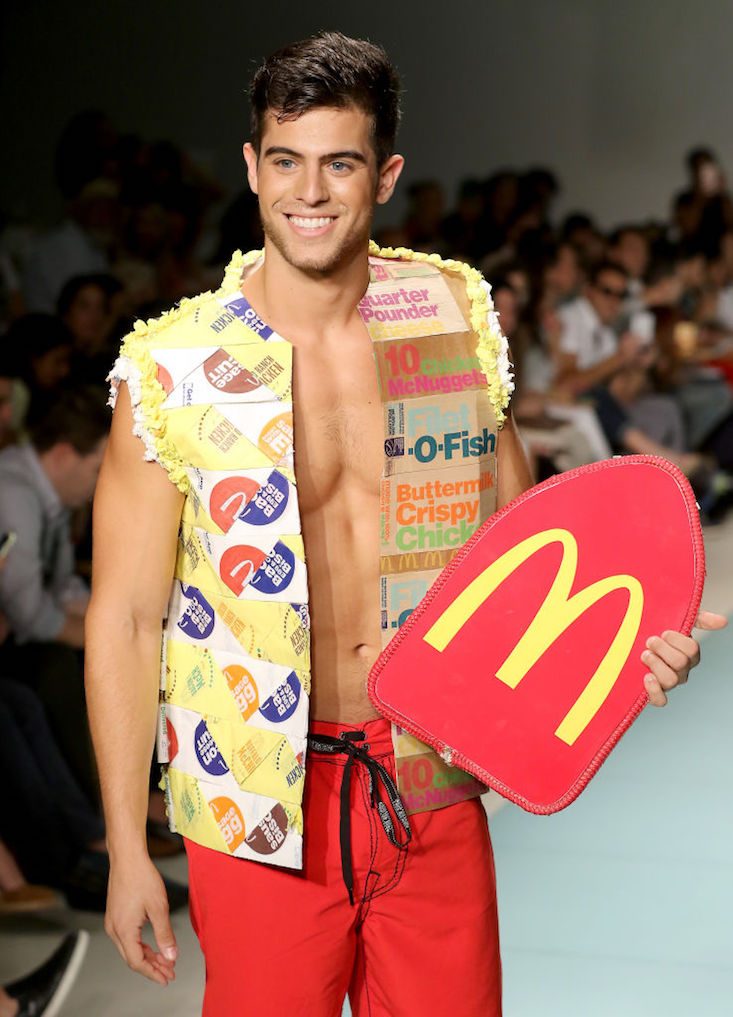 Image: Elite Daily
Complete with accessories, the designs were brilliant, to say the least. These creations were marked on the basis of uniqueness and wearabilty.
The budding designer who took home a $5,000 scholarship was Pablo Machado, whose work was immensely appreciated by all those present. Take a look at his winning design.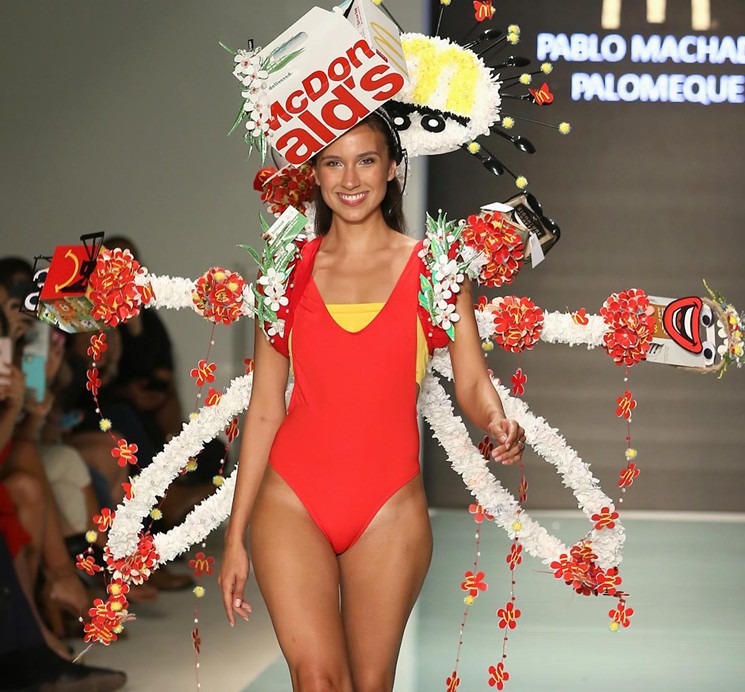 Image: Miami New Times
Notably, Machado's previous work for the 2015 McDonald's fashion show was also well received and he had bagged an invitation to design a costume for Miss El Salvador at the 2016 Miss Universe pageant, according to Parsons.
Want to check out the students' work in person? Head over to MIU as the pieces will be on display at the school's gallery for one month starting the first week in August.
Feature Image: USA Today