Mad Over Donuts Launches Diwali Gift Box With Indian Mithai Inspired Donuts
Mad Over Donuts, one of India's favourite doughnut brands, has launched a special Diwali gift box for food lovers to gift and enjoy this Diwali.
Diwali Donuts
The gift box contains donuts which blend the tradition of giving Indian mithai during the festive season together with donuts. Therefore, the donuts in the box include Motichoor ladoo donuts with rich white chocolate, Kaju katli donuts, Soanpapadi donuts with dark chocolate and soanpapadi crumble, Jalebi donuts which chocolate ganache and pistachio flakes and Milk Kalakand donuts with white chocolate and crunchy pistachio flakes.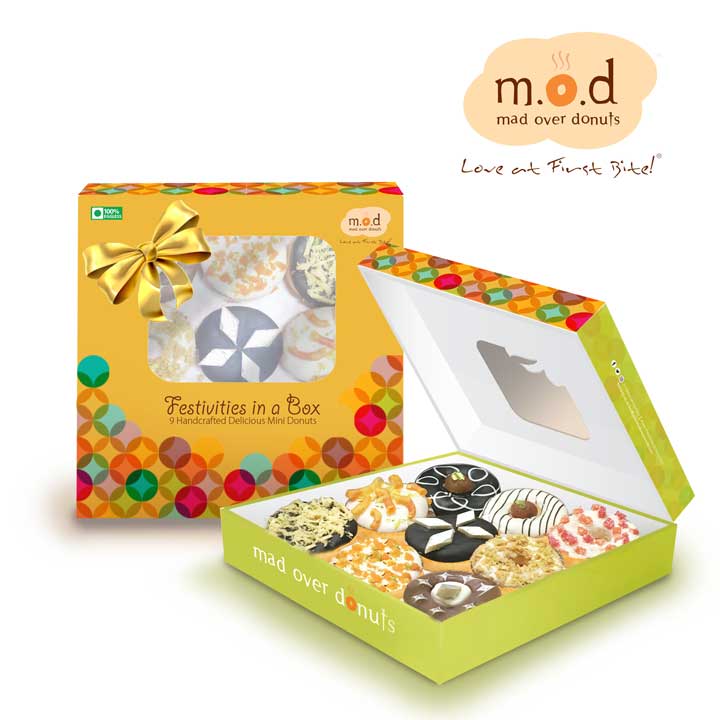 Commenting on the Diwali gift box, Mr. Tarak Bhattacharya, COO – Mad Over Donuts said, "At Mad Over Donuts, we love to surprise and delight our patrons. We understand how keenly awaited Diwali is. Our chefs have been perfecting these flavours in our kitchens for months. We were focused on creating donuts that give our traditional mithhais a modern twist, without hampering its original taste. Which is why the classic mithhai is an active ingredient in every donut. All our donuts are 100% eggless as always, so that everyone can enjoy them without any reservations. The gift box has been specially designed for the festive season, with bursts of bright colours. All this together, makes it the perfect Diwali gift, for all your friends and family. For added convenience, when our customers order these boxes, we can deliver them to all the intended recipients."
The box is available for Rs.425; place an order on Moddelivery.in or at a Mad Over Donuts outlet and get the box delivered to your door.