Ludo Mondays At SodaBottleOpenerWala Are The Only Way To Start The Week
Mondays can be tough, and getting over the Monday Blues before second Monday (Tuesday) can be much tougher. Luckily, everyone's favorite Irani Cafe, SodaBottleOpenerWala understands our plight and have come up with the idea of Ludo Mondays to make everyone's least favourite day a bit easier to get through.
The best part? The games of Ludo are intertwined with signature pitchers of cocktails, made by spirit aficionado Bala, who I can honestly say is one of the best mixologists this side of town. To play, all you need to do is order a pitcher of cocktails, that will set you back Rs. 500 plus taxes, (to share, or finish alone like a badass) which will entitle you to 10 coupons.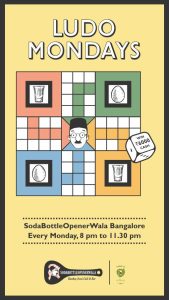 There's A Cash Prize Too
Start a game of Ludo with your coupons against your friends (or strangers) – the winner takes the losers coupons! The last man or woman standing (or sitting, depending on the number of pitchers you order) with the highest number of coupons takes home a cool Rs. 6,000. Imagine that! Playing Ludo, drinking cocktails, and potentially walking away with a six grand cash prize. Now, that's something to write home about!
Date: 4th December 2017 (and every Monday after)
Time: 8:30 pm – 11: 30 pm
Place: SodaBottleOpenerWala
For Reservations: Call – 070222 55299
Feature Image: For Representational Purposes Only