Loco Chino Has Released A New Menu, With Sushi, Open Baos, Cheung Funs And Tostadas
When it comes to international cuisine in India, Asian food is perhaps the most popular; every second road will have a Chinese restaurant and Japanese and Vietnamese fare is becoming more and more and available of late. In Mumbai, another winner is Mexican fare – perhaps because the spicy flavours and combination of ingredients are comparable Indian food.
Loco Chino, a chain of casual eateries in Mumbai allows its customers to indulge in both cuisines with its expansive menu that has both Asian and Mexican fare. Recently, Loco Chino added a variety of dishes to its menu including open baos, cheung funs on the Asian side and tostadas and chocolate nachos (yum) on the Mexican menu.
We tried a whole host of dishes from the new menu late last week; here's what we thought.
The Asian Eats
Customers looking for a light, healthy meal can select a steamed dim sum basket from Loco Chino's dim sum menu, to which they've added seven new dim sum options. We loved the Spicy Pumpkin Cheese dim sum, which was packed with pureed pumpkin and melted cheese to make a velvety texture and the Waterchestnut and Lotus root dim sum which was crunchy and mild.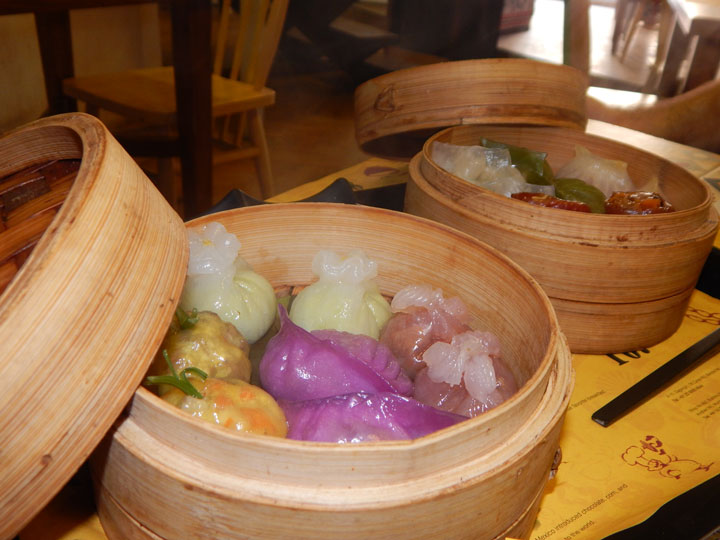 Non vegetarians should try the Lemongrass Chicken dim sum, which packs an uplifting, zesty preparation of tender chicken into a thin wrapper or the roasted chicken dim sum which was filled with wholesome, comforting flavours. We also enjoyed the seafood dumpling, which combined prawns and fish.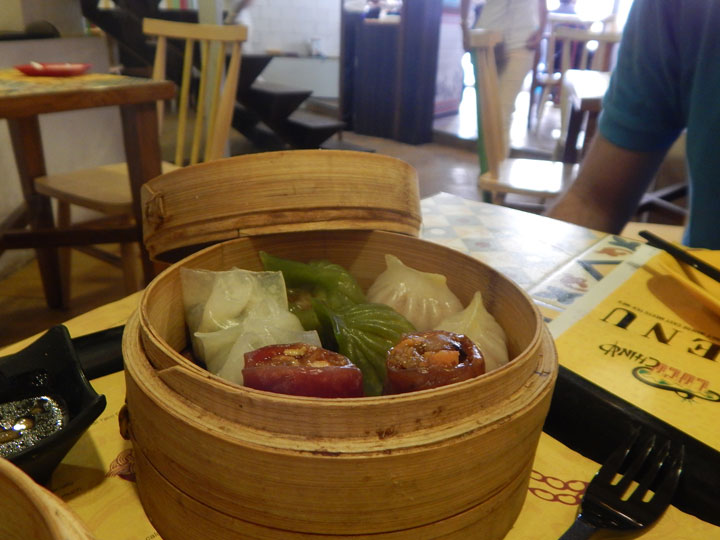 Being Japanese food lovers, we were delighted to see that Loco Chino has included a whole range of sushi options to their new menu; our absolute favourite was the Asparagus Tempura Uramaki, in which a green bud of asparagus was rolled into a bed of rice and coated with a deliciously crunchy, golden tempura batter. Another vegetarian option is the Kappa Maki; a simple clean type of sushi with a center of crunchy, fresh cucumber.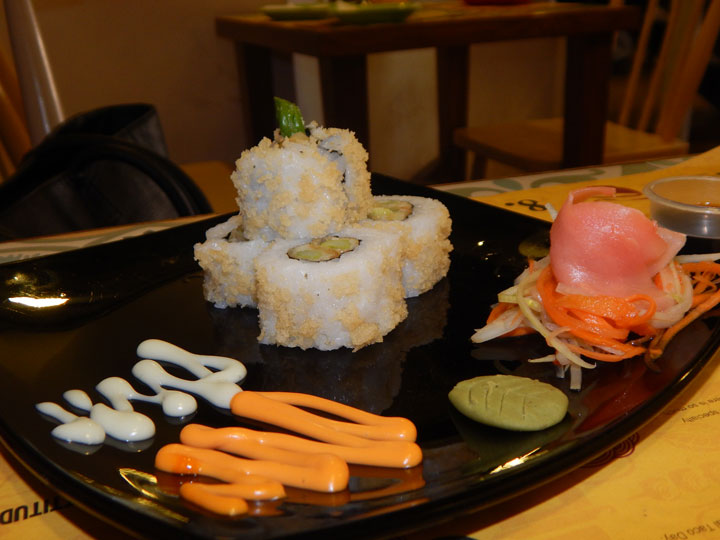 For non-vegetarians, the California Roll with a creamy, smooth filling of crab is a must have.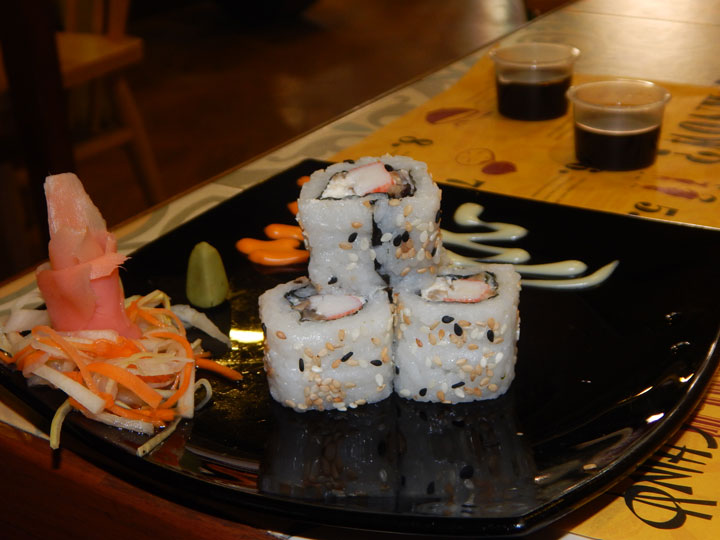 After stuffing our face with an inordinate amount of sushi, we moved on to the Cheong Fun and Open bao portion of the new menu, deciding to sample the Teriyaki Chicken Bao and the Chicken Cheong Fun. For those that don't know, a cheong fun is a rice noodle dish, in which a stuffing is rolled into a rice noodle sheet and then steamed. The cheong fun we tried was an interesting introduction to our taste buds with an exciting new texture and well-seasoned stuffing.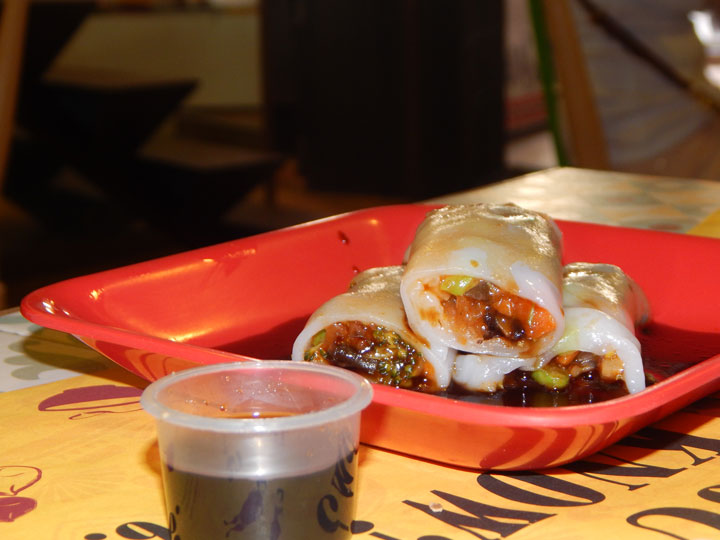 The Teriyaki Chicken bao was pure awesomeness; chicken tossed in a heady teriyaki sauce was muddled with cubes of cucumber and then pushed into pillowy baos.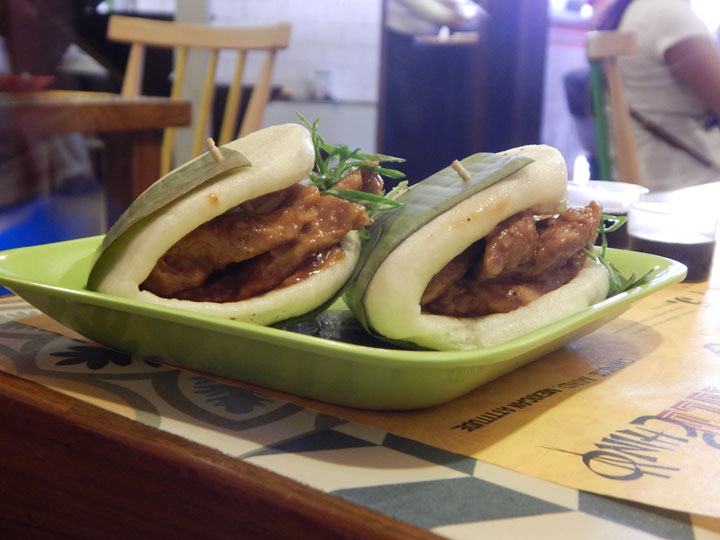 The Mexican Sojourn
As you can probably tell, we spent a good portion of our stomach space in relishing the delicious Asian eats. So, when we moved on to the Mexican side of things, we decided to sample only two dishes; the Big Fat Grilled Serrano Chicken Burrito, which now can be wrapped in a whole wheat roll and the Serrano chicken tosatada.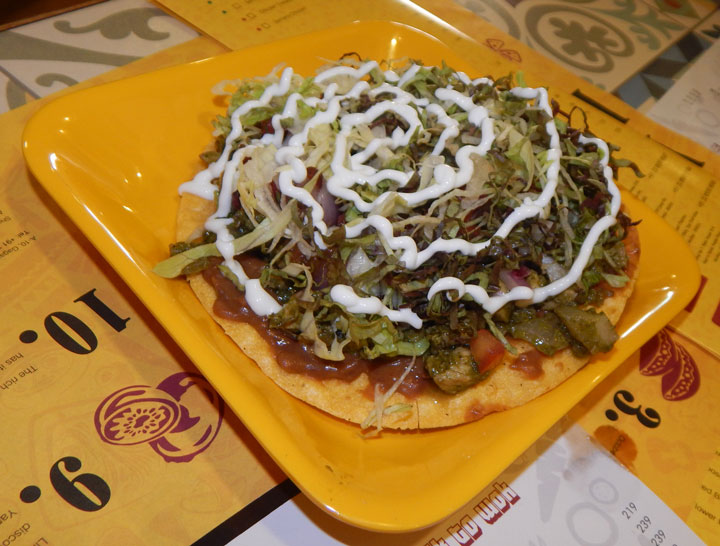 Piled high with lettuce, shreds of chicken and a spicy Serrano sauce, the tostada itself was incredibly crispy and satisfying to bite into. The burrito, on the other hand, was soft and wholesome, stuffed with seasoned rice and large pieces of spicy chicken.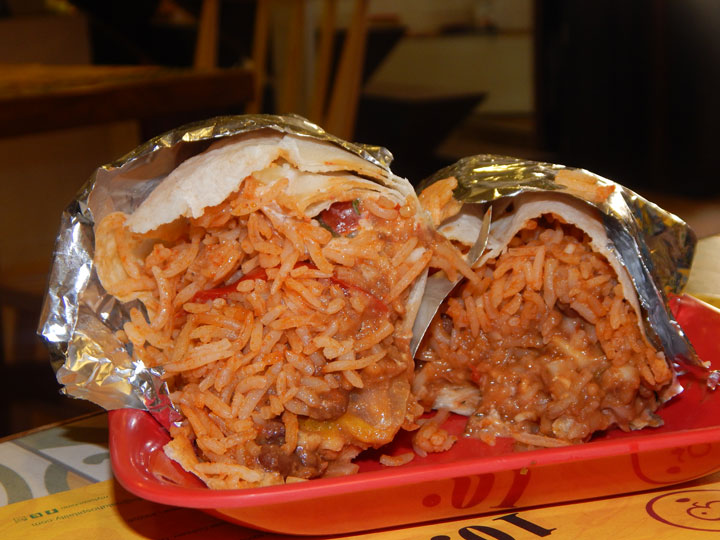 So stuffed did we become thanks to the Big Fat Burrito (the name itself should have been a hint, right?) that we found we had no room to try those chocolate nachos. So, we've decided we're going to take a wander over to the Loco Chino outlet sometime soon to try them. And some more of the sushi. And the baos, and maybe a few pieces of dim sum. Might we see you there?