Livpure Joins The Rally For Rivers With Its 'Rivers In A Bottle' Campaign
Our Rivers are dying. It is estimated that in 15 years, 25% of India will turn into a desert and we may have only half the water we need for our survival. These facts are astounding and equally appalling for a country whose 65% of water needs are met by these very rivers.  Livpure, one of India's largest water purifier manufacturers has taken up the task of spreading awareness about this grim reality by actively partnering with Isha Foundation's Rally for River Campaign.
The Campaign
Livpure reached out to the people of this country in an interesting, innovative yet authentic way. They showed them the reality of the state of these depleting rivers through a range of 6 drinking water bottles representing India's 6 major rivers.  The bottles contained water representative of the actual level of depletion of these rivers. In addition, the bottle label was an infographic explaining the state of the river in question and ways in which consumers can support the cause. For example, the bottle for the river Yamuna said "-60%" to depict the level of depletion.
To get the message out to the people, activations were carried out across the country, wherein stalls were set up and these bottles were given out as free samples. The bottles succeeded in raising awareness about the true state of our starving rivers and made people realize that we need to take some action before our rivers dry out completely.
Speaking about the initiative, Mr. Sushil Matey, Director – Marketing, Livpure says, "Rivers are India's lifelines. As a water purifier brand, we are committed to preserving them as much as possible for a better tomorrow. We believe that the only way we can salvage the current situation is by sensitizing as many people towards this cause as possible and through this small initiative of ours, it is our endeavor to reach out to people and get them involved in this movement."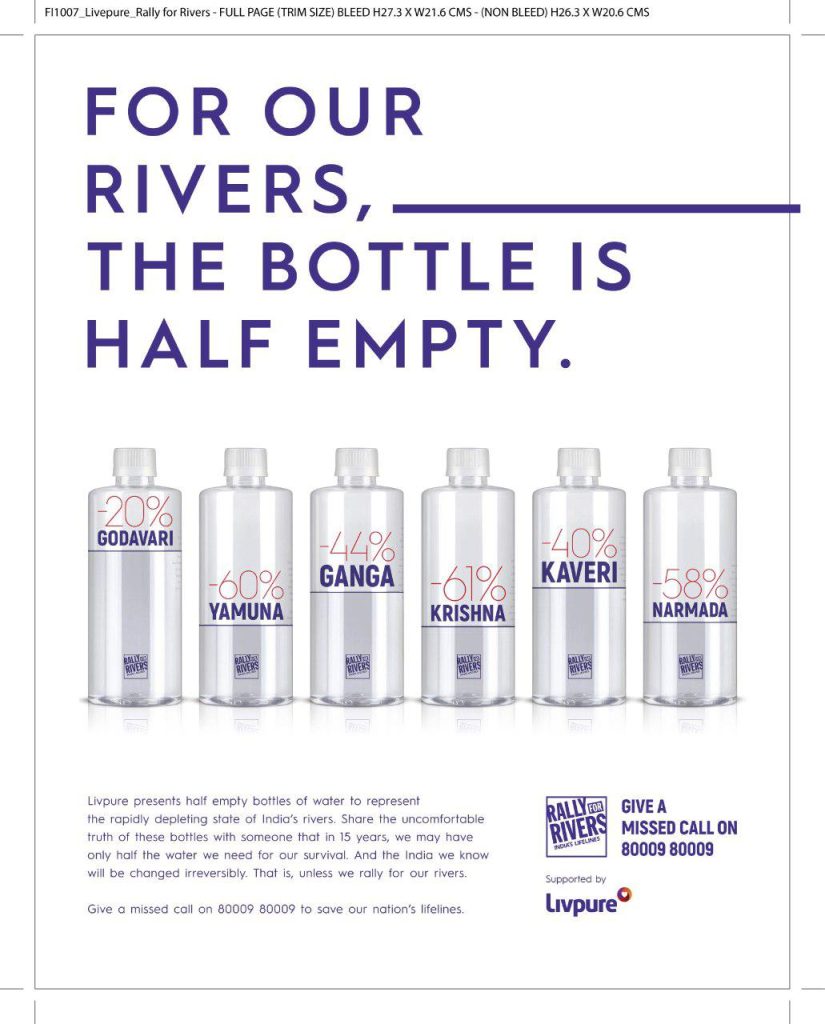 The Concept
The idea has been conceptualized and executed by Famous Innovations. Siddhartha Singh, CEO, Famous Innovations said, "It is an established fact that without rivers there will be no us. So, in order to continue our existence and sustenance, it is important for us to pledge our support for this movement and do our small bit in reviving our lifelines."
The campaign hit the right chords with people and got the social media rallying for our rivers. Many personalities came out in support, including the legendary Sachin Tendulkar who tweeted, "Rivers are important and the right steps to prevent extinction must be implemented. #RiversInABottle is a great way to educate the masses. #RallyforRivers @livpurewater."
Earlier this year, shining the light on the need for water conservation, Livpure had also launched its 'Cutting Paani' initiative that urged people to conserve drinking water by pouring only the amount that they actually want to drink, a.k.a. cutting paani.