Liquid Nitrogen Infused Meetha Paan At Dum Maro Dum
Ever reminisced the days, where you walked into restaurants and saw a 'panwadi' and you smiled knowing, you are gonna come back for a paan for sure? We've got you covered exactly there! How about, if we tell you that we have upped all our services. How, you ask? Well along with our Paan Gulkand wali Shikanji which is served in a kamandal, we have started to demonstrate the use of liquid nitrogen, fused with the idea of serving you paan right after your meal.
While you thought liquid nitrogen could only be used in ice-creams, we have cut you the sleekest deal of all times. Your favorite meetha paan got a revamp and we thought you'd love to see a live demonstration. Are you on your way yet?
Here's where you can get it, Dum Maro Dum, 2510, Hudson lane, GTB Nagar!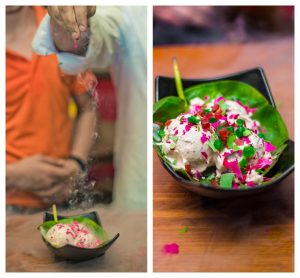 Price : Rs. 315 plus taxes
Address: 2510, Hudson lane, GTB Nagar
Timings : 12 noon-12 midnight
For reservations: 8527650046