Lil Chefs Let Loose at Aloft With A Baking Class This Saturday!
Kids love getting their hands messy and never take a step back when it comes to experimenting. So, why not encourage them to experiment and let their creativity flow at Aloft's kitchen for a change?
To all the cool parents out there, Pastry Chef Prasanna at Aloft Bengaluru Cessna Business Park invite you and your little bakers to the culinary world of sprinkle cupcakes, rainbow cakes, chocolate cakes, moulded chocolates, Oreo cheese cake for a two hour class hosted by Young Master Chef Zahan Gafoor of Bread & Batter!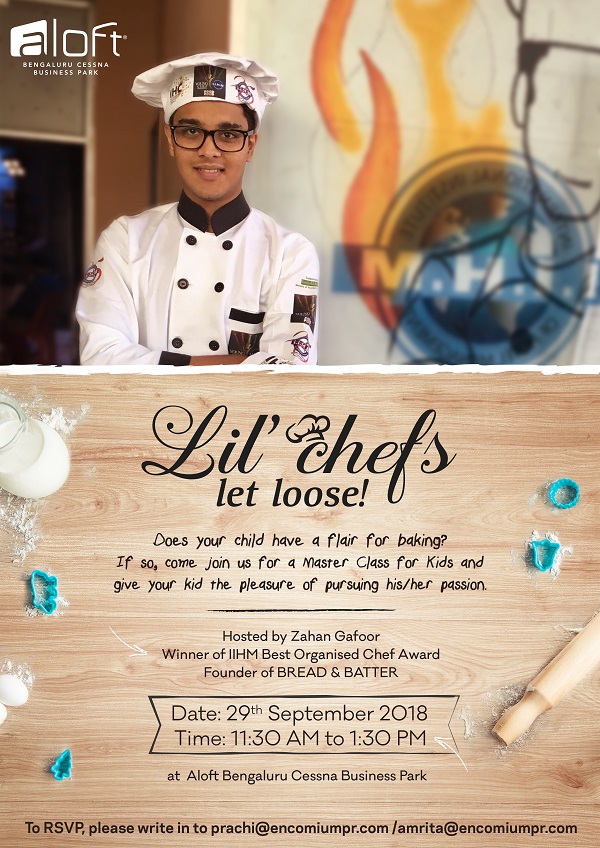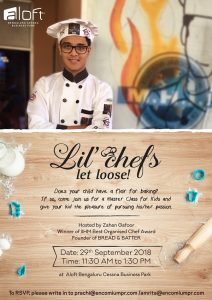 The master class is curated especially for kids over 5 years and above who have keen interest in baking and discover the young chefs in them. The two hour baking class will give the kids a hands-on experience and confidence in chasing their dream from a young age. The best part, is that you can share in the experience with your little ones as well!
Let the baking begin!
Where: Re: Fuel, Aloft Bengaluru Cessna Business Park
When: Saturday, 29th September 2018
Time: 11:30 AM to 1:30 PM
Price: 999 AI (Parent + 1 Child)
Inclusions: Cooking Class + Welcome drink + Lunch (for Child and Adult)
Aloft will provide aprons and chefs hats for children and parents.