Learning How To Sign And Dine At Mumbai's Mirchi And Mime
Nestled across the Powai Lake, near the Hiranandani Gardens sits Mirchi & Mime, a fairy new addition to Mumbai's' culinary scene. As our maximum city opens the doors to a new eatery every week, restaurants try to establish themselves as different by having unique concepts. One of the defining concepts behind Mirchi & Mime is (as the name hints) that a majority of the servers are hearing and speech impaired.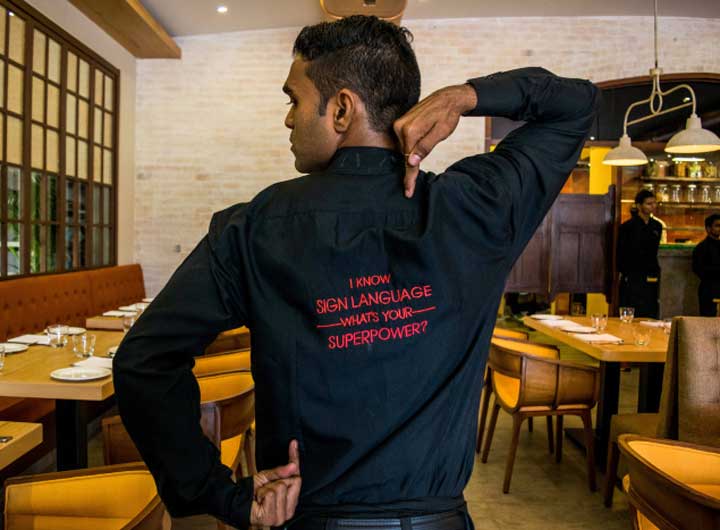 One can suggest that the concept was inspired by co-owner Prashant Issar's experience at 'Signs', a restaurant in Toronto that operates on a similar concept. However, one can also trace Issar and co- owner Anuj Shah's desire to help the differently abled in society back to their education at the Henley Business School in the UK. "One of the core beliefs of the school is that wealth creation is important for society as a whole," Issar told us. When Issar and Shah met by chance in June last year, they decided to apply this core value to the company that they founded, Squaremeals Foods Private Limited, to create an organisation that would not only be successful, but also uniquely aid society.
Before opening the restaurant, Shah and Issar first studied sign language and recruited staff from the Rochiram T. Thadani High School for Hearing Handicapped . They spoke with not just prospective employees, but with their families as well, explaining that the job would provide lasting, viable means of employment. Once a staff was recruited, they were trained for fourteen weeks, a process in which Issar, Shah and their team called upon their vast knowledge and experience of the restaurant business. Along with the wait staff, two young chefs, Sameer Bhalekar and Dipesh Shinde, both with contrasting experiences and approached to cooking came on board, under the mentorship of Chef Manoj Vasaikar. Issar explained that due to safety concerns, a conscious decision was made not to engage the wait staff in the culinary operations.
Attention To The Minute Details
Sensitivity to the staff's disabilities are seen in every minute detail of the restaurant. The menus are designed to visually show the customer how to order a dish. The staff uses tablets to clock in an order that has been placed. Issar confides that one reason that his team chose to focus on Indian cuisine is so that the staff would feel comfortable with the orders being placed.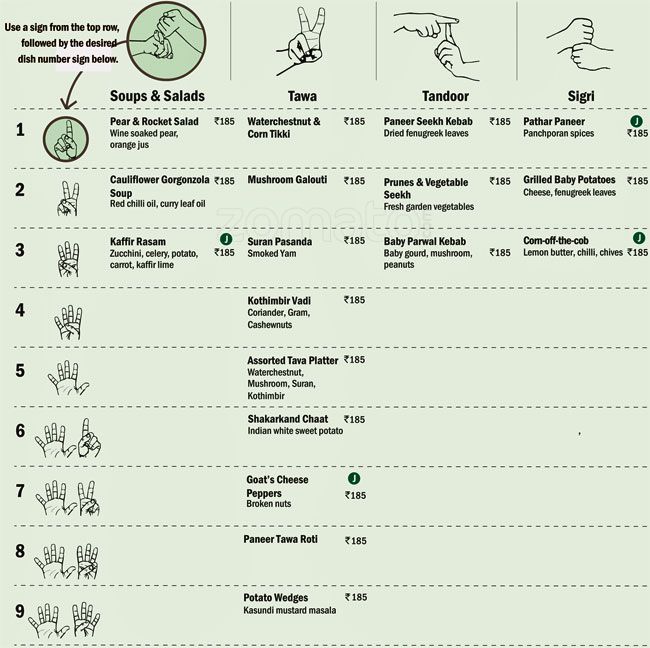 However, despite these details, Issar encourages us to look past the concept and focus on the fare at the restaurant. "Mirchi & Mime is an upscale restaurant that happens to serve Indian cuisine that happens to have staff that are impaired," he says, indicating how we should approach the restaurant. So, in that order, here's our take on Mirchi & Mime, which we visited on a sunny Saturday afternoon.
Looking Past The Mime
The restaurant is quirkily decorated, with a semi private dining area settled under a wall decoration of mix and match, vintage culinary utensils and with bell jars covering objects spread across the restaurant that exude a bistro like charm. One wall boasts a collection of traditional Indian recipes that Issar unearthed from an anonymous cookbook, giving the customer only a hint of what cuisine he can expect.
As soon as we were seated, a host materialised with a waiter by his side. To accompany the waiter's signs, the host explained the concept behind the restaurant, introduced us to the waiter and showed us how to navigate the menu. He also told us how to call for our waiter using a unique sign; we had to raise our palms above our foreheads, signifying the waiter's spiky hairdo.
We started off with ordering (by pointing at them on the menu) two of the restaurant's most popular drinks; the Berry and Pomegranate granita, which was a creamy, luscious mocktail and the Old Monk mojito, a potent mix that rebels against the practice of using primarily white rum in mojitos. Instead, this mojito redefines the old Indian favourite; Old Monk by using it to create a sophisticated drink.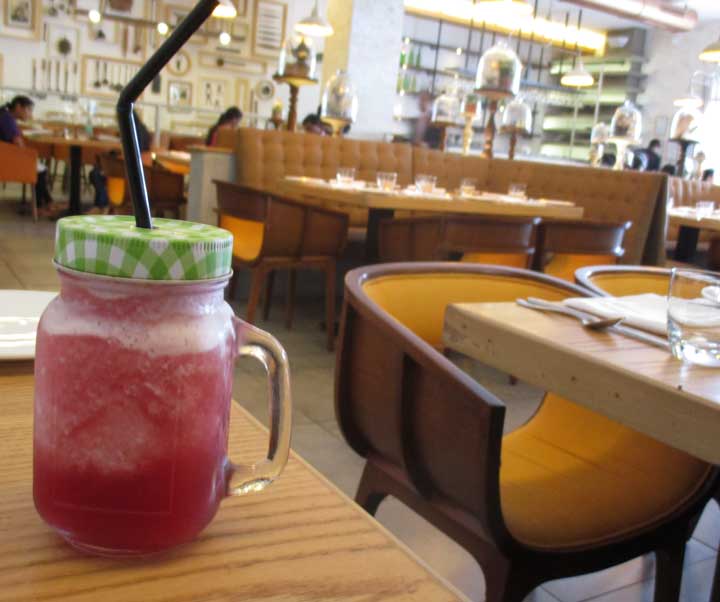 We then picked up our menus again and, making eye contact with our waiter, hesitantly interlocked our pinky fingers, a sign that signified that we were ready to order a dish from the soups & salads course. We then held up three fingers, requesting the lobster nihari. Ten minutes later, it materialised at our table in a simple white deep bottomed dish. At this point, we'd like to point out that much of Mirchi & Mime's menu is competitively priced. Nowhere else in Mumbai can one find a lobster dish under Rs.200; this one clocked in at an amazing Rs.185. However, it didn't compromise on taste; the broth was thick and flavourful, while the lobster blend was wonderfully juicy.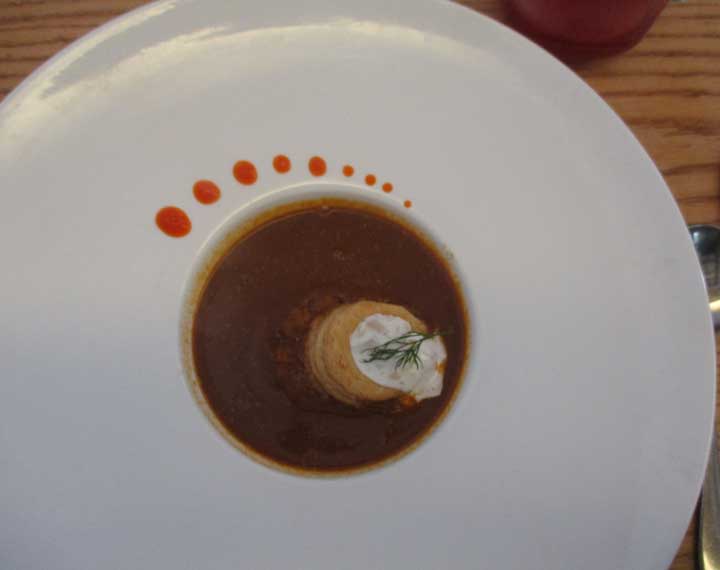 Of Tandoors and Sigri
We then requested the innovative sounding tandoori quail and a plate of duck seekh, one of Issar's favourites on the menu. We lift our hats to the chefs who were able to execute cooking such a delicate bird as a quail with delicious finesse. We failed to display the same finesse while devouring the beautifully grilled meat.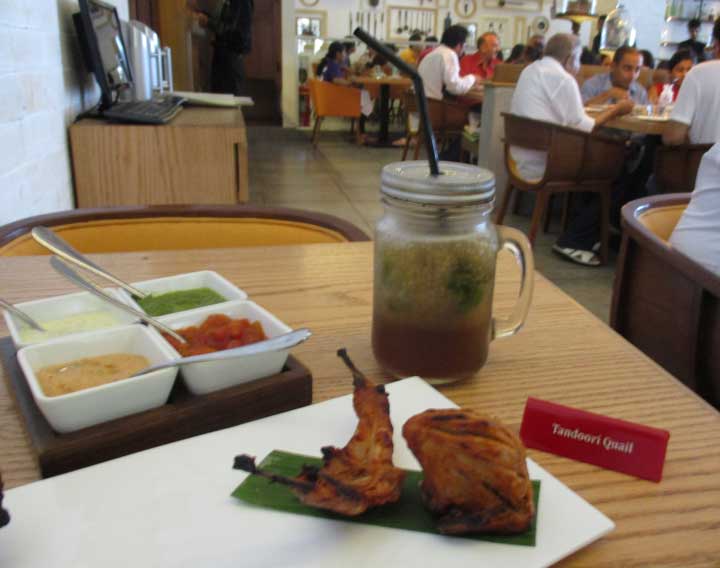 The duck was similarly impressive; we'd especially like to applaud the subtle citrusy flavours that it was infused with.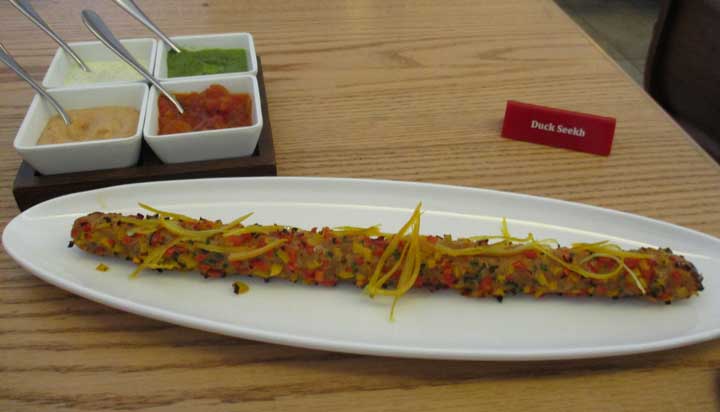 Surprising Ourselves By Going Veg
For the mains, we signalled for the Punjabi Palak paneer to have with soft naans. We normally shy away from vegetables in any form, but had shamelessly drooled over the same dish being served at a neighbouring table. It tasted as good as it looked; it was decadently creamy and packed with generous helpings of paneer.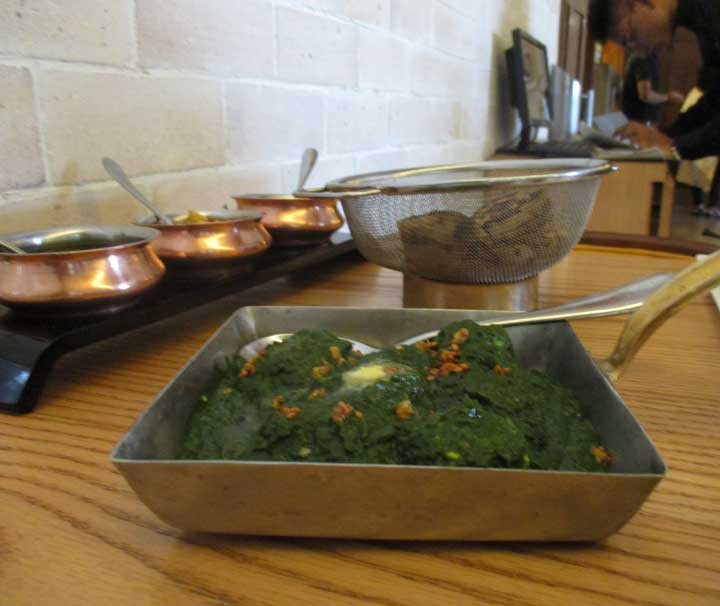 Back To The British
While the rest of the courses at Mirchi & Mime remain steadfastly Indian, dessert options are a nod to our colonial history, and perhaps, more personally to the co owners' student days. So, featured are traditional English desserts such as an Eton Mess and a Fresh Apple Crumble. We decided to go with the Nutella and toffee tart – because Nutella – and were rewarded with the perfect sweet ending to our delicious meal.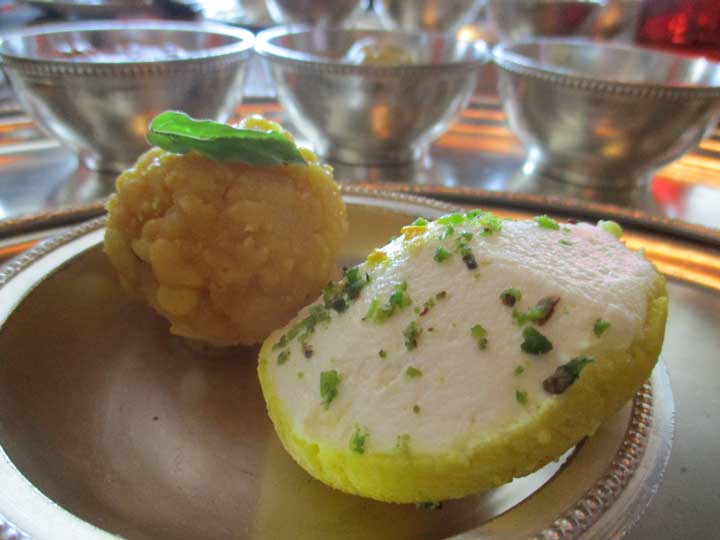 While having a conversation with Issar before our meal about the concept he astutely commented, "the concept will bring people here once, maybe twice. But for them to keep returning, the food must be good." So, if we've convinced you to visit Mirchi & Mime, go once for the concept. Go again to better acclimatise to it. And, go a third and many more times to lose yourselves in its delicious fare. Keep an eye out for us there.
[schema type="organization" orgtype="Organization" url="https://mirchiandmime.com/home/" name="Mirchi And Mime " description="Mirchi and Mime is a unique upscale dining restaurant in Mumbai which has amazing Indian cuisine that is served by hearing and speech impaired staff. " street="Transocean House, Lake Boulevard, Hiranandani Business Park, Powai," city="Mumbai" state="Maharashtra " country="IN" phone="022 41415151″ ]