Krispy Kreme Launches Donut-Flavored Soda. Because, Why Not
Move over burger pizza, so long rainbow food, raindrop cake, what's that? Taking up the food hybrid species to a whole new level is the Krispy Kreme donut-flavored soda in partnership with Cheerwine. And while my brain cells are still processing the news, my taste buds are up for a challenge.
We have in the past eaten ice cream that tasted like a drink. In fact earlier in 2010, Krispy Kreme and Cheerwine had teamed up and given the world a Cheerwine crème-filled donut. But this is probably the first time there is a drink that tastes like baked goods!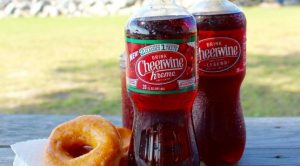 Image: thecomeback.com
Labeled the 'Cheerwine Kreme', the sugary soft drink blends the '2 Southern Classic Flavors' of Cheerwine, which is a cherry flavored soda; and a "hint of Krispy Kreme's Original Glazed flavor", read a Krispy Kreme statement in USA Today.
Currently the drink is available in stores and doughnut shops in North and South Carolina as well as in Georgia.
Ready to drink up your donut?
Feature Image: learnnc.org