Kode Mumbai Hosts A Whiskey Appreciation Evening With Keshav Prakash
Whiskey connoisseurs, Keshav Prakash will be in the house on Wednesday evening to take you sip by sip on a mesmerising journey of Whiskey Appreciation. Gather around at Kode and experience the spirit like never before.
Tell Me More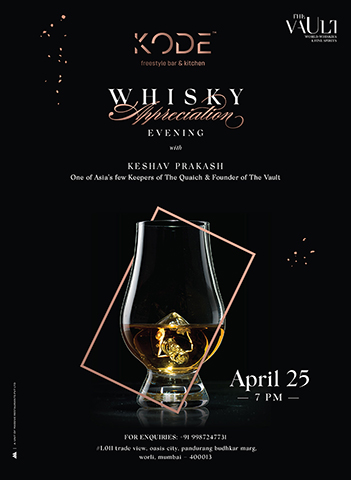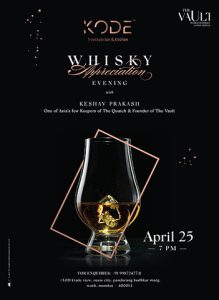 Kode will be hosting a lovely Whiskey Appreciation and to take you through the notes and nuances of select brands will be Keshav Prakash, founder of The Vault. The whiskeys will be paired with sumptuous dishes by the freestyle bar and we're sure that this session will take away all your work stress away. The evening will begin with The Ardmore Legacy paired with Corn Curd and Asparagus Tempura and Sichuan Pepper Tossed Chicken. The tasting will then move on to The Bownmore 12 Y.O which will be paired with delectable Potato Bombas and Rock Shrimp Tempura. Last but not the least, you'll be sipping on Laphroaig 10 Y.O that'll be paired with Manchego and Truffle Pide and Lamb and Cilantro Tacos.
Price: ​1500 (All Inclusive) | Reservations: ​+ 91 9987247731​
Date and Time: 25th April | 7 PM
Location: KODE, Ground Floor-II, Entrance Gate 4 Trade View, Oasis City, Pandurang Budhkar Marg, Worli, Mumbai