Khloé Kardashian's Perfectly Arranged Pantry Is Just So Satisfying
There are very few things that match up to the satisfaction of perfectly – and neatly – placed things. Even better if those things are edible! Something Khloé Kardashian's well-stocked pristine white kitchen and neatly lined pantry is proof of. In a recent interview with PEOPLE, the 33-year-old took fans through her gorgeous kitchen and refrigerator, and if you love neatly stacked shelves and organized snacks, then you're in for one joy ride.
Cereal Stocker
If you're ever at KoKo's house, rest assured you shall never run out of breakfast cereals. Kardashian keeps her pantry fully stocked with some of the most popular cereals in neatly aligned transparent plastic containers. Yep, even Lucky Charms because apparently, Kylie Jenner's a huge fan. "Kylie eats Lucky Charms all the time. She's like a 3-year-old; she only picks out the marshmallows," Kardashian says.
Image Source
Tea Time Perfection
Who doesn't like to just walk up to the kitchen for some tea and casually take their pick from a bevy of delicious varieties including the likes of Peach, Raspberry, and a special kind for just before going to bed? Well, this Kardashian woman has her tea needs well sorted (literally) in a flawlessly arranged drawer. "I like having all these different teas on hand for my guests," she says. "Whenever anyone comes over, they ask if I have tea and when I open the drawer, everyone's like, 'OMG amazing!'" Well, they'd be crazy not to!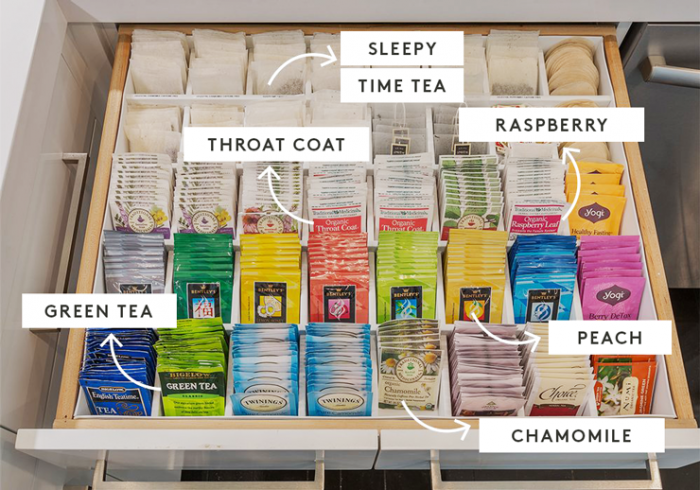 Image Source
Drink Up!
As for her refrigerator, the reality TV star has her priorities in the right place with one fridge for colas, water, and juices, and a whole other one just for her vodka. And given her love for "kocktails", Kardashian also has her alcohol cabinets stocked to the brim. Now, that's something we could totally aim for!
Image Source
But that's not all, Khloé's got her condiments and meats organized like no other. She even has a special container for storing her bacon (Monica Geller would be so proud)! Check out the rest of her unrealistically perfect kitchen here.