Keto & Intermittent Fasting Workshop At Greenr Cafe, Gurgaon
Greenr is back with a new collaboration with the Atmosphere Health Studio, an initiative by  Rebekah Blank (Fab Cafe) and Ariella Blank, for another round of a total wellness and health-driven event.
Did you know that when you have fewer carbs and more fat, your body actually starts to burn its own fat for fuel, leading to a more lean body composition and limitless energy? Did you know that the key to balanced hormones, mental clarity, and stable energy is, in fact, having more of the right fats in your diet?  Join them as they unpack the keto diet: high fat, low carb and learn how to turn your body into a thriving fat-burning machine. This diet can be made highly nutritious and is totally possible for vegetarians and vegans. You'll get all the tricks and tips you need to control your cravings and achieve your ideal weight. In this workshop, you'll be presented a guide to all forms of the Keto diet, how to, take home recipes, shopping lists, cheat sheets and goodies.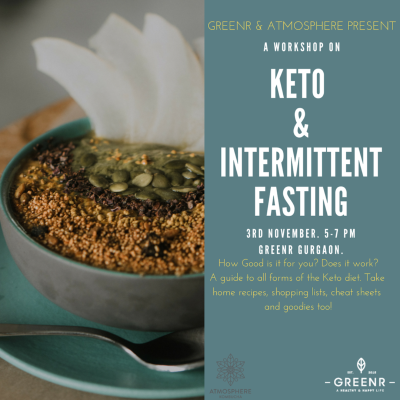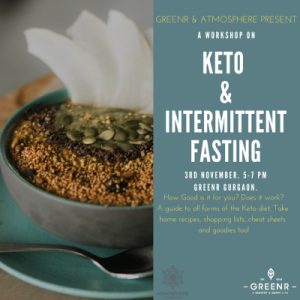 Join them for A Workshop on Keto & Intermittent Fasting to learn about hacks on the keto diet, how to eat for maximum energy, and how to feel your best!
What: A Workshop on Keto & Intermittent Diet
When: 3rd November
Where: Greenr Gurgaon
Time : 5 PM to & 7 PM
Pass : Rs 1000/-
EVENT PAGE : https://www.facebook.com/events/1061223110725717/