Kareena Kapoor Khan Is The Face Of Healthy Snacking Brand Mr. Makhana
It's the age of superfoods; and the more exotic the superfood, the wider market it captures. Case in point, turmeric latte and matcha tea. The latest exotic health snack to join this roster is makhana. That's right the part crunchy-part chewy roasted fox nut, which is a common teat-time accompaniment in most India homes, is making its way to the masses as a legit FMCG product. And the brand behind this move is Mr. Makhana.
The Face Of Healthy Eating
Mr. Makhana will introduce the Indian market to not just the pros of snacking on makhana but the joy of munching a variety of flavoured makhana. To take this concept forward in the form of a digital ad commercial, the brand has signed on Kareena Kapoor Khan as its brand ambassador.
Synonymous with healthy eating and maintain a fit form without following unrealistic diets and regimes, the Bollywood actress has redefined "body standards" for the Indian woman. From dropping jaws in theaters to slaying it as a mommy-to-be, Kareena and her nutritionist, Rujuta Diwekar, have always endorsed eating right. So, it makes perfect sense when the Ki & Ka actress propagates the benefits of fox nuts.
"I think it's the first time an actor will be endorsing a makhana brand. I had actually been the first to start eating makhana. So ironically, when Ricky (producer) approached us, it was an instant yes. I think that I would like to say that I would be one of the best faces for it because I genuinely enjoy eating it", the actor said in an interview.
Mr. Makhana will roll out the protein-rich snack in five exciting variants – Pudina Party, Piri Paradise, Cream & Onion, Butter Tomato, and Lime & Chili. Each of these flavoured delights will aim at reducing the fried-food and junk content of our daily diet. "Each makhana in our pack acts as an antioxidant and is a rich source of Calcium and fibre. They are also low in calories and free of gluten and MSG free", the official website read.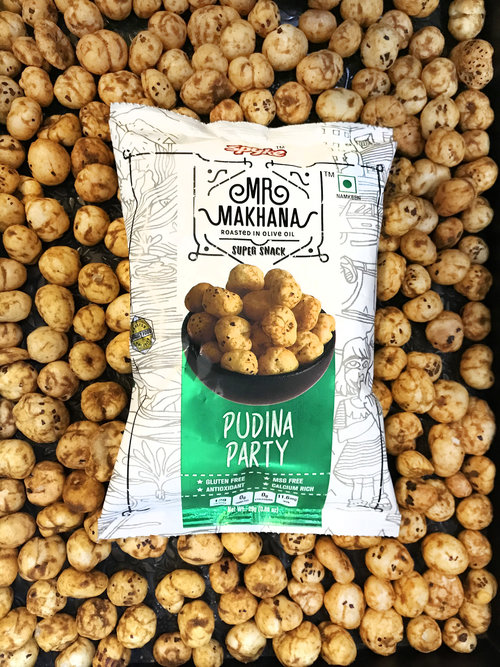 Image Source
Why Makhana?
Commercials and brand ambassadors aside, what really makes makhana worth investing millions? Well, there is a reason why our parents and grandparents always have a boxful of roasted makhana handed, especially during winters for it is linked with a number of healthy benefits.
Due to its high magnesium and low sodium content, the gluten-free health food is beneficial to those suffering from high blood pressure, heart diseases and obesity. It is also ideal for snacking, as it is low in fat and cholesterol contents as well. Additionally, makhana has a low glycemic index, making it an excellent choice for diabetics, while the presence of a natural flavonoid called kaempferol (also present in coffee), prevents inflammation and ageing. Meanwhile, according to Ayurvedic beliefs, fox nuts' astringent properties benefit the kidneys.
Now get out there and get yourself some fox nuts for some guilt-free snacking!