Just Royal Things: The Queen Has A Vineyard In Her Garden
And she makes her own sparkling wine. Duh-uh.
Being part of a royal clan – any royal clan – can be tough job, but it does come with its fair share of pleasures. Or so Queen Elizabeth II and the Royal Family of England wants us to believe. What with the blooming grape vines in the Windsor Great Park?
According to Food & Wine, back in 2011, "the U.K.'s largest wine retailer, Laithwaite's, was given permission to plant a vineyard at Windsor Great Park, a Royal Park not far from the Queen's well-known residence, Windsor Castle." And since then, without much hullabaloo, the Queen's vintners have been quietly nourishing and housing the grapes, which are a combination of Champagne varieties, including Chardonnay, Pinot Noir, and Pinot Meunier.
The first harvest was reaped shortly after, in 2013, and after three years of ageing, the first batch of Windsor Vineyard English Quality Sparkling Wine (about 3,000 bottles) was released just before Christmas last year. And it does not come as a surprise that despite being a fairly young spirit, the wine was sold out quickly. Experts observe that the buyers weren't necessarily buying the wine for its quality; rather they were purchasing it for keepsake. Well, who wouldn't?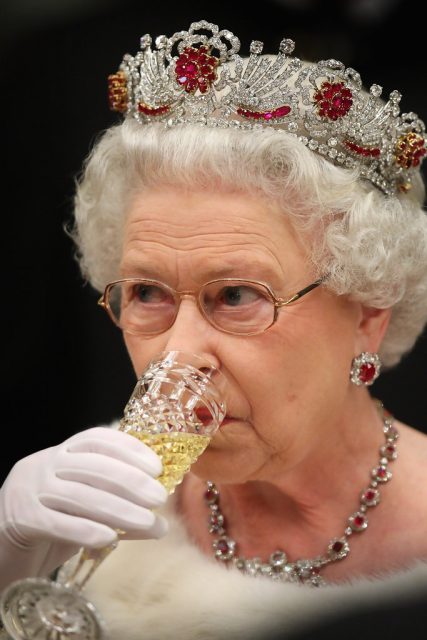 Image: The Drinks Business
"Rare vintages can go for astonishing prices," Tamara Roberts, chief executive of Ridgeview Wine Estate (where the sparkling wine was actually processed and produced), told the Daily Mail. "It is impossible to guess how much it might be worth one day […] but it has all the right accolades, grown on the queen's estate, the first vintage. Who knows?"
Though, it will be almost impossible to get a hold of a bottle from the first batch, the second lot will hit stores soon. And the best part is that despite coming from the Royal winery, the wine will not cost you a whopper! The queen's sparkling wine is available for preorder now at British retailer Laithwaite's at just £34.99 — that's about $44. Of course, it still will be a long queue before us simpletons can enjoy a glass of bubbly from the Windsor Garden, but that's okay because according to estimates, the vineyard is expected to produce up to 20,000 bottles a year!
Source: Refinery29
Featured Image: Wine Spectator