Jamie Oliver Received Death Threats Over The 'Blasphemous' Chorizo Paella
In The Guardian journalist Sam Jones' words "Jamie Oliver united the nation by tweeting his own twist on paella". Why was it divides in the first place, you ask? Well, you'll have to look up the country's recent general election outcomes for that. But as far as the country's foodies are concerned, Jamie Oliver overstepped a few Paella rules.
Earlier this week, the Naked Chef host tweeted a picture of what looked like an immaculate rice dish, which was captioned "Good Spanish food doesn't get much better than paella. My version combines chicken thighs & chorizo". I say "rice dish" because after the response that the post received, I'm not too comfortable in calling it a paella. Here's the image that was posted by Oliver: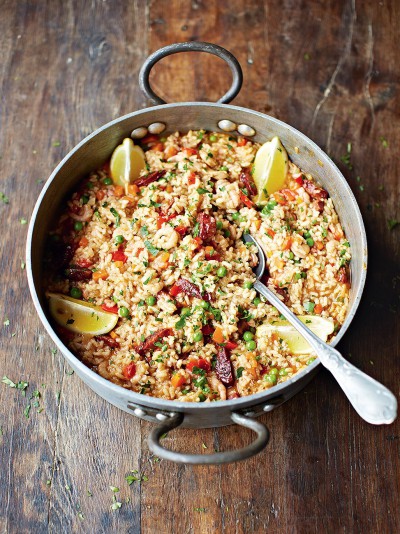 Image: Jamie Oliver
To give you a background, Paella – a 19th century Valencian dish – is to Spain as pasta is to Italy. Yeah, serious stuff. It is traditionally made with whiter rice, veggies, seafood, and/or chicken. So, the Spanish folks were positively appalled over the chorizo. Why the hullaballoo over paella, one may wonder. Well, Oliver's version of the traditional rice dish consisted of chorizo, which is a kind of meat that is clearly (going by the online backlash) is not put in paella.
Twiterattis were up in arms against the Chef's take on the dish. Although, in all fairness, he did mention that it was "his take". But then food Nazis argued that paella with chorizo is like "fish and chips using aubergines, duck, beef and ravioli".
— Foquito de Luz 💡🕯️🏮 (@churreznos) October 4, 2016
This Just In
Although it has been 2 months since the chorizo paella blasphemy, patriotic Spaniards are yet not ready to back down. In a recent series of developments, Oliver has admitted to receiving death threats. "They went medieval on me," the chef said during an appearance on the Graham Norton Show, where he was forced to relive the trauma. "it got so much darker than that. It trended. For weeks! I had death threats and all sorts because of a bit of sausage.
"Honestly, I was in Canada at the time, and I was talking to the President [sic]. We were doing whole things about great things about childhood obesity strategies in Canada because our one fell to pieces, and as I went out the BA lounge they went, 'Oh, you're in the paper today!' And I went brilliant, good solid work, and she went, "yeah – chorizo. Spanish don't like it.
"Whatever I did that month was overtaken by the chorizo."
And though a tad upset about the whole incident, Oliver wasn't afraid to put his head into the guillotine once again. He ended with a snide remark, saying "By the way, just FYI, it tastes better with chorizo."
*Grabs popcorn*
(Updated on December 4, 2016)