Jacqueline Fernandez Puts Her Money Where Her Juice Is
While Madonna's Vita Coco has been our go to replenishment after workouts, last year pop artist Beyoncé too put her money in a watermelon water startup called WTRMLN WTR. And now joining the league of extraordinarily talented women is Bollywood actress Jacqueline Fernandez, who recently invested in Rakyan Beverages that makes juices under the Raw Pressery brand. Not only is she one of the first actresses in the industry to put her money in a consumer products firm, but this move also makes her the first celebrity to part-finance such a venture.
"While professional investors take calculated risks, celebrities are believers and users of the brand. Jacqueline has about 13 million followers just on Instagram and can influence buyers. Hence, she is not an ambassador but an evangelist who can have an impact on the topline," said Anuj Rakyan, who founded the company three years ago.
So how much did Jacky put in? The Roy actress invested a sum of INR 3.5 crore (~ USD 542,000), which takes the company's worth at about INR 120 crore. Rakyan was valued at a similar price last year, when the start up bagged almost 4.5 million (~ INR 30 crore) in a series B funding from Sequoia Capital, Saama Capital Management and DSG Consumer Partners.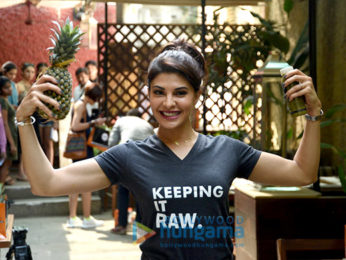 However, this is not it for Rakyan. The company is planning to raise an addition USD 10 million by December this year as it looks to step up its manufacturing and marketing segments. Rakyan runs in-house logistics and manufacturing units that help control costs and quality, which is an area of special focus as unlike packaged juices, Raw Pressery's products are au natural and therefore have a limited shelf life. This also increases the need of chillers along the supply chain.
The demand for healthier beverages and preservative-free juices is on the rise. With B Natural also stepping into the preservative-free arena with its 100% pomegranate juice, Rakyan's move too comes at a good time. Further, as consumer health awareness increases, Rakyan wants to shed its premium price tag, and launch products starting at INR 50, as compared to the current INR 80, reports The Economic Times.