Indulging In The Goodness Of Juices By Second Nature
Consuming healthy is a major trend seen in India along with which people are asking for fresh and organic food. With that comes the matter of convenience especially when it comes to millenials. Running short of time, health also runs short. Enter Second Nature with its range of cold extracted juices and nut milks. With its lovely range of products, you'd be eager to reach out to try them all. Here's what we felt after trying four of their variants.

Second Nature Keeping It Real

Here's what we like about Second Nature – it's available for home delivery making it easy to order according to need. Being available in the refrigerator thus makes it easy to grab at something healthy and untouched. Sipping on their pomegranate juice felt like eating a freshly peeled fruit. The same amalgamation of sweet, sour, a tad bitter from the seeds, the juice had retained all the goodness of the good old anaar.

After a few days, feeling a little peckish, we grabbed on to Second Nature's Nut Milk Smoothie which was a mix of strawberry, banana, almond and grape. Absolutely delicious in taste, this smoothie gave us a boost and kept those hunger pangs at bay till it was time for a proper meal. So healthy snacking (drinking) is also possible is what we learnt when we tried this variant.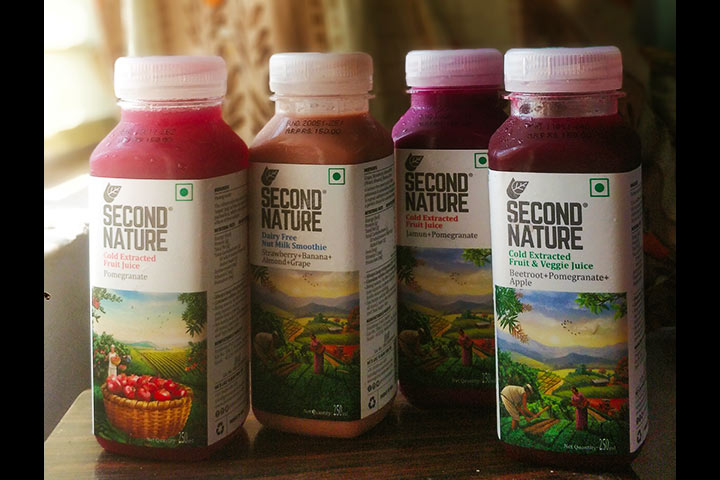 We do have to admit that we're a bit partial to their jamun and pomegranate variant as the flavour of jamun takes us back to childhood. How we reminisced fresh, ripe jamun fruit, tossed in a bit of kala namak when we tried out this variant! Do try this one first! We also have to give them credit for sneaking in a little beetroot in their fruit and veggie juice. The fruit juices it had were of pomegranate and apple making it oh so nutritious.
Our experience of trying out cold extracted products by Second Nature was a great one and we can't wait to try more of their variants. Do go give them a try and add a dose of health in your busy lives.