We Discovered Indigenous Ingredients, Classic Dishes & Modern Techniques On Our Taste Nirvanaah Trail in Bengaluru
As major foodies, we couldn't wait to take part in Marriott International's Taste Nirvanaah journey, and get a glimpse of that feeling of 'tasting bliss' – nirvanaah. Part of the Taste Nirvanaah journey involves challenging the Chefs to create new and unique experiences for the knowledgeable customer to try!
A Renaissance For Nirvanaah
We started off our journey at the Renaissance Bengaluru Race Course Hotel where Chef Sandeep Kumar first prepared a glorious feast for us, in line with the Renaissance philosophy of employing indigenous experiences so customers can enjoy an eclectic encounter. We absolutely adored the Nasi Goreng that almost looked too picture-perfect to dig into, and we couldn't get enough of Chef's delicious lamb fillet that was cooked to perfection!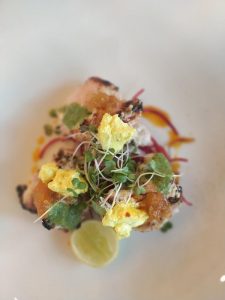 Next, we challenged Chef Sandeep to demonstrate his indigenous Eggs Benedict and teach us how to recreate it (you can check out the video here). One of the most exciting things about the dish for us was the use of a mustard brioche, made in house, as well as the innovative toppings of gunpowder and fried curry leaves! After doing our time in the kitchen, we couldn't wait to bite into the dish, and boy, it didn't disappoint. Every single element of the dish blended together in perfect harmony – it's no wonder that it's one of Chef Sandeep's signature dishes!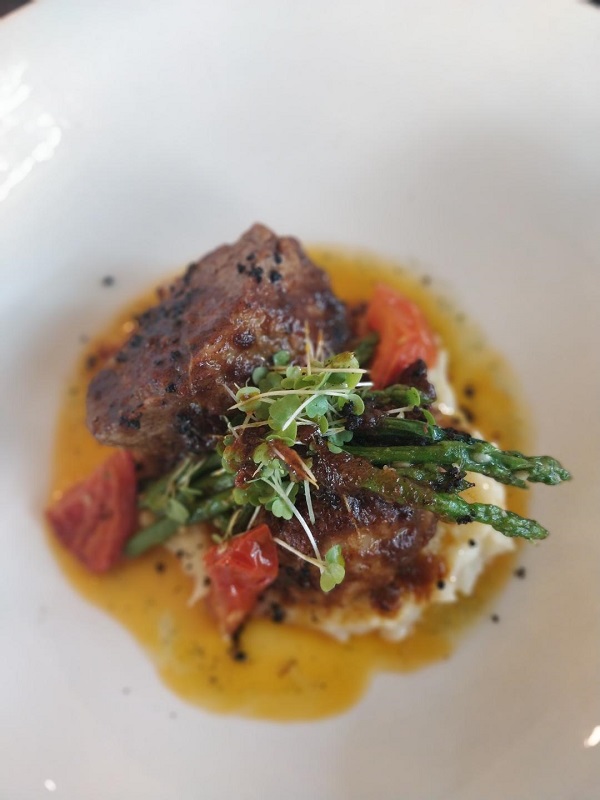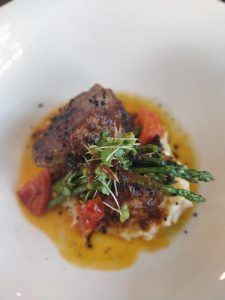 Home-Cooking Elevated to Fine-Dining
Our next stop on the Taste Nirvanaah Trail in Bengaluru was the Courtyard by Marriott Hebbal. We had challenged Chef Gaurav Anand to create a fine-dining meal out of ingredients home to our wonderful state – Karnataka! We started our meal with Hesarubele Kosambari (you can check out exactly how Chef Gaurav prepared it here), one of the most eye-opening elements of the meal was the addition of feta cheese – it blew our mind!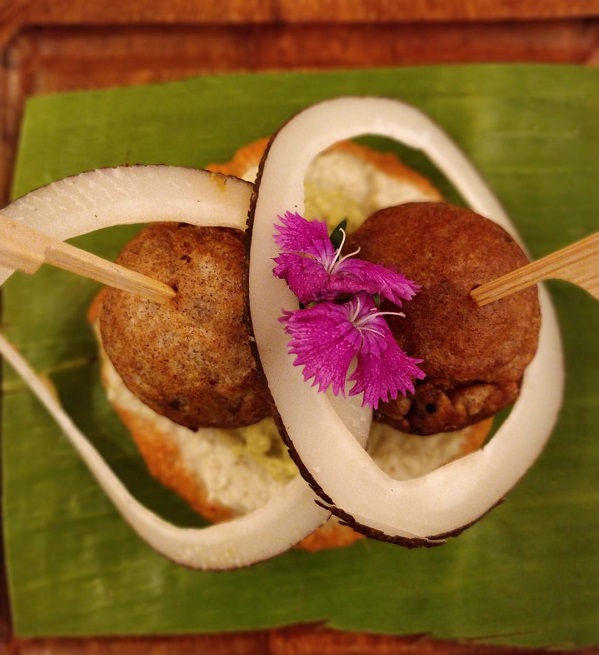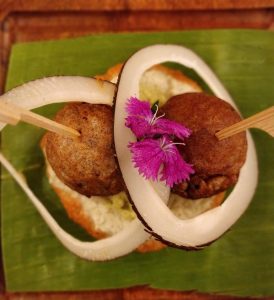 The next dish on the menu was the Ragi Mamisa Pattu – with the innovative element involved being the mutton filling that completely elevated the entire dish – we don't know how Chef Gaurav managed to think it up! Our fish course was a traditional Meen Maavinkaayi recipe that utilised a dehydrated orange wheel. It also involved smoking the dish with mango tree chips – the aroma added to the earthiness of the dish and created an exciting olfactory element!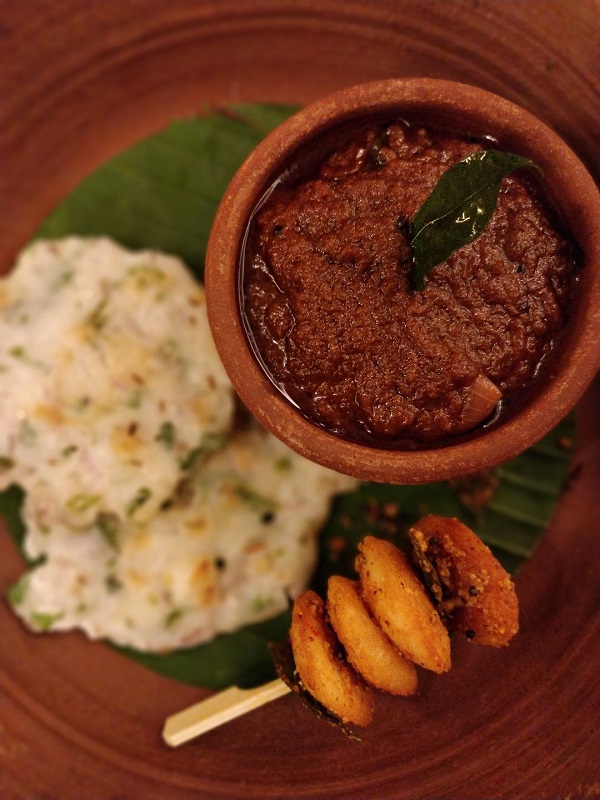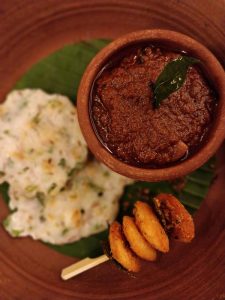 Our dessert was definitely the highlight of our meal and truly brought us to a state of nirvanaah! Chef Gaurav Anand created a Mysore Pak (arguably Karnataka's favorite sweet) Mille Feuile with homemade chikki ice cream! The richness of the Mysore Pak was balanced by the lightness of the pastry, and the chikki ice cream had just the right amount of nuttiness and creaminess to round the whole dish off!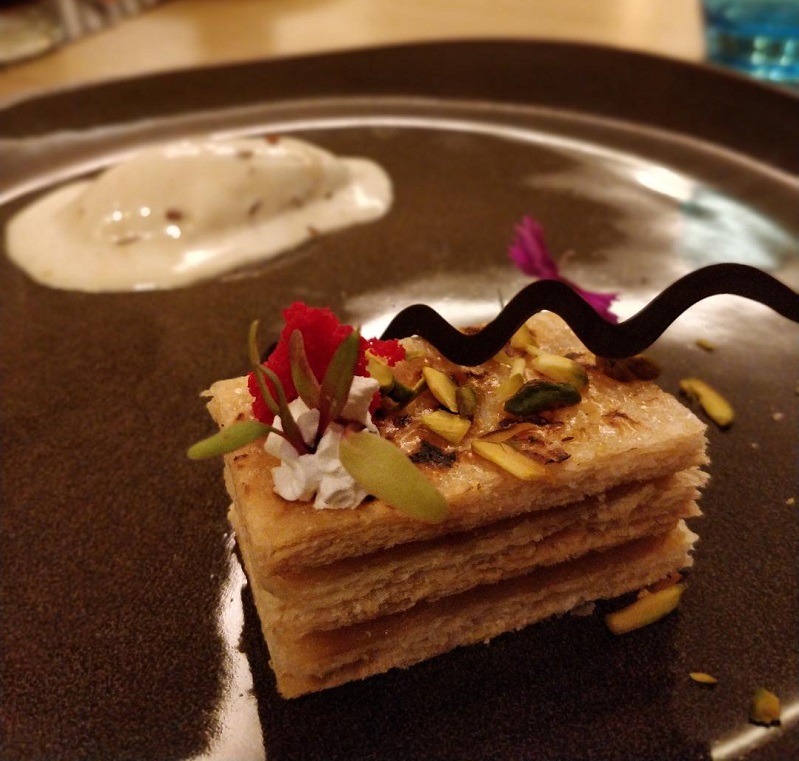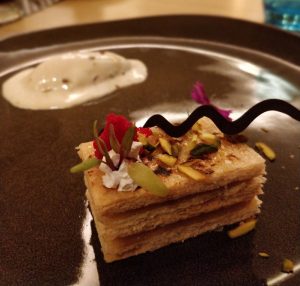 We have to say, we'd love to experience another day devoted to food, like this one was. Both the chefs demonstrated incredible innovation as they showcased indigenous ingredients and elevated typical, home-cooked dishes to a fine-dining level! We truly tasted bliss, and we can honestly say that Nirvanaah is now just a cab-ride away!