India's Own Officer's Choice Spirits Among Global Leaders
The Indian Whiskey brand Officer's Choice has risen to the top of the spirits markets, becoming the second largest spirits brand in the world, according to Economic Times. The whiskey brand, owned by Allied Blenders and Distillers, has surpassed Thailand-based Rum Ruang Kao and the Philippines-based Emperador Brandy. According to a report released by International Wine and Spirits Research (IWSR), Officer's Choice sold nearly 34 million cases last year, coming in second place behind Korea's Jinro Soju, which sold nearly 65 million cases.
Whiskey Consumption in India
India's fascination with spirits is well known with the country coming in behind China as the second largest whiskey drinking nation in the world. The annual consumption of whiskey in the country reached nearly 189 million cases last year but due to prohibition in some states including Bihar and Kerala, the overall growth rate of the sale of Whiskey was less than 1 percent in the past year. Officer's Choice, which targeted daily wage earners with its brand, however, has grown nearly 15 percent in a less than stellar period of time for alcohol producers in the country.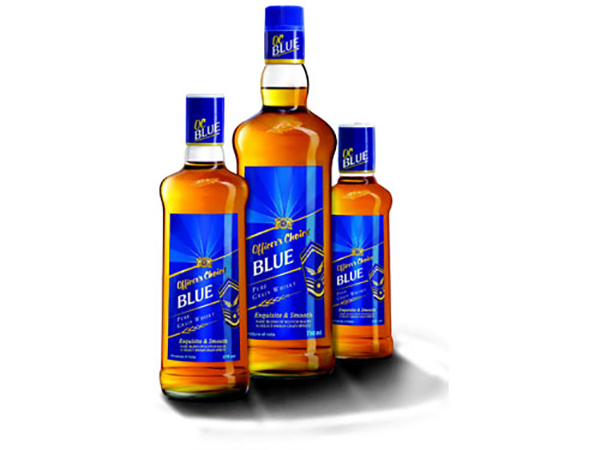 Stellar Growth
Speaking to Economic Times regarding the brand's growth, Jeetu Hemdev, Executive Director, Allied Blenders and Distillers, said, "With Officer's Choice, we have made a culture of best quality at very affordable prices. We have grown at around 15 per cent in a tough environment of prohibition and slowdown." Officer's Choice has markedly improved its standing in the spirits category of the country and has grown past the Diaego's Johnnie Walker and Smirnoff Vodka in the past two years.
Officer's Choice Whiskey has a significant reputation among the whiskey drinkers in the country for its affordability. To increase its standing as a premium offering as well, Allied Blenders and Distillers released two premium variants, Officer's Choice Blue and Officer's Choice Black.