India's Eat-O-Meter With Zomato
2018 has been an eventful year, but food dominated the headline throughout. As Zomato expanded its footprint to ~120 cities in India, they learnt a thing or two about food trends as well – not just in the online ordering sphere but across the spectrum of varied services that Zomato is known for.
Here's sharing a few tidbits from the TASTY year at Zomato –
In 2018, Zomato users ordered 5 times more from their homes than offices. While a user in Jaipur placed an order worth ₹1,84,760 which was delivered in 415 boxes, another user in Delhi placed 1804 orders over the year. Cashless payment mode dominated with only 28% of our users choosing to pay via cash. The average time taken by users to decide what to order on Zomato was as much as 11 minutes – well, it is the most important decision!
Amongst the tier I cities, the good folks from Delhi NCR placed the most orders, while the wonderful people from Ahmedabad topped the chart in tier II-III city category. Of the cities that Zomato recently expanded their food ordering services to Vizag proved that they are ready to embrace online ordering trend by beating several other prominent cities. Percentage-wise, Indore binged more during midnight than Mumbai.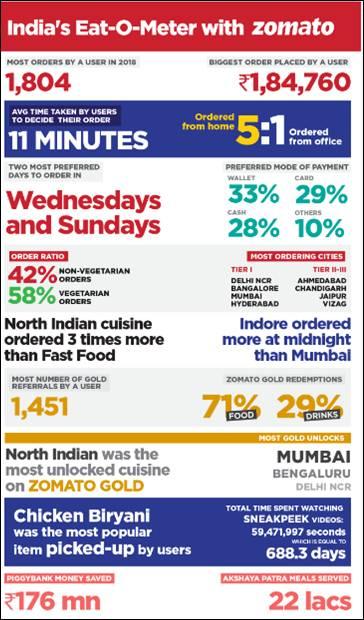 To build more convenience around food, Zomato added a bunch of new services for consumers over the last year. Zomato Piggybank – a loyalty program launched in July 2018, not only helped users save over ₹176 mn, but also helped raise funds equivalent to 22 lacs meals for the Akshaya Patra Foundation.
Launched in August, Zomato Sneakpeek is a curated offering which helps users learn more about a restaurant. Our users spent 59,471,997 seconds, equivalent to almost 2 years, watching Sneakpeek videos.
Coming to India's most favourite subscription program, which recently completed a year in the country, Zomato Gold now has over 700,000 active members. 71% of them used their membership to redeem food while 29% opted for drinks.
North Indian dishes were the most preferred while ordering in as well as dining out with Zomato Gold. Not just that, Chicken Biryani was the most ordered food item as well as the most picked up (with Zomato Pickup service) over the year.
Zomato's online ordering and food delivery services are available across 118 cities in India – Delhi, Mumbai, Bangalore, Hyderabad, Chennai, Kolkata, Pune, Gurgaon, Noida, Ghaziabad, Faridabad, Kochi, Jaipur, Ahmedabad, Gandhinagar, Chandigarh, Panchkula, Mohali, Zirakpur, Indore, Coimbatore, Vadodara, Nagpur, Lucknow, Ludhiana, Surat, Vizag, Bhopal, Bhubaneswar, Dehradun, Agra, Patna, Mysore, Ranchi, Raipur, Aurangabad, Cuttack, Madurai, Vijayawada, Jalandhar, Amritsar, Kanpur, Varanasi, Gwalior, Mangalore, Guwahati, Nashik, Guntur, Udaipur, Tiruchirappalli, Kota, Allahabad, Manipal, Jabalpur, Sri Muktsar Sahib, Patiala, Jammu, Trivandrum, Udupi, Warangal, Jamshedpur, Panaji, Jodhpur, Jhansi, Rajahmundry, Kakinada, Katn, Durg, Bhilai, Puducherry, Rajkot, Ambala, Anand, Anantapur, Haridwar, Meerut, Puri, Sangrur, Thrissur, Ujjain, Ajmer, Bareilly, Bathinda, Bhavnagar, Karnal, Kolhapur, Kurnool, Saharanpur, Tirupati, Roorkee, Nanded, Siliguri, Hubli, Belgaum, Bikaner, Rourkela, Bilaspur, Dharwad, Nellore, Alwar, Sagar, Satna, Sangli, Ratlam, Davanagere, Tiruppur, Shimoga, Erode, Vellore, Jamnagar, Salem, Durgapur, Bellary, Dhanbad, Firozpur, Gulbarga, Moradabad and Tanjore.