IG International & Stemilt Growers Are Celebrating Apple Season In India With Chef Ajay Chopra
India's largest fresh fruit importer IG International in collaboration with Stemilt Growers, the leading North American pipfruit supplier has been successfully fulfilling the demand of organic produce in the country. This time, IG International decided to celebrate the arrival of the 1000th container of apples, a.k.a. "Container 1K", from Stemilt with a grand event at Hotel Lalit, New Delhi on Tuesday, 24th July 2018.
An Apple A Day
Attended by notable guests and dignitaries including Acting Minister Counselor for United States Department of Agriculture (USDA), Mark Wallace, who was the Guest of Honor at the event. Stemilt's Sr. Exports Manager William Young, progressive apple grower Prakash Thakur, and celebrity chef Ajay Chopra also graced the event.
The afternoon saw a series of interesting events like a speed painting session by Rabin Bar to commemorate the IG and Stemilt partnership; an insight on the eminence of fresh fruits, especially apples, in our diet; and a live cooking demonstration using Stemilt apples by Ajay Chopra.
"Eating one apple every day provides 20% of the recommended daily value of dietary fiber, 8% of the antioxidant Vitamin C, 7% of potassium, and 130 calories minus any fat, sodium, and cholesterol", said Wallace, emphasizing on the importance of eating the crimson fruit.
Owing to its high nutrition and flavor value, "Indians have increasingly developed a taste for exotic fruits owing to their high nutrition and health benefits. They are keen to experiment with such fruits and are taking to incorporating their rich flavors in interesting salads, smoothies, and other interesting preparations", Chopra said as he whipped up a fresh sweet and tangy Apple Margarita for all those who attended the event (Click here for the recipe).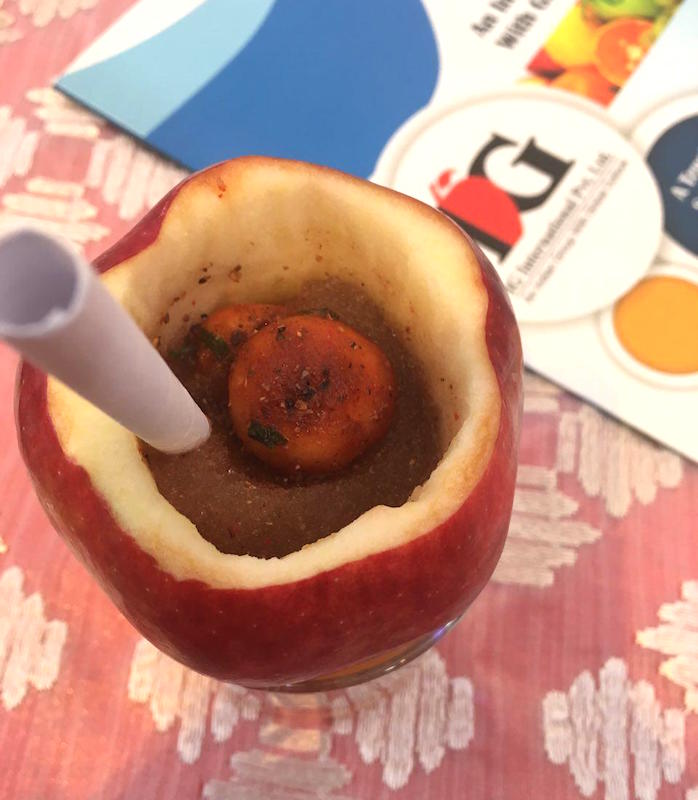 "All the fruits offered by Stemilt are known for their flavor and can instantly enhance the taste of any dish. The decade-long association between IG International and Stemilt has enabled every fruit lover to satisfy their taste buds and enjoy the best of exotic fruits, all year round", he added.
IG International is one of the top performing cold-chain companies committed to providing high-quality produce in India.