Hungry Forever Gets Clozerr With Rahul KR, Founder Of The Popular Restaurant Loyalty App
Foodies in Chennai have probably heard of Clozerr, an app that promises to give and only give. This app goes beyond just restaurant discovery, and allows users to get more from their restaurant experience that will leave them visiting again. Clozerr is an app that rewards foodies for their loyalty with restaurants, offering the user something new and exciting, even freebies, for every visit a person makes to a particular restaurant. You could say the app brings people and restaurants closer than ever, and with a loyalty program like Clozerr's, both restaurants and foodies reap benefits.
In a recent interview with founder and student entrepreneur, Rahul KR, we find out what Clozerr is all about, and how loyalty programs really work. We're certain that this is one app every foodie must definitely have!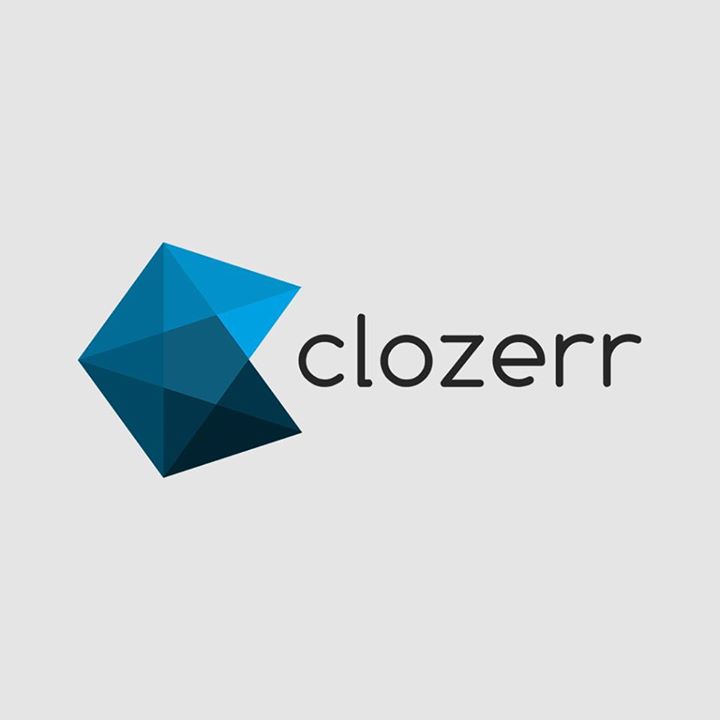 Tell us a little bit about yourself. What inspired you to create this app?
I am a student Entrepreneur from IIT-M, I had my first go at Entrepreneurship in my Sophomore year at College, where I along with my friends setup an innovative Paper Cup advertising startup name AdMEN with a win-win-win model for Advertisers, Cafeterias and Customers. We executed it successfully and had significant turnover and revenues before I quit it in my quest to build a more Scalable company which could add much more value to the system than AdMEN was.
After researching for couple of months on which addressable market I should be going after, the SMB (Small & Medium Businesses) market in India attracted me a lot and Restaurants is the major vertical in this market, it was large unorganized, untapped, fragmented and had very minimal tech disruption happening, whereas the customer walking into a store today has moved on to the next level of expectations and needs due to the powerful Smartphones they possess. So, I clearly sensed a gap in the interaction between the Restaurant and a customer walking in, There was no platform that could help Restaurants recognise their loyal and frequenting customers as they walked in to engage/reward them and make their visit more personalised and in general the Restaurants lacked a hassle free way yet effective way through which they could understand who their customers are, engage, reward and retain them.
And on a consumer end, I being a foodie always wanted to get recognised and rewarded for my loyalty at my favourite restaurants which didn't happen as the Restaurants had no way to track and measure my loyalty and few had paper punchcards and plastic loyalty cards which most of the time didn't work out as no one likes to carry dozens of cards in their wallets to get it punched.
This made me get started on my vision to help Restaurants (soon other SMBs) get Closer to their customers and give them a truly personalised experience every single time, Clozerr is on it's way in this journey and currently is helping Customers get Rewarded at places they love in the most hassle free manner!
Clozerr is more than just a restaurant discovery app. Tell us about that and how the loyalty tracking concept works.
Discovery is a secondary use case of Clozerr and our top most priority and our major use case is to help customers get Rewarded at various places they love for being Loyal & repeat customers, for evangelizing the Restaurant in their friend circle through the WhatsApp referral reward or the Facebook Checkin Reward, for visiting during happy hours/slow time, for visiting in groups! , for visiting on their birthdays, for completing a specific task and so on! But Loyalty being the key focus.
We deploy beacons in the stores which sign up on Clozerr platform, these beacons welcome customers walking in to the stores with an automatic personalised Push notification which we currently use to remind user about the reward he/she can redeem in that particular visit and all a user has to choose the reward and tap on it, The merchant dashboard lets the staff validate your reward and serve you the freebie or the discount!
Did you already have experience in the food or restaurant industry before you created Clozerr?
I am a Foodie 😀 that was the only relation I had with the Food/Restaurant industry prior to starting Clozerr. But having a very clear understanding of the industry whose pain points we were trying to solve was a must, so I started off my meeting as many Restaurant owners as possible, I used to cycle (as IIT-M doesn't allow powered vehicles inside campus!) after my classes go visit the Restaurants in Adyar, Besant Nagar and Velachery, I used to try scheduling a meeting with the owners before going, but reaching out to the right point of contact who had the authority to take decisions was difficult, so I did a lot of walkins into Restaurants with no prior appointment and met the store manager/in charge etc to understand the ground realities of how things work in a Restaurant, which helped me design the product which made sense practically and was designed to work in any Mom and Pop shop.
How did the process of starting this app develop? How does managing the app work?
I started of with this idea and was joined by a proficient Tech co-founder, Sai Praveen who started building the tech framework, the backend portals and the app. We developed the android app with in-house core tech team members and intern developers. We got iOS app outsourced from an app development firm. We have a strategic partnership with Beaconstac (owned of Mobstac), which has given us the strong lead on the latest iBeacon tech to provide seamless in-store experience. Now our team is growing on Sales and Tech front, so the entire tech development and maintenance happens inside the company.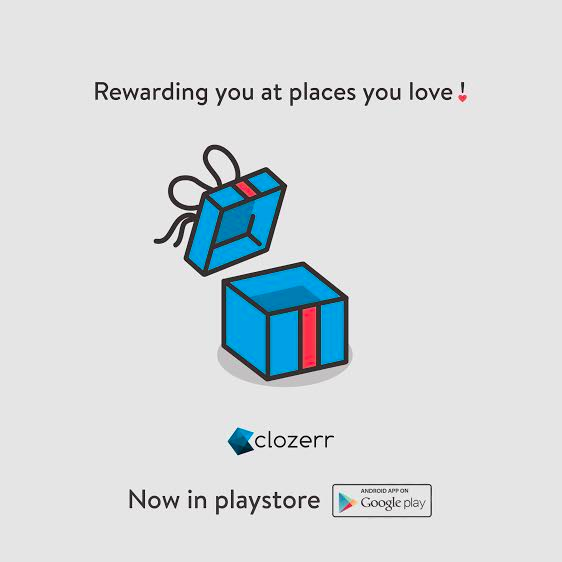 The app is supported by your university, IIT Madras. Tell us a little bit about that and how the funding has helped kickstart and develop the program so far.
Yes, I started it off as a student, so support from college was very important to make this work. IITM through it's Nirmaan program helped me initially and then Incubation cell at IITM Research park played a vital role in setting up of the company with office space, seed money and Mentorship support. Even now, we work out of IITMIC. Also, most of the team members: core team members and interns are from IITM, hence the talent pool at IITM worked out positively for us.
How has the app been promoted? What was the marketing target like, besides word of mouth and social media?
Clozerr is dependent on 4 important channels to onboard customers: 1)Clozerr as a company promoting it via various paid marketing channels : FB advertising, on ground campaigns etc 2)Clozerr app users referring the app to their friends via Clozerr's in-app Giftbox feature, which allows users to gift vouchers at various places via app. 3)Merchants driving customer adoption in-store i.e. making their existing customers to get on the Clozerr platform, this is supported by the Welcome reward at the store via app for instantly gratifying the customer. 4)Through partnerships & API calls with various other complimenting companies.
The 3rd channel is the most important one which will drive majority of customer on-boarding on Scale. And that differentiates us from other Food tech companies like Zomato/Groupon/Dineout etc, i.e we don't stand opposite to a Restaurant to work on getting on more footfalls and hence charge them, rather we are a friend to a Restaurant who help the Restaurants harness the power of their existing customer database effectively using Clozerr platform and then work on getting new footfalls too.
What segments are you aiming at?
Clozerr adds value to all Restaurants be it Fine Dining/Pubs/Cafes. But our target segment include all SMBs in Lifestyle category where experiential commerce happens instead of plain transactional commerce, which effectively means we target Restaurants, Spa, Salons, Boutiques, Speciality stores, Entertainment zones.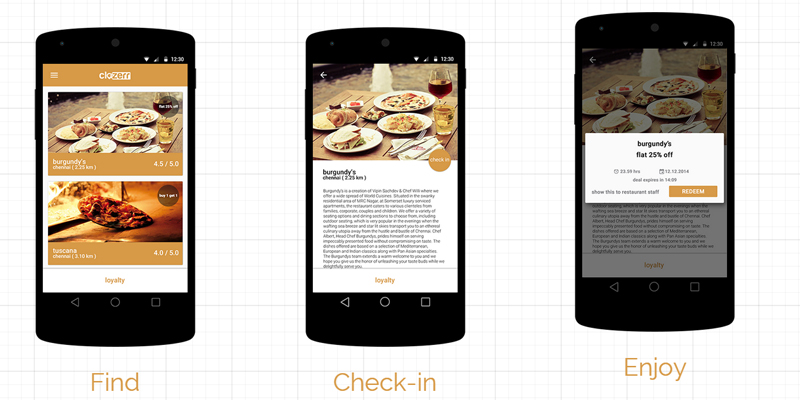 What sets Clozerr apart from similar apps? What value do you create?
Clozerr is solving the pain points of the businesses in the most cost effective, scalable and direct manner, and providing Rewards and an elevated experience for app users in most seamless manner to make sure they don't have to put in any extra efforts to claim the rewards earned by them.
Being a common platform for loyalty rewards (which are exclusive & specifically created by the business owners) at all the exciting places in a city makes it a very useful app for customers to have unlike most of the apps having generic offers which makes it a plain deals app/site, whereas Clozerr has a more sustainable and organic approach to Rewards, which is the reason the top Restaurants of a city are on Clozerr but can never be found on Groupon!
How do you ensure the app will continue to be in use over the years?
As mentioned above we have a sustainable and organic approach to Rewards, hence not hurting the businesses instead helping them harness their existing customer database which currently is untracked and not utilized to refine their marketing efforts. Clozerr being in Live in Chennai and Bangalore is working on cracking these two places and we are now looking to raise our seed round of funding to bring in quality talent to the team and to scale up our operations.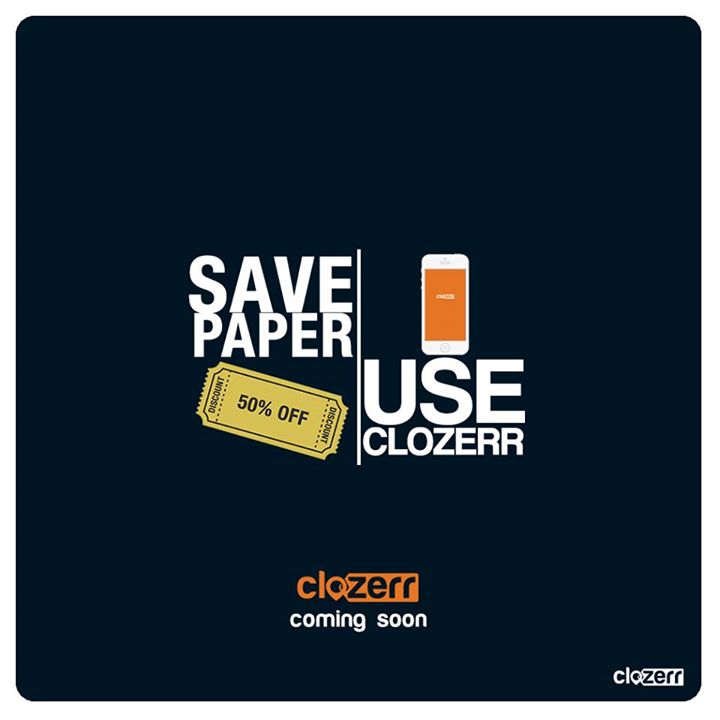 What challenges do/did you face as a start-up?
Being a startup, challenges are not somethign new, we face it on a daily basis and keep overcoming them to move ahead, Only the undying passion to build Clozerr has kept me and the team to keep moving ahead. We faced challenges in pace of tech development, on ground operations, effective positioning of the startup and on boarding right talent. It's never ending learning process, I learn invaluable things on a day to day basis and most of the learnings come by meeting many passionate people, which is what is exciting about being an Entrepreneur.
What are your future goals – for yourself as well as for Clozerr?
I have gone all in into Clozerr and making it a valuable platform impacting thousands of businesses and their customers is the only Focus right now of myself and the company. I have decided to be an entrepreneur for the rest of my life and leading an Entrepreneurial lifestyle is what excites me, btw Entrepreneurship is not a career option or a profession, it's a lifestyle, the way of living.
Clozerr is on it's path to make a big impact on SMBs and customers alike by leveraging cutting edge technology and delivering a seamless experience.
Image courtesy: facebook.com/clozerrdeals