This Hotel Made The Cutest Door-Shaped Cake For GOT's Hodor
Whether you watch Game Of Thrones or not, there is no way on Earth that you don't know about it. The show has come out to be one of American television's most gripping and enthralling series till date. And for good reason.
Recently after the series' 6th season went on air, social media has been flooded with memes, images and snippets from the same. So, as said before, even if you haven't seen even one episode, you'll still know that there is a huge man that goes by the name of 'Hodor' (played by Kristian Nairn) and is famous for holding doors. Courtesy, meme generator. Watch the series to find out why Wylis a.k.a. Hodor had to 'hold the door'. No, I haven't been paid by HBO for this.
Anywho, the gist of the matter is that 'Hodor' was deeply attached to this door. So in order to commemorate the character's love for the large wooden gate, pastry chef Rachel Neuman greeted actor and DJ Kristian Nairn with a gorgeous door-shaped cake upon his arrival at the W Hotel.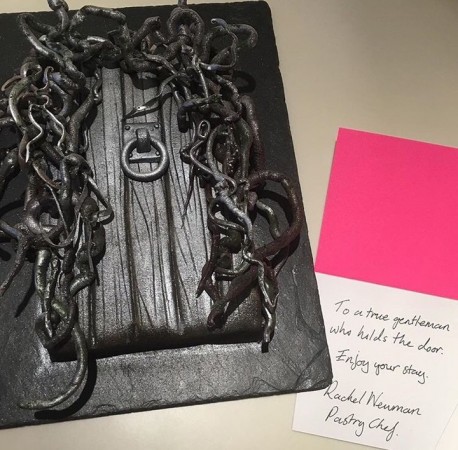 Made of rich chocolate, the small cake was big on detailing – do you see those cracks and vines? Newman didn't leave a single vine out of the cake and the results were breathtaking to say the least.
Nairn was more than delighted to receive the prettiness and shared a picture on his Instagram handle with co-actor – and in screen nemesis –Isaac Wright indulging in a slice of the cake as well.